It is a traditional Punjabi dessert prepared and enjoyed during festivals like Basant Panchami, Diwali, etc., and also served on auspicious occasions like marriage. Basmati rice and sugar syrup are the basic ingredients for Meethe Chawal but it is the carefully chosen assortment of Indian spices like green cardamom, cloves, cinnamon and kesar that makes it flavorful and aromatic. The dry fruits make it even more tasty and gives it mouth watering visual appeal. With this recipe's tastefully balanced ingredients, step-wise photos, tips and serving ideas, making this traditional Punjabi sweet yellow rice is child's play; even for those who are learning to cook.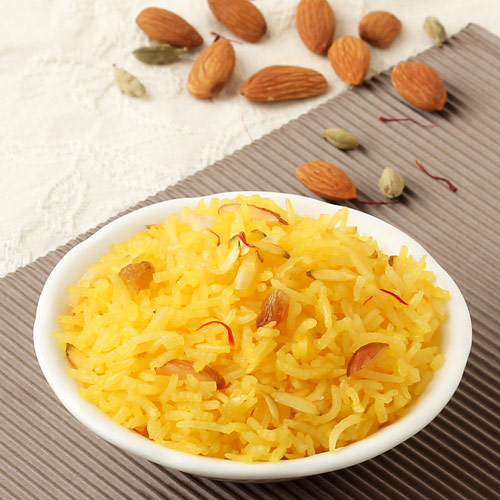 Preparation Time:
20 minutes
Ingredients:
1/2 cup Basmati Rice (long grained rice)
2 tablespoons Ghee
1/2-inch piece of Cinnamon
2 Cloves (lavang)
2 Green Cardamoms
1/3 cup Sugar
1/4 cup Water
10-15 Saffron Strands (kesar) dissolved in 1 tablespoon Milk
1/4 teaspoon Green Cardamom Powder
3 Almonds, sliced
3-4 Cashew Nuts, chopped
5-6 Raisins (kismis)
2 Pistachios, chopped
2 cups Water
Directions:
Rinse basmati rice in water for 3-4 times and soak it in water for 20-minutes. Boil rice with 2 cups water in a pan over medium flame until almost cooked (90% cooked) but not mushy for approx. 8-10 minutes. The time required to cook rice may vary among rice brands and age of the rice.

Transfer it to colander and drain water completely. Keep them aside until required.

Take a heavy based pan with lid. Add ghee and heat it over low flame. Add cinnamon, cloves and green cardamom, sauté for 30-40 seconds.

Add sugar and 1/4 cup water. Stir and cook for a minute.

Add dissolved saffron mixture and cardamom powder.

Stir and cook until sugar dissolves for approx. 1-2 minutes.

After sugar dissolves, bring mixture to a boil over medium flame. It will take around a minute. When it starts boiling, add cooked rice.

Mix gently until each rice grain is coated with sugar-saffron mixture and there are no lumps of white rice.

Reduce flame to low and cover it with a lid (or a plate). Cook until almost all moisture is evaporated, for approx. 5-6 minutes.

Turn off flame and let it stand for 7-8 minutes. Remove the lid and add almonds, cashew nuts, raisins and pistachios. Mix well and transfer sweetened yellow rice to serving bowl.
Tips and Variations:
Adjust sugar according to your taste.
You can also use short grain rice if long grain rice is not available. However short grain rice may form lumps that will make coating each rice with sugar difficult. Follow the tip given below to make separate rice grains.
To cook each rice grain separated, 1.rinse the rice 5-6 times in water before cooking. 2. add 1-teaspoon oil while cooking the rice and 3. always cook rice in a pot or pan (do not cook them in pressure cooker).
If you want to reduce the quantity of saffron then add a pinch of yellow food color to give it an identical hue.
Taste:
 Sweetened rice with aromatic fragrance.
Serving Ideas:
 Serve it as a dessert after meal or as a stand alone sweet dish.
Other Step by Step Recipes
---
14 Comments
---
Mar 18, 2017 by Neha
I made these rice for the very first time on Holi following your recipe.
It turned out so good. Never knew it was such an easy recipe. Loved it.
Thank u for sharing it with us.

---
Jan 31, 2017 by Namrata
Can we add jaggery instead of sugar in this recipe?

Response: Hello Namrata, I have never made meethe chawal with jaggery but you can try.
---
Nov 14, 2016 by Kiran
I followed all instructions and my rice also turned out too damp. Also, the saffron didn't seem to make it yellow enough... They are pale yellow and not bright yellow like how it should be.

Response: Hello Kiran, cook the rice until 80-90% cooked to prevent them from turning damp as they will be cooked again in step-9. The color of the rice depends on the quality of saffron. You can add a pinch of turmeric powder in step-5, if the quality of kesar is not good.
---
Oct 09, 2016 by Jodie
I have followed this recipe all the time ....I love it ..now to learn Brown chawal and also kheer :)

---
Aug 10, 2016 by Josephine Hutton
This dish is one I have wanted to make for some time after a Indian lady made some for our family to try, I have loved it ever since !
I made it today & am impressed how easy it is. Thank you for the recipe one to keep !

Response: Thank you Josephine for trying the recipe and I'm glad to hear that it turned out well.
---
Jun 30, 2016 by Sarthak
Hey, I have tried tried this recipe its awesome but I had one problem. The sugar left water when combined with rice and the whole thing became damp. In short, rice " khila khila " nahin bana. What should I do to make this right?

Response: Hello Sarthak, to keep the rice grains seperate (khila khila chawal) after cooking, cook the plain rice until 90% cooked (when the rice grain looks cooked but not mushy).
---
Jun 03, 2016 by Gurdip
I've tried your recipe and it was awesome. Thank you so much.

---
May 10, 2016 by A terrible cook
I have used this recipe twice now as the first time turned out so well I wasn't sure i would get the same result again. I am not a very good cook and always look for easy recipes! This will be my go to recipe for sure, many thanks!

---
Jan 08, 2016 by Rita
As I am fond of meethey chaawal, I will prepare it some day. I did not know about its preparation before today.

---
Nov 14, 2015 by Mira
The Meethe Chawal recipe sounds easy. I have not tried it as yet. Will make it and surely give my comments.

---
Aug 29, 2015 by Khushi Sharma
Tried this today for Rasksha Bandhan everyone loved it. It easy to make and not too sweet. This recipe is a keeper for sure. This is going to be my go to recipe

---
Jan 28, 2015 by Bushra Mumtaz
Thank you so much, this website and this recipe helped me a lot, this helped me with my project. Again Thank You

---
Aug 13, 2014 by vino
Yep thanks.. Am already a subscribed user..

---
Aug 11, 2014 by vino
Hi all your recipes are too good.. I have a request, please post recipe of very famous sweet - Sukhdi or Gol Papdi... Every time I try it ends up bit hard.. So please post the recipe of mouth melting Sukhdi..

Response: We will definitely upload the recipe of sukhdi very soon. Please, subscribe to our email feed so when we upload the recipe, you will get the notification via mail.
---