The besan laddu prepared with this recipe gets its unique and mouth watering flavor, taste and aroma from ghee, roasted gram flour and generous use of saffron and cardamom. Learn how to make it at home with this simple and easy recipe.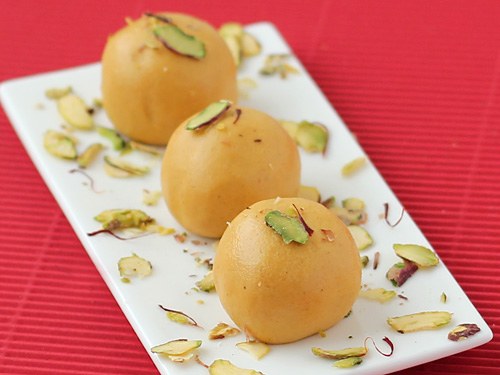 Preparation Time:
5 minutes
Ingredients:
1 cup Gram Flour (besan/chickpea flour)
1/4 cup Ghee (clarified butter)
1/2 cup Powdered Sugar
5-7 Saffron Strands, optional
1/4 teaspoon Cardamom Powder (green elaichi powder)
1/4 teaspoon Nutmeg Powder (jaiphal powder), optional
1 tablespoon Sliced Almonds, for garnishing
1 tablespoon Sliced Pistachio, for garnishing
Directions:
Sieve gram flour in a large bowl or a plate and keep it aside.

Heat ghee in a kadai or heavy based pan over low flame.

When ghee starts to melt, add sieved gram flour.

Mix well using a spatula.

Roast it over low flame until it turns golden brown, stirring continuously. When it is roasted properly, you will get the nice aroma from it. It would take approx 7-10 minutes, however, time may vary depending on the thickness of pan or kadai you are using.

Turn off the heat, add saffron strands, nutmeg powder and cardamom powder. Mix thoroughly.

Transfer to a large plate and let it cool for approx. 8-10 minutes. When the mixture is slightly warm, proceed to next step.

Add powdered sugar and mix.

Mix until sugar is properly blended with roasted flour and mixture turns smooth.

Divide it into 8 small equal portions and give them a shape of laddu.

Garnish besan laddus with almond slice and pistachios and let them cool at room temperature. Serve with snacks or store them in an airtight container.
Tips and Variations:
Add 1/2 cup coarsely ground besan flour and 1/2 cup smooth gram flour instead of 1 cup smooth flour to get the crispy texture of  laddus.
Serving Ideas:
It can be served with dry Indian snacks during festivals like Janmashtami, Diwali etc. It can also be served as a regular sweet to celebrate any occasion.
Other Step by Step Recipes
---
9 Comments
---
Nov 14, 2017 by Sweta
i tried this laddo today with 1/2 coarse besan and 1/2 regular besan and it was yummy. I used 1/4 cup+ 1 tbsp ghee in total... laddo turned out super delicious.

---
Oct 16, 2017 by Vani
I tried besan laddoo. It came out very tasty. I loved this recipe.

---
Oct 11, 2017 by Kamalesh
Very good recipe!!

---
Jan 04, 2017 by Nimmi
Nice clicks and nice presentation also. Loved your recipe. Can we prepare ladoo using whole wheat Atta? If yes, is it ok with using wheat flour instead of gram flour in the above recipe?

Response: Thank you Nimmi. Yes, the ladoos can be prepared with whole wheat flour (atta). If you use the wheat flour instead of gram flour, the ratio of ghee and flour will change.
---
Oct 20, 2016 by Sumanto goswami
Ladoo does not shape and break easily.

Response: It happens if the mixture turns hard, add a little bit warm ghee in step-9 and mix the dough again before making the laddus.
---
Oct 05, 2016 by farha
I tried it today... it was awesome. I never thought I can make such a delicious laddoo... Thank u...

---
Apr 27, 2015 by Rashmi
This is a very yummy recipe, I just loved it.

---
Apr 17, 2013 by govani
i have try this recipe but laddu did not come out nice it was bit sticky I don't know the reason and when i try to give them shape too much ghee came out

Response: The prepared dough could become sticky if gram flour is not roasted properly. It should be roasted over low flame with continuous stirring until light brown.
Shaping laddus becomes difficult if sugar is added while gram flour mixture is still too hot (in step-7 and step-8). The other solution to not being able to give a round shape is to cool the dough to room temperature or by placing it in refrigerator for 10 minutes before attempting to give it a round shape.
It is a summer time in India and it takes more time to settle now as ghee can not freeze immediately and it starts to come out. Hence, it is advisable to laddus in plate for an hour before storing them in container. In winter you can easily shape them and they will not take more time to settle and ghee will not come out.
---
Nov 13, 2012 by Naiya
This is a very refreshing step by step recipe.

---