Schezwan Fried Rice, a spicy rice dish from
Indo-chinese cuisine
, is very similar to
Chinese Fried Rice
but has one special ingredient; "Schezwan Sauce", which gives it a deep spicy chilli-garlic flavor. If you are a spicy food lover, then this is the perfect recipe for you since it not only tastes delicious but is also very easy to make at home in just 15 minutes with pre-cooked rice and schezwan sauce. For this Indo-Chinese delicacy, you can either
make schezwan sauce at home
in advance (it stays good for 2-3 weeks in refrigerator) or use the store bought one. Following Schezwan Fried Rice Recipe is very similar to
Schezwan Fried Noodles
and explains each step with accompanying photo. And yes, don't forget to read the tips section given below to give it a personal touch.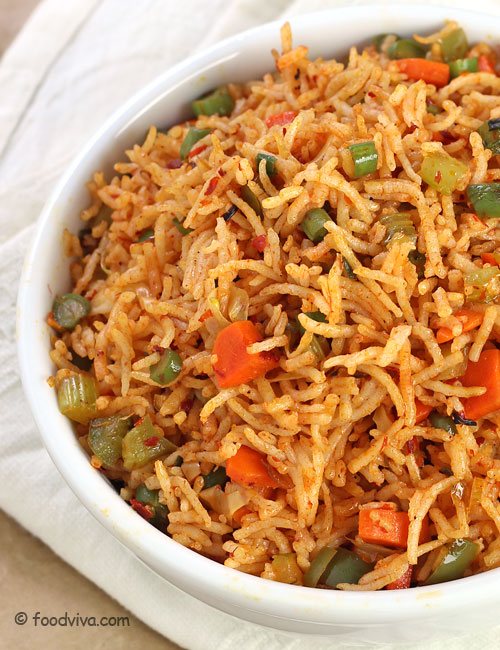 More Chinese Recipes
Preparation Time:
30 minutes
Ingredients:
3 cups cooked Plain Rice
1¾ cups Mixed Vegetables (french beans, carrot, capsicum, cabbage, celery)
2-3 cloves of Garlic, finely chopped (approx. 1/2 tablespoon)
1/4 cup finely chopped Spring Onion or Onion
2-3 tablespoon Schezwan Sauce (or to taste)
1/4 teaspoon Black Pepper Powder
1½ tablespoons Oil
Salt to taste
Directions:
Schezwan Fried Rice requires separated cooked rice grains. To achieve this and speed up the cooking process, you can cook steamed rice 2-3 hours in advance or use the leftover rice for this recipe. To prepare stemed rice; wash 1 cup rice with water for 3-4 times and soak them in it for 15 minutes. Cook soaked rice with 2 cups water in a pressure cooker over medium flame for 2-whistles. Turn off the flame and let pressure inside the cooker come down naturally. Remove the lid and fluff the rice with a fork.

Finely chop all vegetables (1/2 cup cabbage, 1/2 cup capsicum, 1/4 cup carrot, 1/4 cup French beans, 1/4 cup celery (optional)). You can add or remove the vegetables according to availability and your preference.

Follow

this recipe

to make the schezwan sauce at home. You can also use the ready-made schezwan sauce.

Heat 1½ tablespoons oil in a pan over medium flame. Add finely chopped garlic and sauté for 30 seconds.

Add finely chopped spring onion and sauté for 30 seconds.

Add finely chopped veggies (french beans, carrot, capsicum, cabbage, celery).

Increase flame to high and stir-fry for 3-4 minutes.

Cook veggies until they are cooked yet crunchy. Don't cook them till they turn soft.

Add 2-tablespoons schezwan sauce, black pepper powder and salt (schezwan sauce already has salt in it so add salt only to compensate for veggies). If you are using store bought schezwan sauce, add 1½ tablespoons sauce, taste the rice and then add more if required after adding the rice in step-12.

Mix well.

Add cooked rice.

Mix well. Stir fry and toss the rice for 2-3 minutes or until the each rice grain is coated well with the sauce and veggies. Taste and add more sauce or seasonings if required. Schezwan fried rice is ready for serving. Serve them with any

gravy manchurian

or soup.
Tips and Variations:
Don't over-cook rice to keep rice grains separated.
To make spicier Schezwan Rice, increase the quantity of Schezwan sauce. Similarly, to make less spicy rice, reduce the quantity of Schezwan sauce
Add baby corns, mushrooms and sprouted beans along with other vegetables for extra crunch and variation.