Strawberry Milkshake prepared with this recipe is simply heaven because it uses bare minimum ingredients like fresh strawberries, milk and ice cream to bring out three good qualities of any shake; fresh, creamy and flavorful. However, if you are looking forward to make it a bit different or give it a custom touch, then tips and variations provided below with help you make it the way you want it to be.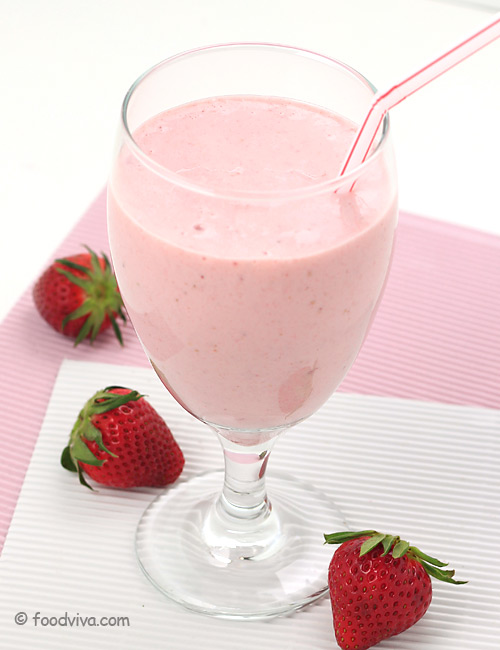 Preparation Time:
10 minutes
Ingredients:
6-8 (fresh or frozen) Ripe Strawberries (approx. 1 cup halved Strawberries)
1/2 cup Milk
1/2 cup Ice Cream (Vanilla or Strawberry)
1 teaspoon Honey or Sugar, optional
Directions:
Wash the strawberries and pat dry them. Remove stems and cut into halves.

Add milk, ice cream and halved strawberries in a blender jar. If you like, you can add 1 teaspoon sugar or honey for extra sweetness.

Blend until smooth puree. Pour it into serving glasses. Garnish with strawberry and serve.
Tips and Variations:
Use frozen strawberries to make thick milkshake.
Add more ice cream and less milk make it thicker and creamier.
This recipe does not prepare very sweet shake to allow strawberry flavor to be strong. However, if you like sweeter taste, then increase the quantity of sugar according to your taste.
Serving Ideas:
Strawberry shake prepared with milk and honey is a best drink for kids party. Savor its flavorful taste and creamy texture as breakfast drink or party drink.
---
4 Comments
---
May 04, 2017 by Md Arman
What if i don't use the vanilla ice cream..? Will it affect the taste?

Response: Yes, it will change the taste. If you don't add the ice cream, the milkshake will be less creamy.
---
Mar 31, 2017 by Sujata
I have just made strawberry milkshake for my daughter...it's very testy and Yummy....mouth watering....amazing....

---
Dec 26, 2016 by Clara
When I tasted this milkshake, I honestly thought I have found my true love. It's so rich, I love it so much! I've bookmarked this page so I will always have the recipe with me ;)

---
Jan 15, 2016 by Sen Payal
I tried this recipe at home and it was an absolute success. I enjoyed it so much that I decided to try it out for the whole family. They loved it too. The recipe is perfect exactly the way it is. What I found to add extra flavour to the drink was my trusty carton of Gowardhan Gold milk. I use it for all my milk based dishes and drinks as it has a creamy texture and it worked like a charm this time as well.

---