Wondering how to make delicious paneer tikka in oven? Here is the easy and step-by-step recipe for it. This recipe is for making it using conventional oven. However, you can follow this recipe for making it in microwave oven as well by putting your convection oven in grill mode and setting the temperature as specified in the directions given below. Please note that you cannot make it in solo microwave oven.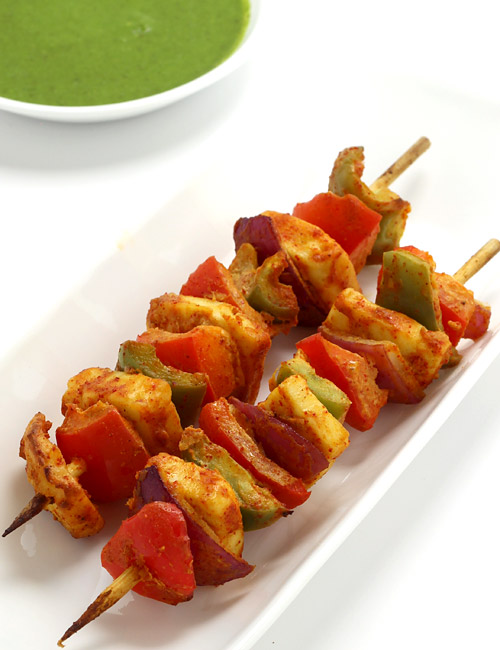 Preparation Time:
15 minutes + 1 hour
Ingredients:
For Tikka
1/3 cup Hung Curd (or 1/2 cup Plain Curd)
1 teaspoon Ginger Garlic Paste
1/4 teaspoon Corn Starch (cornflour) or Gram Flour, optional
1 teaspoon Red Chili Powder
A pinch of Turmeric Powder, optional
1 teaspoon Cumin-Coriander Powder
A pinch of Garam Masala Powder
1 teaspoon Lemon Juice
1/4 teaspoon + 1 teaspoon Chaat Masala Powder
1/2 tablespoon + 1 tablespoon Mustard Oil or any Cooking Oil
Salt to taste
150 gms Paneer (cottage cheese), cut into 1/3 inch thick and 1½ inch long squares (approx. 1/2 cup)
1/2 large Green Capsicum, cut into 1½-inch squares
1/2 large Red Capsicum, cut into 1½-inch squares or 2 Tomatoes, deseeded and cut into 1½-inch squares
1 large Onion, cut into 1½-inch squares
For Garnishing
1 Lemon, cut into wedges
1 medium Onion, thinly sliced
1/4 cup Green Chutney
Directions:
If you are not using hung curd, follow this process. Tie 1/2 cup fresh curd in a muslin cloth and hang it or put curd in a sieve and place in the refrigerator for an hour to drain excess water. Don't forget to keep an empty bowl below it to catch the excess water. This is known as hung curd or chakka dahi.

Take hung curd in a large bowl.

Add 1-teaspoon ginger-garlic paste, 1/4 teaspoon corn starch, 1-teaspoon red chili powder, a pinch of turmeric powder, 1-teaspoon cumin-coriander powder, a pinch of garam masala powder, 1-teaspoon lemon juice, 1/4 teaspoon chaat masala powder, 1/2 tablespoon oil and salt. Add little bit more salt as we will not add salt after adding the vegetables in later steps.

Mix well using a spoon or a wired whisk to prepare marinade.

Cut paneer, green capsicum, red capsicum and onion into 1½-inch squares.

Add paneer cubes, green capsicum, red capsicum and onion in prepared marinade. Mix gently until all vegetables and paneer are coated with marinade. Cover with a plastic wrap or a lid and place it in refrigerator for at least an hour. If possible, marinate them for 2-3 hours to get deep and even flavor.

Preheat the oven to 200 degree C (400 F) for at least 10 minutes. If you are using metal skewers, grease them with oil. If you are using wooden skewers, soak them in cold water for 20 minutes (this process will prevent them from burning while grilling).

Skew marinated onion, red capsicum, green capsicum and paneer (one piece of each in given order) on a skewer. You can change the order but keep paneer in the center. Repeat the same order and skew them on skewers until all vegetables and paneer are used. Line the aluminum foil over a deep baking tray. Brush the tikka with a little amount of oil and place on a baking tray. Cook for around 7-8 minutes at 200 degree C in pre-heated oven. Turn them around, brush with oil and again cook for 5-7 minutes or until edges of paneer start to turn brown.

Remove skewers from oven and transfer to a plate. Sprinkle chaat masala powder over grilled paneer tikka and serve with sliced onion, lemon wedges and

spicy and tangy mint chutney

.
Tips and Variations:
To get the burnt flavor like restaurant, roast the cooked tikka on all sides evenly over direct gas flame for a 30 seconds to a minute.
If you are using wooden skewer then make sure that you are using it as per its instructions as they run a risk of burning itself.
Do not over bake them otherwise paneer will turn hard and chewy.
Use thick curd to prepare hung curd. This will make thick and better marinade.
You can also use orange and yellow capsicum (bell pepper) along with green and red capsicum for variation.
Greek yogurt can be used as a substitute of curd.
Use tofu as a substitute of paneer.
Serving Ideas:
Serve it with green chutney and sliced onion rings as a starter or as afternoon snack.
Other Step by Step Recipes
---
13 Comments
---
Jan 17, 2017 by ANEES
Hello, could I shallow fry them ? thank you

Response: Yes, you can shallow fry them.
---
Oct 17, 2016 by Viral Patel
Hi, Please guide me for make tikka using oven, I have tried for 2 times but every time it is going to hard and no more soft even inner side also(like burned).

Response: Hello Viral, it happens if the tikkas are over cooked. When you try this next time, cook it for less time and don't forget to preheat the oven before making tikkas.
---
Oct 08, 2016 by Nida siddiqui
Hi, I have grill microwave oven. So how should I use it in making paneer tikka and in what mode.

Response: Use the grill mode or convection in microwave oven (don't choose microwave mode). Preheat the oven for at least 10 minutes at 200C and then and bake the tikka until some charred/brown spots appear on paneer or for approx. 15-17 minutes.
---
Jun 29, 2016 by Chitra
Hi, I want to know that is it safe to use foil paper in oven?

And is there any other utensil required for grill?

Response: Hello Chitra, you can use aluminum foil paper in the oven in grill mode (not in the oven in microwave mode). For the safe side, if you are using the Microwave with Convection -follow the instruction given in the oven manual as the different brand oven has different settings for grill and microwave mode.
---
Feb 24, 2016 by Mayuri
Hi, I liked all your recipes. To make panner tikka, I am gonna use wooden skewer in oven even after soaking in water for 20 min. I wanna make sure that they will not gonna burn because I am trying this recipe for 1st time so I wanted to confirm about wooden skewer.

Response: Hi Mayuri, use thick wooden skewer (not small toothpick) and soak them in cold water for 20 minutes. After baking, the edges of the skewers may turn black but they will not burn. One more thing, you can use soaked wooden skewer in oven for bake option but not for broil option.
---
Feb 21, 2016 by Nita
Fantastic...lip smacking recipe!

---
Feb 19, 2016 by PARAMITA MUKHERJEE
After pre-heating microwave at 200C in convection mode, should I use grill mode or bake them in convection?

Response: Hi Paramita, you can cook the tikka in any mode (either bake or grill) but grill mode gives better result.
---
Feb 11, 2016 by Priya
Delicious....my first trail is been succeeded...

---
Dec 01, 2015 by Umeshbhai Harsora
Dear,
I like your website. You are provide us vary delicious recipes in Hindi and English. So many recipes I liked it very much.
Thanks to you all.

---
Mar 15, 2015 by pragati sharma
Awesome dish. I love paneer tikka...

---
Sep 05, 2014 by kavitha
I tried at home, taste is so good liked.

---
Jun 03, 2014 by poonam garg
Easy & fantastic recipe

---
Oct 29, 2013 by kavita
Its a good and tasty recipe.

---