It is one of best paneer recipes that can be served as starter or as an accompaniment. There are multiple ways in which this awesome starter can be prepared. The authentic method requires either BBQ grill or conventional oven to get smoky flavor. However not everyone has access to BBQ and sometimes its simply not possible to use BBQ grill. This step by step photos recipe overcomes that problem by using tava to cook paneer tikka dry. This method gives nice and crispy texture to paneer and vegetables but does not have smoky flavor.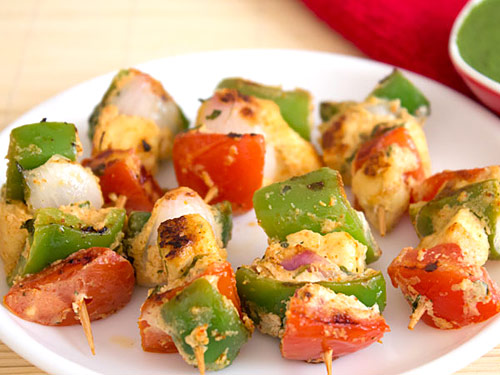 Preparation Time:
10 minutes
Cooking Time:
1 hour 10 minutes
Ingredients:
1½ cups Paneer (cottage cheese), cut into 1-inch square, 1/2 inch thick slices
2 Green Capsicums, cut into 1-inch squares
1 Red Capsicum, cut into 1-inch squares
1 medium Onion, cut into 1-inch chunks
1½ teaspoons Ginger-Garlic Paste
1 cup Hung Curd (or Greek Yogurt)
1/2 teaspoon Red Chilli Powder
1/4 teaspoon Garam Masala
1/2 teaspoon Kasuri Methi (dried fenugreek leaves)
1 teaspoon Coriander Powder
1 teaspoon + 1 teaspoon Chaat Masala
1½ tablespoons Oil
Salt
1-2 teaspoon Lemon Juice
1 medium Onion, thinly sliced (for garnishing)
How to Prepare Hung Curd?
Hang approx 1½ cup curd (plain dahi) in muslin cloth for 30 minutes to prepare 1 cup hung curd. If it is watery, then hang it for 1 more hour. Use full fat curd (less watery curd) for best result.
Directions:
Take hung curd in a big bowl and beat it until smooth. Add ginger-garlic paste, red chilli powder, garam masala, kasuri methi, coriander powder, 1-teaspoon chaat masala and salt in it. Mix well and prepare a marinade.

Add paneer, both types of capsicum and onion, mix gently to coat all added ingredients with marinade. Keep aside for 1 hour to marinate. If possible, cover and place them in refrigerator to marinate overnight.

Arrange red capsicum, green capsicum, onion, paneer and green capsicum in given order on small wooden toothpick/ skewer.

Heat non-stick griddle or tawa, spread 1½ tablespoons oil on it. When tawa is hot enough, shallow fry skewered paneer and vegetables over medium heat.

Cook each side by turning toothpick/ skewer until all sides are light brown. This will take approx 3-4 minutes. Crispy paneer tikka dry is ready.

Transfer them to a serving plate and remove the toothpick/ skewer by holding bottom most vegetable in place and sliding skewer backwards. Sprinkle 1 teaspoon chaat masala and few drops of lemon juice over it and garnish with thinly sliced onion and serve.
Tips and Variations:
If you do not have non-stick griddle or non-stick tawa, then use regular tawa or griddle and add more oil while shallow frying to prevent it from sticking.
Use Kashmiri red chilli powder for nice color. It is less hot but gives a nice color.
Use tomato, yellow capsicum and baby corn for variation.
Use sour cream if curd is not available.
Tofu can be used as a substitute of paneer in this recipe.
Taste:
Spicy, soft inside, crispy outside.
Serving Ideas:
Dry paneer tikka can be served with green chutney as a side dish or starter.
Other Step by Step Recipes
---
16 Comments
---
Feb 06, 2018 by Parthiv
Very yummy and mouthwatering pics

---
Aug 17, 2017 by Hema
Easy and yummy recipes.

---
Mar 21, 2017 by Sanghamitra
Wow it's awesome. Even a lower middle class family can also enjoy this with royal fillings.

---
Aug 14, 2016 by Jaya N
Ie's very delicious. Yummy!!! Easy to prepare. Thanks to you.

---
Mar 19, 2016 by Mausam
Please..write about some vegetable sizzlers recipes.

Response: We will definitely try to upload the recipe of veg sizzlers.
---
Nov 13, 2015 by Aslah
Is it simple kasuri methi or kasuri methi powder?

Response: You can use any of them according to the availability.
---
Jun 09, 2015 by Poorni
Hmmm, looks very delicious, can't wait to try this out!!!

---
Mar 05, 2015 by Chander lekha
It was just awesome. I just loved it.

---
Nov 22, 2014 by madhu
My kids love panner tikka. It seems very sizzling, I will try.

---
Nov 21, 2014 by Rekha
Hello, can we use regular yogurt instead of Greek yogurt?

Response: Yes, you can use regular yogurt (curd/ dahi) instead of Greek yogurt but you have to prepare hung curd from it (see notes to prepare hung curd).
---
Jul 22, 2014 by vrushali chouhan
Nice recipes on this site, good, keep it up. I love paneer tikka and I am here to try your recipe.

---
Mar 17, 2014 by seema sharma
It was really very tasty when i prepared it with hung curd but i want to try it with sour cream is the same cream which is available in market or different one...

Response: Hi seema, thanks for trying the recipe. If you want to use sour cream in this recipe then make sure to use full fat sour cream and mix 2 tablespoons gram flour in marination (in step-1) to avoid curdling.
Hung curd and sour cream are different. Hung curd can be prepared at home using fresh curd (see tips and variations section) while sour cream tastes sour and has more creamy texture, generally available in grocery stores.
---
Jul 18, 2013 by Usha Lalloo
I want to try this recipe on Saturday. If baking in oven, what temperature should I bake at?

Response: Hi, Usha. You should bake it at 200 degrees C temperature in preheated oven for 20 minutes.
---
Jul 29, 2012 by Kitchen Trials
after looking at its tempting photo, i just had to make it. it was indeed a best tikkas I ever made.

---
Jul 11, 2012 by hemu chaudhary
hi foodviva, dry paneer tikka seasoned with lemon is my favorite food and after moving to states two months ago, i was missing them very much and i decided to make it at home and i followed your recipe as it had lot of tips and variation and nice tempting photo. initially i was skeptical at this recipe but then i saw ur reply to charul's comment and i decided to follow it. it worked like a charm and it was extremely easy to prepare. I never thought that it would be so easy to make using tava.

---
Mar 04, 2012 by charul
while heating on tawa, the curd marinade cuddles and is not coating paneer well.

Response: If curd marinade is too thin and watery, it will cuddle while shallow frying paneer tikka. Also if curd marinade is left in fridge overnight to allow flavors to merge, curd will release water while shallow frying as it gets hot. However, longer marination time indeed gives better taste. If your preference is to coat paneer tikkas evenly, marinade it only for 1 hour. Alternatively, you can add besan (gram flour) while preparing marinade; this will help marinade stick to paneer tikkas.
---