An instant wheat flour dosa is yet another healthy variation of the delicious South Indian dosa. With this simple and instant step by step photo recipe, anyone can prepare healthy wheat dosa with whole wheat flour and rice flour at home in minutes – pair it up with your favorite tomato chutney,
coconut chutney
or vegetable saagu and make your lunch or evening snack even tastier. For those who do not know Tamil, wheat grains are referred as Godhumai so this dosa is also known as Godhuma Dosai.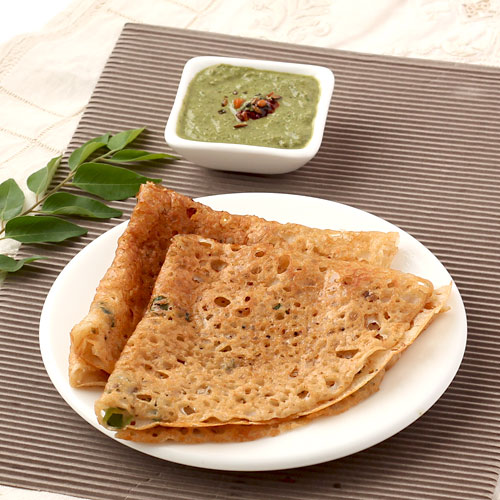 Preparation Time:
5 minutes
Ingredients:
1 cup Whole Wheat Flour
3/4 cup Rice Flour
1/4 cup Sour Buttermilk
1 Green Chilli, finely chopped
1/2 teaspoon Mustard Seeds
1/2 teaspoon Cumin Seeds
8-10 Curry Leaves, chopped or torn into pieces
1 teaspoon Oil + for shallow frying
3 cups Water
Salt to taste
Directions:
Take wheat flour, rice flour, sour buttermilk, green chilli and salt in a large bowl.

Add water (approx. 3-cups) little by little and mix until smooth and thin batter having pouring consistency like rava dosa batter (like buttermilk). There should not be any flour lumps in the batter and it should not be thick.

Heat 1-teaspoon oil in a small tempering pan over medium flame. When oil is medium hot, add mustard seeds, cumin seeds and curry leaves. When mustard seeds start to crackle, remove pan from flame and pour prepared tempering over batter.

Stir and mix it with batter.

Heat a non-stick dosa tawa over medium flame. To check tawa is hot or not, sprinkle few drops of water over it and if they evaporate immediately then it is ready. Drizzle 1/2 teaspoon oil over tawa. Stir the batter and pour approx. 1/2 cup batter from 3-4 inches height on the tawa in a circular motion starting from center to the edges. Try to cover entire surface of tawa with batter with small holes/gaps in between here and there. The gaps will allow steam to escape and make it crispy. Do not spread the batter like normal dosa. Drizzle 1-teaspoon oil around edges of batter and cook until bottom surface turns golden brown and edges slightly rise upward ( it will take approx. 2-minutes to reach this stage).

Flip it using spatula.

Cook until it turns light golden brown on another side (approx. 1-minute). Half fold the thin and crispy wheat flour dosa and transfer to a serving plate. Repeat the process from step-4 to step-7 for remaining batter. Stir the batter well before making each dosa to maintain consistency.
Tips and Variations:
Add 2-tablespoons finely chopped coriander leaves and ¼ cup finely chopped onion in step-4 to give it an extra flavor.
Do not cook dosa over high flame because it turns dark in color and may remain uncooked.
Tawa should be medium hot (not too hot or not too cold) to prevent dosa from sticking to the pan. Use the technique described in step-5 above to check if it's sufficiently hot or not.
Sprinkle few drops of water on hot tava or griddle before pouring batter and then wipe the surface clean immediately using wet kitchen cloth or rub halved onion on its surface. Follow this process before pouring batter for each dosa. This process prevents dosa from sticking to the pan.
Taste:
 Crispy and spongy
Serving Ideas:
 Serve them hot with
green coconut chutney
or vegetable curry in breakfast. Serve it with ghee or butter if you are in an indulging mood.
Other Step by Step Recipes
---
22 Comments
---
Mar 28, 2018 by Vaishali Parth Shah
Supb ? I like it.very easy to Cook.

---
Oct 11, 2017 by JYOTSNA ARYA
Hi! I tried this recipe and also the recipe for Moong Dal Payasam yesterday. It turned out to be simply awesome and yummy. Thank You for sharing your recipes and for the step by step presentation with pictures!!! Seasons Greetings to YOU and your family.
Regards
Dr. Jyotsna Arya
Mumbai, India

---
May 14, 2017 by Prakash S KULKARNI
Excellent presentation. Easy to follow the text supported by photographs. God bless you and your family for the social service.

---
Oct 13, 2016 by ROBIN SAMUEL
Is it compulsory to add rice flour in this recipe?

Response: Yes, it is necessary as rice flour is added to make the crispy dosa.
---
Sep 27, 2016 by Ramachandra Raju
It came perfect. Crispy and tasty. Thank you very much.

---
Sep 23, 2016 by Anamika
Thanks dear. Plz add 2 more recipes in your to do list. Tamarind rice and lemon rice. Really waiting for these recipes from you. Thanks in advance.

Response: Sure Anamika, I have added these both recipes to my list.
---
Sep 20, 2016 by Anamika
Awsome recipe. Can you plz share recipe of neer dosa. Thanks.

Response: Thank you Anamika. I have added the neer dosa recipe in my do list.
---
Aug 14, 2016 by Divya
It came out so well. Thank you.

---
Aug 13, 2016 by Prathima
Hi - My mom made this dosa yesterday - It was very yummy and easy to make as well. Thank you.

Response: Thank You Pratima for trying the recipe and posting the feedback.
---
Aug 12, 2016 by Divya
Thank you for the recipe.. It came out so well.. :)

---
Apr 03, 2016 by Arya
Hi, I tried this dosa and its superb. Thanks a lot.

---
Feb 27, 2016 by Dr parul
Please post some no oil recipes for main course.

Response: Sure Dr Parul, we will definitely try to post some no oil recipes.
---
Aug 18, 2015 by Laxmi
Hi,it is very testy .thanks

---
Aug 08, 2015 by Gopi
it came good.. thanks.

---
Aug 02, 2015 by Rihika
I have tried this receipe. It was awesome. Thanks for the receipe. Please post the receipe for neer dosa. I am looking forward to it.

Response: Hi Rihika, thanks for trying the recipe and I am happy to hear that you liked the recipe. I will definitely try to post the need dosa recipe soon.
---
Jun 11, 2015 by Poonam Pathak Upadhyay
I made this recipe and it was really very good.

---
Jun 07, 2015 by SHIVANI YADAV
Can we use anything else instead of buttermilk?

Response: Buttermilk is used in this recipe to get the mild sour flavor. If it is not available, you can skip it or you can use 2 tablespoons curd(whisk well before adding) or 1-2 teaspoons lemon juice instead of buttermilk.
---
Mar 18, 2015 by Jyoti dhond
Hi, simply love the step by step guide. Prepared Mushroom soup and Dum Alu and it was superb. Wish you can post some step by step chicken recipes too...

---
Mar 11, 2015 by Shweta
Can I refrigerate the batter for next day along with the tadka added/not added to the batter?

Response: Hi Shweta, you can refrigerate the batter with tadka.
---
Nov 05, 2014 by Shubhangi
Oh, I missed adding buttermilk but the taste was good. Can we add a half cup of besan? Please answer.

Response: Hi Shubhangi, I have never added besan in dosa so I have no idea about it.
---
Aug 22, 2014 by meenakshi
Can we use Amul buttermilk or plain lassi?

Response: Yes, you can use any of the three - Amul's buttermilk (do not use flavored one), homemade buttermilk or plain lassi.
---
Jul 31, 2014 by laura
It tastes very good and its also hassle free. Thanks and God bless you.

---