Sambar powder is a flavorful South Indian style coarse textured spices powder, prepared by grinding various type of basic Indian spices like coriander seeds, cumin seeds, mustard seeds, black peppercorns, dry red chilies, fenugreek seeds, cinnamon, dry coconut etc. with chana dal. In South India, it is added with vegetables and lentils while preparing various types of sambars to enhance the flavor.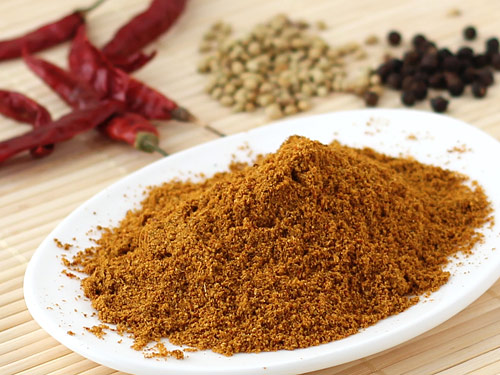 Preparation Time:
5 minutes
Ingredients:
1 cup Coriander Seeds
2 strings Curry Leaves
1/4 cup Chana Dal
1 teaspoon Fenugreek Seeds
1 teaspoon Mustard Seeds
2 tablespoons Cumin Seeds
2 teaspoons Black Peppercorns
3-4 pieces of Cinnamon
1 cup Dry Red Chilies
4 tablespoons grated Dry Coconut
1 teaspoon Turmeric Powder
Directions:
Take all the ingredients in individual bowls or a large plate.

Roast coriander seeds and curry leaves in a pan (kadai) over low flame until we smell nice aroma or coriander seeds turn slightly light brown. Transfer them to a plate.

Roast chana dal in the same pan until it turns slightly light brown. Transfer it to the same plate.

Add mustard seeds and fenugreek seeds to the same pan and roast them until they turn slightly dark in color or we smell a nice aroma. Transfer to the same plate.

Roast cumin seeds, black peppercorns and cinnamon in the same pan for 30-40 seconds and transfer to the same plate.

Roast dry red chill for 20-30 seconds and transfer to the same plate.

Roast grated dry coconut until light brown and transfer to the same plate.

Let them cool at room temperature for 7-8 minutes and transfer to a grinder jar. Add turmeric powder and grind them in a blender or grinder until slightly coarse texture.

You can store it in an airtight container for 4-5 months.
Tips and Variations:
Add 1-tablespoon powder while making sambar for 3-persons.
Roast all ingredients in a heavy based pan over low flame to avoid burning.
Add dry red chillies according to your preference to reduce spiciness.
Sun dry all ingredients separately for minimum 2 hours except turmeric powder to store sambar powder for longer period.
You can add salt while grinding, but be cautious while adding salt to sambar.
Serving Ideas:
It is used to make variety of toothsome sambar with vegetables.
Other Step by Step Recipes
---
11 Comments
---
Feb 22, 2018 by Somappa
Super mind blowing very tasty

---
Nov 27, 2017 by rafick
How many days it can be used and is there any preservatives added for freshness for long day

Response: It can be stored at room temperature and used within 6 months. Store it in refrigerator for longer shelf life.
---
May 10, 2017 by Shameema
Thank you . it's given every step so that we can try easily. I do try soon.

---
Nov 15, 2016 by lakshmiharichandana
Sambar is favorite recipe to me. It's taste very nice.

---
Jul 08, 2016 by Pragna Joshi
I tried your recipe and the taste aas yummy. Everybody loved it.

---
Jun 28, 2016 by Mln Rao
The names of ingredients some are in English, I suggest to name them in Telugu/Tamil/Hindi also so that we needed not go for searching in local language please.

Response: We will definitely try to give name of ingredients in regional languages.
---
Apr 21, 2016 by Asha kamat
I prepared sambhar with your receipe, everybody liked it.

---
Feb 26, 2016 by PATINA . NARAYANARAO
Very nice. I prepared sambar following the ingredients, it came very tasty. Thank you.

---
Jan 14, 2016 by Jay
Super stuff will try over the weekend. Thanks.

---
Oct 08, 2015 by Divya
It is very useful for all homemakers and images of ingredients.

---
Mar 29, 2015 by Sushma
I prepared sambhar following the above ingredients & procedure, it came out very well. All the family members enjoyed the taste.

---