Dosa – a thin and crispy crepe made from rice and urad dal (black lentils), served with
Coconut Chutney
and
Vegetable Sambar
is a match made in heaven! This popular breakfast item is not only healthy but also easy to prepare. There are many varieties of Dosa, e.g. Mysore Masala Dosa, Set Dosa, Ragi Dosa,
Wheat Flour Dosa
, Paper Dosa, etc. This simple Dosa Recipe explains how to make Plain or Paper Dosa from scratch with step by step photos and also provides tips on preventing them from sticking to pan while cooking.
For thin and crispy Dosa, well prepared Dosa Batter is key to its taste and texture and its preparation is very easy – first soaked rice and urad dal (black lentils) are ground individually into smooth batter and then its mixture is allowed to ferment overnight. Dosa batter prepared in this recipe can be used for the making most of the Dosas mentioned above as well other South Indian staple food items like Paniyaram, Uttapam etc.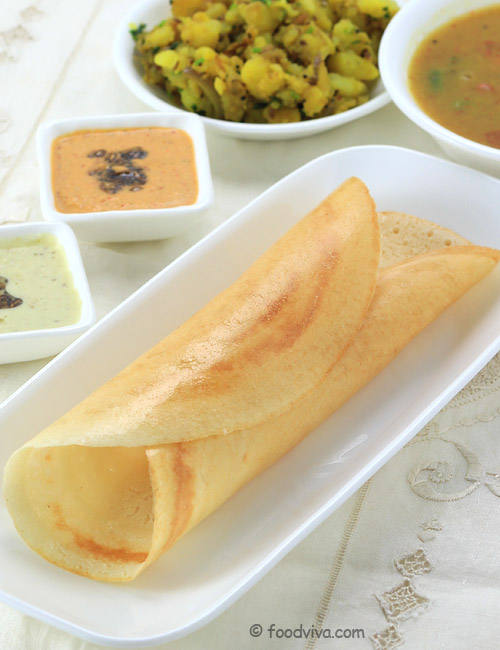 Preparation Time:
 14 hours
Cooking Time:
 25 minutes
Ingredients:
3/4 cup Parboiled Rice (idli-dosa rice)
3/4 cup Regular Rice
1/2 cup Whole Urad Dal (without skin) or Split Urad Dal (black lentils)
1/4 teaspoon Fenugreek Seeds (methi dana)
1/2 tablespoon Chana Dal (gram lentils), optional
Water, as needed
Salt to taste
Oil, for shallow frying
Directions:
Take all the ingredients to prepare the dosa batter. Rice, urad dal and fenugreek seeds are the main ingredients. Chana dal is used for getting a golden color for Dosa.

Rinse both types of rice (regular rice and parboiled rice) together in water for 3-4 times and soak them in 2 cups of water for 4-5 hours – (Place both types of rice in a medium-size bowl and fill it with water till 3/4th height. Rinse the rice by rubbing them between your fingertips; the water will turn cloudy. Drain the water and repeat the process 3-4 times).

Rinse urad dal and chana dal together in water, add fenugreek seeds and soak in 1 cup water for 4-5 hours.

Drain water from urad dal in a small bowl and reserve it (it will be used in the next step while grinding the dal). Add drained urad dal, chana dal and fenugreek seeds mixture in the medium jar of a mixer grinder or blender.

Add water as needed and grind until smooth and fluffy batter (use water reserved in previous step, approx. 1½ cups water will required to grind 1/2 cup dry urad dal).

The batter should be fluffy and not very thick. Transfer it to a large container.

Drain water from rice and add them to the same mixer grinder jar. Depending on the size of the jar, you can ground the rice in multiple batches.

Add water as needed and grind until smooth texture. Don't add too much water in a single go; add 1-2 tablespoons water at a time (approx. 1/2 cup water will required). Rice requires less water compared to urad dal while grinding. Rice batter will be little grainy and will not be as smooth as urad dal batter. Transfer it to the same container having urad dal batter in it.

Add salt and mix both batters well using spoon. The final batter should not be too thick or too watery. Cover it with plate and leave it at room temperature for 8-10 hours or overnight for fermentation. During cold weather, keep the batter in warm place (or inside the oven with oven light on) for fermentation.

During fermentation, the batter volume would increase and the tiny bubbles would appear on the surface when you stir it with a spoon. Stir the batter with a spoon. If it looks too thick, add few tablespoons water and mix well until it has attained pouring consistency (little watery than idli batter).

Heat non-stick tava or iron tava (skillet or griddle) over medium flame. Sprinkle few drops of water on the surface. If water drops sizzle and evaporate within few seconds, tava is hot enough to cook. Apply 1/2-teaspoon oil on the griddle and spread it evenly with a spatula or a clean wet cloth. Take a ladle full of batter, pour it over the surface of tawa, swirl it as thin as possible in a spiral motion by rotating ladle and make it into round shape of approx. 7-8 inch diameter circle.

Apply 1-teaspoon oil (or ghee / butter for crispy dosa) around the edges of dosa (or spread oil/ghee/butter evenly with brush for crispy dosa).

Cook until the bottom surface turns light brown and the edges start to come upward, it will take around 2-minutes.

Flip it and cook for a minute. If you are making thin dosa (as shown in the photo), you do not need to cook the other side. Transfer it to a plate. Wipe tava with clean wet cloth before making next dosa (this is to prevent dosa from sticking to Pan) and repeat the process from step-11 to step-13 for remaining batter. Hot and crispy plain dosa is ready.
Tips and Variations:
Please note that rice requires less water compared to urad dal while grinding them into a batter.
Number of hours required to ferment the batter depends on the weather condition. In summer, batter is fermented within 6-8 hours but in winter it takes up to 12-14 hours.
Make sure that batter is not heated up while grinding; this is required to make sure that it ferments properly. Grind the rice and dal in batches to prevent batter from heating up if you are making batter in large quantity.
Chana dal is added to give dosa a golden color.
To prevent dosas from sticking to the pan,

Grease the tava/ griddle properly with oil before making the first dosa.
Make sure that tava is hot enough before spreading the batter. To check whether tava is hot enough or not, sprinkle few drops of water on the surface and if the water drops sizzle and evaporate within few seconds, tava is ready.
Don't forget to wipe the tawa with a clean wet cloth before spreading the batter for each dosa.

Fermented dosa batter can be stored in the refrigerator for up to 3-4 days.
If you are using the refrigerated dosa batter, take it out from the refrigerator and wait for at least 30-minutes before starting to make dosa.
Other Step by Step Recipes
---
16 Comments
---
Mar 07, 2018 by Sumit Majumdar
In winter, fermentation can be hastened/controlled if the container with the batter is placed in a bigger bowl of warm/hot water.

Response: Thank you Sumit for providing the tip to our readers.
---
Oct 16, 2017 by Shweta
Can we use normal rice instead of idli dosa rice?

Response: Yes, you can use any short grained rice instead of idli or dosa rice.
---
Jul 15, 2017 by jayshree
I have tried a lot of ur recipes n all of them have turned out to be amazing. Looking forward to making dosa tomorrow.
Can I use kasoori methi instead of fenugreek seeds?

Thank u.

Response: No Jayshree, you cannot use kasuri methi instead of fenugreek seeds.
---
Jun 22, 2017 by Heena thakur
Hi ..can I soak dal n rice together? If not why?

Response: No Heena, you cannot soak dal and rice together. For the perfect grinding (batter consistency), it is necessary to grind them separately.
---
May 28, 2017 by Shubham Thite
It is very good to learn cooking.

---
Apr 09, 2017 by Farhana
In Bangladesh, parboiled rice is the major staple food consumed and considered as regular rice. Could you please suggest what other type of regular rice (atop rice, polau rice: kllijira..) I can use to make the batter? Or only using parboiled rice is ok?

Response: Hello Farhana, you can us parboiled rice or any short grained rice to make the idli batter.
---
Dec 29, 2016 by Aarti patel
Hi. My first few dosa were very nice crispy. And after maybe 8 dosa. Others became soft and was continually breaking and not spreading well. Why is that?

Response: Hello Aarti, follow the given tips to make each dosa crispy.
1. Clean the tava before making each dosa.
2. Make sure that tava is properly heated before making each dosa. If the tava is overheated, it will be hard to spread the dosa. If it is not heated enough, dosa will not turn crispy.
---
Nov 27, 2016 by Susan
Hello I really enjoyed step by step recipe for utpam. This was my first time to make this dish. It came out exactly the picture showed. Thanks for sharing the one step recipes. I am going to try other North Indian recipes too.

---
Oct 18, 2016 by Radhika
Can we preserve the dosa batter in freezer ? I mean can we freeze it? For how long will it stay good?

Response: Yes, you can freeze it for 1 month in a container. Thaw the batter in refrigerator and then keep at room temperature for 1-2 hours before making dosa.
---
Aug 30, 2016 by David
I'm looking for a gluten free roti. Is it rumalli roti I'm thinking of? Would you have a recipe please?
Great recipes.

Response: Hello David, rumali roti is not gluten free as it is made with a combination of white flour and whole wheat flour. For gluten free roti, you can try this dosa, makki ki roti (corn flour roti), pathiri (rice flour roti) or even you can make the roti using amaranth flour.
---
Aug 16, 2016 by Huma
Hi, I am from Pakistan. Nice and easy recipe, I'll must try. Something I want to know that is the parboiled rice same as sela rice, and if I won't use them, should I use only the regular rice?

Response: Yes Huma, parboiled rice and sela rice are same. If you only use the regular rice, the dosa may not turn as good.
---
May 11, 2016 by Anamika
Thanks for recipe. It came out really crispy. Can we make idli with same batter.or else plz share idli recipe with rice. Thanks once again for sharing.

Response: Hello Anamika, you can make the idli with same batter (just keep the batter little thick comapred to dosa batter).
---
May 06, 2016 by Janu
I m great fan of your recipes. Good step by step recipe.. Please can you tell me to make soft dosa. If I use more urad dal then rice, will it make soft or hard chingam type dosa!!!!!....Please guide me...

Response: Hello, follow the same measurements (ratio) for dal and rice as given in the recipe to make the dosa batter. When you spread the dosa, spread it little thick to make soft dosa.
---
May 04, 2016 by Anamika
Super yummy crispy dosa. Thanks for sharing. I love all your recipes. Kindly share sattu filled parantha recipe.

Response: Hi Anamika, we will definitely try to upload the recipe of sattu filled paratha.
---
Apr 25, 2016 by Anamika
It came out perfect & crispy. Thanks for sharing. Really like all your recipes. One of my fav is paneer do pyaza. Sometime instead of paneer I add boil egg to it, to make masala egg. It's my husband fav.

---
Apr 17, 2016 by Maninderkaur
Awesome recipes. Thanks.

---