Spicy Aloo Tikki with crisp outside soft inside is a real treat to taste buds at anytime. It's so delicious that just name itself gets digestive juices flowing in mouth once you have tasted it. This simple and easy recipe uses shallow fry technique to get crispy outer layer that covers soft and spicy inner crust of potatoes, green peas and spices. Make this aloo tiki by following the step by step photo recipe and prepare
aloo tikki veggie burger
at home for your kids to serve as after school snack.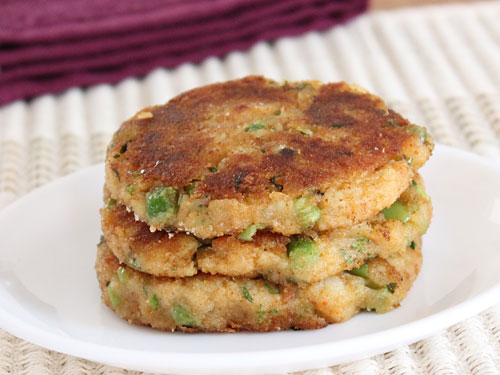 Preparation Time:
15 minutes
Ingredients:
4 large size Potatoes, boiled
1/2 cup fresh or frozen Green Peas
4 tablespoons + 4 tablespoons Dry Breadcrumbs
1 tablespoon Corn Flour
1 teaspoon grated Ginger
2 tablespoons finely chopped Coriander Leaves
2 Green Chillies, seeded and finely chopped
1/2 teaspoon Garam Masala Powder
1/2 teaspoon Red Chilli Powder
1 teaspoon Lemon Juice or Dry Mango Powder
1/2 teaspoon Sugar, optional
Salt
Oil
Directions:
Boil potatoes in pressure cooker or in a pan until soft. Peel and mash them. Boil peas in boiling water for 5 minutes. Drain water and transfer them to a small bowl.

Take mashed potatoes in another bowl. Add boiled peas, 4 tablespoons breadcrumbs, corn flour, grated ginger, coriander leaves, finely chopped green chilli, garam masala powder, red chilli powder, lemon juice, sugar and salt.

Mix them to prepare smooth dough like mixture. Divide mixture into 12 equal portions and roll them into small size balls.

Take one ball and gently press it between your palms and make a round shaped 1/2-inch thick pattie. Take 4 tablespoons breadcrumbs in a plate. Coat prepared pattie with breadcrumbs on all sides by rolling it in breadcrumbs filled plate.

Repeat steps 7 and 8 for remaining balls and prepare remaining patties.

Heat non-stick flat pan (tawa) or griddle to shallow fry patties. When pan or griddle is hot enough, drizzle 2-3 teaspoons oil over it. Put 3-4 patties over oil and cook until bottom surface turn golden brown.

Flip each pattie up side down, drizzle some oil around its edge and cook until second side also turns golden brown. Based on the size of your pan, you can shallow fry more than 3-4 tikkis at a time.

Transfer prepared tikkis to a plate. Serve hot and crispy aloo tikkis with tomato ketchup or

green chutney

.
Tips and Variations:
You can use corn flour to coat patties' surface with it if breadcrumbs are not available.
Adjust amount of green chilli as per your needs to make it as spicy as you like.
Use medium heavy based pan to make them crispy.
Add 1/4 cup finely chopped carrot and 1/4 cup boiled sweet corn while preparing mixture in step-4 above to make vegetable tikki.
Taste:
Soft and spicy stuffed crust between crispy outer layers.
Serving Ideas:
Serve it with green chutney and garlic chutney as a party snack. A multiple use Indian snack that can be used as an ingredient in many snacks and chaats preparations. Use it to make delicious
ragda patties
, burger or sandwich.
Other Step by Step Recipes
---
37 Comments
---
Apr 22, 2017 by juhi
I tried same receipe with breadcrumbs but my tikki broke even when prepared on low flame.

Response: Thank you Juhi for trying the recipe. Follow the below given tips to avoid the breaking of tikkis.
1. Make a little thick tikki.
2. Flip the tikkis after the bottom surface turns light brown.
3. Use a flat spatula to flip the tikkis.
4. If the mixture looks too much wet, add more breadcrumbs.
---
Feb 17, 2017 by Priyanka
Grated aloo is so sticky to my hands that I'm not able to make tikki from it.

Response: Hello Priyanka, sometimes the aloo turns sticky when they are new. Try to use old or aged Aloo.
---
Dec 10, 2016 by arman vaskar
It's very good website. I always check it for my mom.

---
Aug 13, 2016 by Akansha Johnson
Lovely recipes....I really love it.

---
Jul 15, 2016 by Ratna sharma
Hi dear, I am thinking to prepare this yummy recipe tomorrow morning but don't have breadcrumbs or cornflakes or crushed oats. So kindly give me option.

Response: Hello Ratna, you can use semolina or cornflour for coating outer layer.
---
Dec 02, 2015 by Roshy
Hi...I loved your recipe :) Can you suggest me some ways to make the tikkis crispier? Because when I tried, they were soft and edges(height side) are not getting roasted.

Response: To make the tikkis crispier, dip raw tikkis in maida-water mixture (2 tablespoons maida + 4 tablespoons water) and then coat with bread crumbs.
To prevent them from turning soft(soggy), add more breadcrumbs or crushed corn flakes in the mixture while making them.
To toast it from sides, add more oil while shallow frying or deep fry them.
---
Oct 02, 2015 by Saumya
Thanks for the recipe. Before starting, I wanted to know if I can oven bake instead of frying. If yes, is there a variation to the recipe that I should know?

Response: Hi Saumya, I don't know about oven baking of tikkis but you can search it online.
---
Sep 29, 2015 by Ambika Gupta
Really so good and easy:)

---
Sep 21, 2015 by Akshita
If I don't have breadcrumbs available, is corn starch be sufficient? Thanks.

Response: If you only use the cornstarch, the outer layer will not be as crispy as it is available on street stalls. You can use crushed cornflakes or crushed oats instead of breadcrumbs.
---
Aug 25, 2015 by Gagan
Can we add onion and tomato in this mixture?

Response: You can add onion to the mixture but can't add tomato because tomato releases water and it makes the mixture soggy.
---
Aug 05, 2015 by Priya
What is bread crumbs?

Response: Hi Priya, bread crumbs are coarse powder of dry breads, you can buy it from any grocery store or easily make at home. Follow the given link to make bread crumbs at home.
---
Jul 16, 2015 by Bhagyashree
Hi,
How to store aloo tikki for long time?

Response: Hi Bhagyashree, store tikki without shallow frying in refrigerator for 2-3 days or in freezer for 15 days in an airtight container, keep parchment paper between tikis while storing to prevent sticking from each other. Shallow fry or deep fry them just before the serving.
---
Jun 17, 2015 by Sarah
I tried it but I could not get the breadcrumbs to stick and when I shallow fried the patty, it kept falling apart. Can you tell me what I did or am doing wrong?

Response: HI Sarah, thanks for trying the recipe. The moisture from potato is enough to stick the breadcrumbs. Just dip the pattie in breadcrumbs and press gently with your palm to stick the breadcrumbs easily.
If your tikki falls apart, it means excess moisture in the tikki mixture. Mixture should not be sticky, add more breadcrumbs if required.
---
Apr 14, 2015 by Manisha
Good recipe but I want to know, can use ararot powder to make crunchy tikki?

Response: Yes Manisha, you can use araroot powder or crushed corn flakes or crushed oats instead of breadcrumbs in this recipe.
---
Mar 24, 2015 by Dolphin
Can you please tell me is there any application to make veg food from your website? It's amazing.

Response: Hi, we do not have any application of our website right now but we are planning to make an app for our veg recipes.
---
Mar 02, 2015 by Varsha
Bread crumbs kaise banate he? Please tell me.

Response: Hi Varsha, it is very easy to make bread crumbs at home. Follow one of the given method.
1. Toast the leftover breads on tawa until crispy over low flame (do not use oil) and then break into small pieces and pulse in a mixer grinder.
2. Bake the bread slices in a preheated oven for 6-7 minutes (or until crispy) at 180 degree C and then grind in a mixer grinder.
3. Place bread slices in a ziploc bag and then keep in a freezer for around 1-2 hours. Break frozen bread slices into pieces and grind in a grinder.
Either you can grind in a mixer grinder or you can grate the toasted bread or frozen bread using grater.
---
Feb 13, 2015 by Aali
Can I use besan instead of cornflour?

Response: Yes, you can use roasted besan (gram flour) instead of corn flour.
---
Feb 05, 2015 by Chris
This was a phenomenal recipe....Thank you so much!!

---
Feb 01, 2015 by Shifa
I made it and it was nice to see but the taste of garam masala was spoiling the taste!
What if we don't add it?

Response: Hi Shifa, if you do not like the taste of garam masala powder, you can reduce the quantity of it or skip it.
---
Dec 20, 2014 by ketki
Very easy and quick to make, spicy and tasty, I loved it.

---
Dec 11, 2014 by Kaushal B.
We love this aloo tikki. Thanks.

---
Nov 18, 2014 by Becky
Just to clarify, do you just mash boiled potatoes, or do you make mashed potatoes (with butter and cream and all)?

Response: Hi Becky, we just mash the boiled potatoes in this recipe.
---
Oct 30, 2014 by sudha
Very tasty and spicy. I made it and it made my day. I used araroot which was available in kitchen.

Response: Thanks Sudha. You can use araroot instead of corn flour in this recipe.
---
Oct 27, 2014 by mukeh rao
I want to know that what masala we put inside the aalo tikki?

Response: Hi Mukesh, we do not stuff the aloo tikki in this recipe. Follow the given link to make the stuffed aloo tikki. In that recipe, the mixture prepared from boiled chana dal and Indian spices is used as stuffing masala for tikki.
---
Sep 12, 2014 by likhita
I have made this alloooo tikka at home. And everyone loved it . thank u.

---
Sep 12, 2014 by likhita
Can u plzzzzzzz tell me how to make bread and bun. I have tried 3 times but spoiled every time. I did each and every step to make the dough but its not getting bubbles over the surface and when I keep those balls in my oven they just get hard like stones. Plz help

Response: Hi likhita, we will definitely post the recipe for bread, pav and bun in detail very soon.
I think something is wrong with the yeast. While making the dough, before adding the yeast, you should check that yeast is active or not. If yeast is not active then dough will not increase in volume and bread will turn hard.
---
Sep 08, 2014 by jayshree
Wonderful aloo tikki along with burger. all of my family member liked it. Thanks for this wonderful recipe.

---
Sep 03, 2014 by Simran
If we don\'t have corn flour and breadcrumbs then what will be the substitute?

Response: You can use crushed corn flakes (makai poha) or crushed oats as a substitute of bread crumbs.
---
Aug 27, 2014 by Muskan shaikh
Good nice recipe for my daughters :-)

---
Aug 21, 2014 by preeti
Can we use powdered cornflakes instead of breadcrumbs?

Response: Yes, you can use powdered cornflakes instead of breadcrumbs.
---
Jul 03, 2014 by Kavitha
Thank you very much. They turned out quite tasty. I deep fried them. Those tips u mentioned at the end were so helpful. Super like :)

---
Jul 01, 2014 by Gitika rani singh
This is an awesome dish .....i make it at my home....and every one encourage me....:)

---
Jun 26, 2014 by saloni
Fabulous recipe, thanks.

---
Jun 23, 2014 by chatra
Can we fry the tikkis in oil then making it on tava; do v
Need to take extra care for that?

Response: Hi Chatra, if you want to deep fry tikkis in oil then no need to shallow fry it on tava. Choose any one method,
1.either deep fry them in oil 2. or shallow fry on tava.
If you want to choose deep frying method, make sure that oil is hot enough while adding tikkis in oil and deep fry them over medium flame.
---
May 20, 2014 by nargis
i often made tikki but it remains very extra soft from inside n feel watery why???

Response: Hi Nargis, follow the given tips while making tikkis.
1. Make sure that boiled potatoes are not watery.
2. If possible, boil whole potatoes (medium size) to stop boiled potatoes from absorbing extra water.
3. Add breadcrumbs as required while making potato mixture (in step-2) to absorb water portion from boiled potatoes.
---
Apr 13, 2014 by chinky
Can we coat patties surface in rava (suji)?

Response: Yes, you can coat patties surface in fine rava (sooji).
---
Jul 07, 2013 by Paulo Ribko
I made them and they're excellent. Thanks got in depth tutorials.

---