Samosa, a crispy and spicy deep fried snack that has an crisp and flaky outer layer made of maida and rich filling of mashed potato, peas and spices is a popular street food of India. It's a favorite snack among people of all ages and generally served with masala tea and tamarind chutney as afternoon snack. The main thing about this snack is it can be prepared with one's liking of perfect not too hot, tangy and spicy taste. Follow our step by step photo recipe to make this snack at home and don't forget to read tips about double frying samosa (when making it for guests in advance).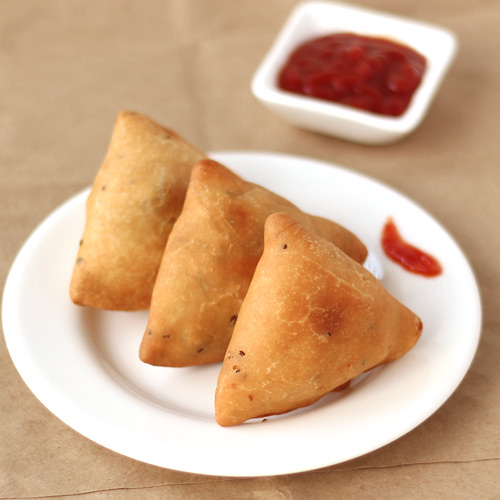 Preparation Time:
15 minutes
Ingredients For Outer Crisp Cover:
1½ cups Maida Flour
1 teaspoon Carom Seeds (ajwain)
3 tablespoons Ghee/Oil
Salt to taste
Ingredients For Stuffing:
3 medium Potatoes
1/2 cup Green Peas (mutter)
1/2 teaspoon Cumin Seeds (jeera)
1 tablespoon Green Chilli-Ginger Paste
1/2 teaspoon Red Chilli Powder (lal mirch)
1 teaspoon Coriander Powder
1/2 teaspoon Garam Masala Powder
1 teaspoon Dry Mango Powder (aamchur)/ Lemon Juice
1 teaspoon Fennel Seeds Powder (saunf powder)
5-6 Mint Leaves, chopped, optional
2 tablespoons finely chopped Coriander Leaves
Salt to taste
2 tablespoons + for deep frying Oil
Note:
You can use either fresh green peas or frozen green peas or dry peas according to the availability. If you are using frozen green peas, no need to boil them. If you are using fresh green peas, boil or steam them with potatoes. If you are using dry peas, soak them for 5-6 hours in water and then boil them.
Directions:
Boil green peas and potatoes in salted water in a pressure cooker until soft. After boiling, transfer them to a colander to remove excess water. Peel the potatoes and lightly mash them or finely chop them.

While potatoes are boiling, let's make a dough for crispy outer layer. Take maida, carom seeds, 3 tablespoons ghee (or oil) and salt in a wide mouthed bowl.

Mix all the ingredients properly with hand. You will notice the mixture will turn crumbly after mixing. Now, add water in multiple small quantities and knead firm dough (harder than paratha dough). Cover it with wet muslin cloth/any cloth and let it set for 15-20 minutes.

When the dough is setting, let's start to make stuffing for samosa. Heat 2 tablespoons cooking oil in kadai over medium flame. Add cumin seeds and green-chilli-ginger paste. Stir and cook for a minute.

Add boiled green peas and stir-fry for a minute. Add red chilli powder, coriander powder, garam masala powder, dry mango powder and fennel seeds powder.

Stir fry for a minute.

Add chopped/mashed potato and salt (add salt only if you have not added while boiling potatoes or taste the potato and then add according it).

Mix them properly and cook for 2-3 minutes. Add coriander leaves, mint leaves and mix well.

Turn off the flame and transfer stuffing mixture to a bowl. Let it cool for a while at room temperature.

After 15-20 minutes, remove the wet cloth and knead the dough again until smooth. Divide it into 6 small portions and make round shaped balls from it.

Take one dough ball and press it between your palms to flatten it a little. Put it over rolling board and roll it out into round shaped puri having approx 5-6 inch diameter. Cut it into two semi-circles.

Spread water with the wet finger or a brush on the cut side edge (straight side – as shown in photo) to moisten the surface.

Take one semi-circle and give it a shape of cone by folding it from both sides (overlapping one side over another) and pressing them to seal the sides.

Put one mutter (pea) at the bottom of the cone to keep its shape.

Put 2-3 tablespoons filling in the cone. Do not over fill the stuffing otherwise, you will not be able to seal the edges properly in next step.

Wet the edges with moist finger or a brush and press it tightly with your thumb and index finger to seal them. Make all remaining samosas in same way.

For deep frying, heat oil in a heavy based kadai (pan) over medium flame. When oil is medium hot, add 2-3 samosa (depending on the size of a pan) in it and reduce flame to low. Do not over crowd the oil to cook them evenly.

If you want to prepare them in advance for guest then remove the samosa when they start to turn light brown and deep fry them again at the time of serving. Skip this step if you do not want to double-fry (two times frying) the samosa.

Deep fry them on low to medium flame until they turn golden brown. Transfer fried samosas to a plate and serve with green chutney and tomato ketchup.
Tips and Variations:
Use samosa maker to give a proper triangle shape.
Do not deep fry the samosa over very high flame. Fry them over medium-low flame.
If you want to make the samosa in advance(3-4 hours ahead) for guests, then double fry them (two times deep frying) -1.deep fry them until light brown as shown in the step-18 and then remove from oil 2.deep fry them again at the time of serving.
To make the punjabi samosa, add chopped onion and paneer while making the stuffing.
To make the samosa chaat, serve samosa with ragda(or chhole), curd, green chutney, date-tamarind chutney, chopped onion and sev.
Other Step by Step Recipes
---
42 Comments
---
Feb 01, 2018 by Amuzah
Gonna try it now and gonna bring the feed back soon

---
Dec 13, 2017 by Rujeko
I like it. Send more recipes please.

---
Sep 17, 2017 by Poonam kurdia
Nice recipes and easy too.

---
Sep 04, 2017 by Faith winfred
Easy steps to follow.

---
Jun 26, 2017 by Vikash
What is Carom Seeds (ajwain). I don't know please help..

Response: Carom seeds (ajwain) is a one type of spices seed l(ike cumin seeds) which used in Indian cuisine in many recipes.
---
May 21, 2017 by Shweta Dubey
I made very tasty and crispy samosas by this recepie. I added aamchur and peanuts for extra crunch in the stuffing.

---
May 07, 2017 by luke
It helped my mom a lot thanks.

---
Jan 31, 2017 by Akansha bhardwaj
The recipe is really nice n even very interesting while reading but can u plz tell me why my samosas were not so crispy as we get them outside.

Response: Hello Akanksha, follow the below given tips to make a crispy outer layer.
1. Don't reduce the amount of moyan (oil) in dough.
2. Bind the hard dough.
3. Fry the samosas on low/medium flame.
I hope this will help you.
---
Jan 30, 2017 by Meenal
Thanks dear. But my samosa are not crispy. Can u give some tips?

Response: Hello Meenal, you can read some tips about making crispy samosa in the answer of below given comment.
---
Dec 27, 2016 by Veena
Very well explained with each appropriate picture.
Thank u so much.
Going to try.

---
Dec 25, 2016 by Vivian
Thanks guys. I am trying it now for Christmas. I hope it will turn out well and will be loved by my guests. Thank you.

---
Oct 03, 2016 by Priscilla Makinita
Thank you very much, I am definitely going to try it!

---
Sep 21, 2016 by Bamuta Julie
I've enjoyed every bit of it. Thank you so so much. I'm very eager to try them out, especially the samosas.

---
Aug 24, 2016 by Anon
Please let me know what is maida flour. Is it wholewheat flour or all purpose cake flour?

Response: It is all purpose flour (white flour).
---
Aug 22, 2016 by Janu
Hello..Thanks lot for good recipe. Can we use whole wheat chapati flour instead of maida?

Response: Yes, you can use whole wheat flour but the outer layer will not be as crispy.
---
Jul 03, 2016 by Anjali
Very well explained, thanks for giving such a detailed description.

---
Jun 26, 2016 by Medha
Thanks for the perfect stepwise explanation.

---
Jun 24, 2016 by Soumya
Thanks for the nice steps but when I tried samosa, they became soft after frying kindly suggest for making samosa crispy.

Once again thanks for the easy method.

Response: Hello Soumya, these are the main reasons behind soft outer layer of samosa.
1. It happens, if the dough is soft like chapati. Make sure to bind the little hard dough.
2. Don't reduce the mentioned amount of oil while kneading the dough.
3. Fry the samosa on low-medium flame for crispy outer layers.
I hope this will help you.
---
May 11, 2016 by Juliet
I love Indian food, mouth watering.

---
Mar 09, 2016 by Rekah
Hi, thank you so much for this amazing recipe.
When I made the Samosas they weren't as crispy as the ones I buy outside how come they were soft? Is it because I fried it at medium level? I also made sure they were golden brown before taking them out.

Response: Thank you Rekah for trying the recipe.
To make the crispy outer layer, 1. Never reduce the amount of oil (while making the dough), 2. Bind the hard dough, 3. Fry them on medium-low flame, adjust the temperature while frying the samosa by reducing the flame to low or increasing the flame to medium. The temperature should not be very hot.
---
Feb 19, 2016 by Urmila
Wow, very tasty and properly explained samosa recipe. Tips are very helpful.
I would like to know, can I use green chutney instead of red chili and garam masala?

Response: Hi Urmila, you can use the green chutney instead of red chilli powder and garam masala but the taste will be different.
---
Feb 04, 2016 by Mohini
Liked your recipe very much. Just a question...why do bubbles appear on the outer covering of samosa?

Response: Hi Mohini, if bubbles appear on outer layer of samosa, it is normal. It happens when the samosa is fried in too hot oil.
---
Jan 31, 2016 by Rajeshwari Iyer
Thank you so much for the recipe and I also tried other receipes, which were helpful and tempting method was very easy.

---
Jan 25, 2016 by Dipti
I have seen some where in hotel that the cook makeup samosa ready and fry after order instantly still it is crispy....how... Please explain...... I give 4 1/2 strars.

Response: Hi Dipti, I didn't get your question. Do you mean by raw samosa or fried samosa? At some restaurants, they keep raw samosa ready and at some they keep lightly fried samosa ready. At the time of serving, they fry it until light golden and serve.
---
Jan 10, 2016 by Zainab
Best site...very helpful.... Thank you admin.

---
Dec 21, 2015 by Rodrigues
Hi,
Taste of samosa is very good I tried. Want measurement for 1kg maida. And can I use dalda instead of oil. And even measurement pls tell me ASAP.
Thanks.

Response: You can use dalda instead of oil while making the dough. The given recipe uses 180 gm maida (1 1/2 cups), so For 1kg maida, you have to multiply the recipe 5 1/2 times.
---
Dec 03, 2015 by Nelly Bjermeland
Greatly enjoyed your well-described recipe, and the great care and details that you put into it. Thank you!

---
Nov 28, 2015 by Gujayila
Can I use popiah skin instead of making my own dough?

Response: I have never tried popiah skin to make outer layer of samosa, so I am not able to help you.
---
Oct 08, 2015 by Lavanya
My toddler loved the samosas I made from your recipe. This was the first time I tried doing samosas, they came out perfect. Adding Ajwain to the dough, gave it an extra zing. Lovely recipe.

---
Oct 06, 2015 by Bhagvati
Thank you so much for the method on how to make the Punjabi samosa.

---
Oct 04, 2015 by Raju Malu
Very nice and easy steps.
Thanks.

---
Sep 04, 2015 by Chinu
Tempting recipes!!!! Surely gonna try.

---
Aug 27, 2015 by Deepa Thakkar
Also I tried this samosa receipe was really very tasty nd yummy,Thank u so much.

---
Jul 11, 2015 by Geeta vellanki
Really love the samosa recipe.. My daughter loved them.

Response: Thank you Geeta for trying the recipe.
---
Jul 07, 2015 by Mata Devi
This is very good site. Myself and family very happy :)

---
Apr 19, 2015 by Bhavya
Thanks a lot for this recipe. It is very simple and tastes good.

---
Feb 23, 2015 by Niku
This recipe was really fantastic but my samosa didn't become crispy...:(

Response: Hi Niku, follow the given tips to make crispy outer layer.
1. Bind the little hard dough than paratha dough.
2. Do not reduce the quantity of oil while making the dough.
3. Use the thick bottomed kadai to deep fry the samosa for evenly cooking.
4. For deep frying, add the samosa when oil is medium hot and then fry them over low flame until light golden brown.
---
Jan 28, 2015 by Chhavi
Good steps. It's very helpful really.

---
Jan 14, 2015 by Sharmila
These are all very tempting recipes. I have to give it a try one of these days. Thanks for making it so easy.

---
Dec 23, 2014 by vignesh
Good explanation. 5 star.

---
Jun 07, 2014 by prema
Nice explanation with pictures for each dish...good to cook all receipes...excellent food website

---
Jan 18, 2013 by jaya
Good recipe. It would be good to see step by step method

Response: Thanks for the feedback. We will shortly convert this recipe into step by step photo recipe.
---