One can make many Indian snacks and variety of Indian chaats with hot and spicy ragada. The thick and spicy ragda made with dried green/white peas is a key for making tempting ragda patties, ragda samosa and ragda cutlet among many other Indian snacks.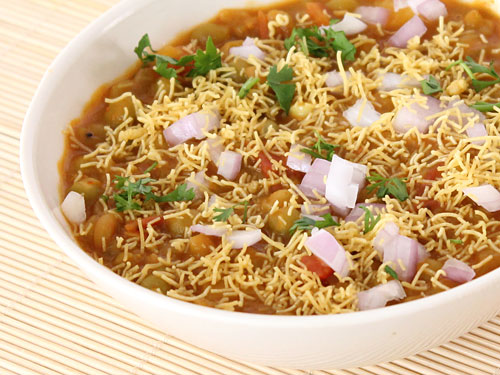 Preparation Time:
10 minutes + 8 hours
Ingredients:
1 cup Dried Green Peas/ Dried White Peas
2 medium Onions, chopped
6 Garlic cloves, minced
1 teaspoon crushed Green Chili-Ginger
2 small Potatoes, boiled and chopped into small pieces
2 medium Tomatoes, finely chopped
1 teaspoon Garam Masala
2 teaspoons Red Chili Powder
1 teaspoon Coriander Powder
1/4 teaspoon Turmeric Powder
2 teaspoons Lemon Juice
2 teaspoons Jaggery (gur) or Sugar
5-6 Curry Leaves
1/2 teaspoon Cumin Seeds
1/4 teaspoon Asafoetida (hing)
1/4 teaspoon Mustard Seeds
Salt to taste
1½ tablespoons Oil
For Serving:
1 medium Onion, finely chopped
1 tablespoon Coriander Leaves
1/2 cup Sev
Directions:
Wash and soak dried peas overnight or for 8 hours in water.

Drain water from peas and cook in pressure cooker with 3 cups fresh water and salt for 4 whistles over medium flame or until peas turn soft. Do not drain water from cooked peas; use them with water when required in next steps.

Heat oil in a pan or kadai over medium flame. Add mustard seeds and cumin seeds; when mustard seeds begin to sizzle, add asafoetida and curry leaves and sauté for approx 10 seconds. Add chopped onion and sauté until light brown. Add minced garlic and crushed green chili–ginger and sauté for a minute.

Add chopped tomatoes and cook for approx 3 minutes. Add garam masala, red chili powder, turmeric powder and coriander powder and cook for 30 seconds.

Add cooked peas (along with water in which they are pressure cooked) and mix well. Add lemon juice and jaggery and mix well.

Mash few peas with a back of spoon to make it thick. Add 1½ cups water and mix well.

Add chopped potatoes (boiled), salt and mix well.

Cook it over low flame for 8-10 minutes or until it turns thick. Takeaway kadai from flame or heat source.

Transfer it to individual serving plates. Garnish each plate with chopped coriander leaves, sev and chopped onion and serve immediately as a ragda chaat.
Tips and Variations:
It can be used to prepare ragda patties, sev usal, ragada puri, ragda samosa, ragda cutlet.
Serving Ideas:
Serve it with aloo patties (potato patties) topped with green chutney, tamarind chutney and garlic chutney. It makes a delightful light dinner when served with bread or bun.
Other Step by Step Recipes
---
11 Comments
---
Jun 20, 2017 by jyoti
can I use frozen peas instead?

Response: No, you cannot use frozen peas.
---
Mar 22, 2017 by Sylvia
Hi, Can I use frozen green peas?

---
Jan 18, 2017 by Anees
Any substitutions for DRY green peas n white pease? I could replace one by chick pea but how about the other one, thank you ?

Response: Hello Anees, only one type of dried peas is used in this recipe. So you can replace it with dried chick peas.
---
Oct 14, 2016 by Aarti
Quick and easy receipe..
Liked by everyone and can have multiple choice to consume.

---
Jul 19, 2016 by Ashwini
Made this today and I and DH absolutely loved it. It's a keeper... gonna make it more often... Thank you for posting the recipe.

---
Sep 30, 2015 by SUJATHA SHANKAR
It is wonderful recipe, my kids liked it very much. Very informative site, very helpful in preparing and for learning. Very nice and the steps given are useful to prepare.

---
Dec 01, 2014 by Sandhya
I made this ragda dish for dinner. It was very easy to make and the dish tasted very nice. A very easy and simple recipe, we liked it very much.

---
Oct 11, 2014 by maanu
The recipe is very nice.I liked it very much

---
Oct 04, 2014 by sravya
very good recipe. Nice taste. Thanks.

---
Feb 23, 2014 by lana
I just made this ragda dish for dinner. It is super delicious.

---
Nov 22, 2013 by Preethi
Its a wonderful recipe. We just love it. I am just going to make this every week.

---