It is a spicy yet irresistibly delicious snack prepared by deep-frying spicy paste coated paneer cubes. It has dry texture and can be served as starter, appetizer, snack or accompaniment. Unlike paneer manchurian, this step by step photos recipe of paneer 65 does not use soya and chilli sauce to get spiciness; instead, it uses varieties of Indian spices and combination of cornflour, all purpose flour and curd to get its signature tongue tickling taste.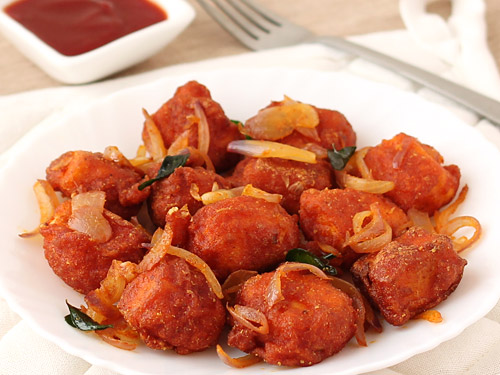 Preparation Time:
10 minutes
Ingredients:
200 gms (1/2 lb) Paneer (Cottage Cheese)
2½ tablespoons Maida (all purpose flour)
3 tablespoons Cornflour (corn starch)
1 tablespoon Rice Flour
1½ teaspoons crushed Ginger
1½ teaspoons crushed Garlic
1/2 teaspoon Chaat Masala Powder
1/4 teaspoon Garam Masala Powder
1 teaspoon Red Chilli Powder
1 teaspoon Coriander Powder
1 drop of Red Food Color (optional)
5 tablespoons Water
For deep frying + 2 teaspoons Oil
1 medium Onion, finely sliced
8-10 Curry Leaves
1½ tablespoons Thick Curd
3/4 teaspoon + 1/8 teaspoon Salt (or to taste)
Directions:
Cut paneer into 1-inch cubes. Mix maida, cornflour, rice flour, ginger, garlic, chaat masala powder, garam masala powder, 1/2 teaspoon red chilli powder, coriander powder, red food color and 3/4 teaspoon salt in a medium bowl.

Add approx. 5-tablespoons water and make a medium thick paste. Add paneer cubes in prepared paste and mix well until coated with it.

Heat oil in a pan over medium flame for deep frying. Deep-fry all pieces in small batches (4-5 pieces at a time) until golden brown and crispy. Drain and transfer on plate. Spread good quality paper napkin on plate before transferring them on plate to absorb excess oil.

Heat 2 teaspoons oil in another pan over medium flame. Add sliced onion and curry leaves, sauté until onion turns translucent.

Add thick curd, 1/4 teaspoon red chilli powder and 1/8 teaspoon salt.

Mix well, stir and cook for a minute.

Add fried paneer pieces and cook for 2-3 minutes.

Turn off flame and transfer prepared paneer 65 dry in serving dish.
Tips and Variations:
If you are preparing it as snack for kids, then reduce the quantity of ginger, garlic and red chillies and make it less spicy, suitable for kids.
We have added a pinch of tandoori color or red food color in step-2 to get nice orange color. However, we do not recommend using any additive food color as it does not affect or improve the taste of this spicy deep fried paneer starter.
You can avoid thick curd and onion in above recipe if you want to.
For yet another best variation, add sliced capsicum in step-4 and sauté for 2-minutes.
Taste:
Spicy, crispy and dry
Serving Ideas:
Serve it as a starter or as an accompaniment with meal. It is a delicious evening snack when served with spicy pudina chutney or tangy tamarind chutney or tomato ketchup.
Other Step by Step Recipes
---
34 Comments
---
May 04, 2017 by Harshad
Very tasty! I made this at home and everyone enjoyed this paneer 65 recipe!

---
Feb 25, 2017 by Rimzim
It was amazing.. I have tried many recipes from your site and that really came out good.
Thank u

---
Dec 08, 2016 by Asmitha
Very nice.
Tasty dishes. Panner 65 was super.

---
Sep 13, 2016 by Bharu
Awesome it was :)..thanks for the recipe.

---
Aug 02, 2016 by Katrina McAfee
I was SO excited to try this recipe since I absolutely adore both gobi and paneer 65. I followed this recipe exactly...even making a special trip to our local Indian grocery store for Chaat Masala. While this recipe tasted okay, it was nothing like the restaurant's paneer 65. This wasn't even spicy at all. It tasted more like a mozzarella cheese stick at Sonic's or something. I was extremely disappointed. I went back and looked at the recipe and noticed something in the Tips and Variations about Red Chilies.... Is it possible that I used the incorrect Chili Powder? If there was a specific Chili Powder to be used, then I feel it should have been clarified because regular American chili powder definitely ruined this for me. Hopefully, I can correct the error because I desperately wanted this to be 5 stars.

Response: Hello Katrina, I am sorry to hear that this recipe didn't turn out well. After reading your review, I searched for American chili powder on the internet and you are right, it's different from Indian Red Chilli Powder. Indian red chilli powder is just the pure ground dry red chillis, while American chili powder is the mixture of paprika, oregano,cumin, salt etc.
When you try this next time, use the mixture of (3/4 cayenne pepper + 1/4 paprika) instead of Indian red chilli powder in this recipe. Adjust the amount of cayenne for the spiciness as per your taste buds. I hope this will help you.
---
Jul 11, 2016 by Sheela jadhav
You provided very easy paneer recipes. I am loving it......thanks.

---
May 14, 2016 by Sneha Agrawal
And this is the reason I am a huge fan and follower of foodviva. Your recipes and their steps are awesome, I always end up preparing the tastiest dish. Thank you!

---
May 02, 2016 by Tinjal
Is it compulsory to add red food colour?

Response: No, it's not compulsory. You can skip the food colour.
---
Aug 19, 2015 by Vinaya
Can we use gobi instead of panner? Your soon reply is appreciated.

Response: Yes, you can use parboiled cauliflower (boiled in salted water until half cooked) instead of paneer.
---
Jul 30, 2015 by Akshith
It was superb recipe all our family members liked it.

---
Jun 18, 2015 by Radhika
Very excellent. I used a little extra curd.

---
Jun 10, 2015 by Vinita
The dish came out very well. Thank you.

---
May 26, 2015 by Anand
Wow, it was a tasty stuff.

Can we also make this with Soya Chaap instead of paneer?

Please upload some soya chaap recipe, like malai chaap, afghani chaap etc.

Response: Hi, I have never used soya chaap in any recipes so I do not have any idea about using it instead of paneer in this recipe.
---
Apr 23, 2015 by Reshma
This is a yummy dish...I am so glad that my maiden experiment in cooking came out well...
But when I tried this out, it didn't come out so dry. Instead it was gravy-like. What should I do to prevent this next time?

Response: Hi Reshma, thanks for trying the recipe. To prevent it from turning like gravy follow the given steps.
1. Do not add watery curd.
2. Do not increase the quantity of curd.
3. After adding the curd, cook the mixture until it turns dry (in step-6).
---
Apr 17, 2015 by Kriti
We do not put any chinese sauce in the panner 65 recipe.

---
Mar 11, 2015 by Senthiru
Hey buddy tried it with chicken it was great , sprinkle a little pepper. Everyone loved it, yup first try was paneer.

---
Feb 07, 2015 by Nita
I tried this dish, it's yummy and my family loved its super taste. I don't mind to try any other recipe like this because my family like to eat Panner dishes dry or with gravy.
Thank you.

---
Nov 16, 2014 by saisripavithraa
If i don't want to use chat masala, what is preferable?

Response: Hi, if chaat masala powder is not available then you can skip it.
---
Nov 08, 2014 by Manjula bose
It was so tasty. My family wants me to make it on every Sunday.

---
Oct 17, 2014 by Kishor Manji
Nice dish guys.
Can you guys tell me why my curd splits when I added it to the onions and curry leaves? Am I doing something wrong?

Response: Hi Kishor, you are not doing anything wrong. If curd splits in step-6, it is normal.
---
Sep 11, 2014 by Babitha
Tried the recipe and was superb, same like the one in restaurants.

---
Sep 02, 2014 by Sneha
Hi, this dish looks yum and easy to prepare.. Actually all your recipes are very easy and explained well. I want to try this recipe. But, can I skip corn flour and rice flour ??

Response: Hi Sneha, corn four and rice flour is used to make outer layer crispy for deep fried paneer cubes, so you can not skip both flours. However, you can skip the rice flour and increase the amount of corn flour in same quantity.
---
Aug 13, 2014 by Anjali
I have tried and it was superb. Thanks for this. Also tell some new veg snacks.

Response: Hi Anjali, thanks for trying the recipe. Follow our Veg Snacks Recipes section to make more veg snacks .
---
Jul 31, 2014 by reeni
Hi
Thank you!I made this, but was wondering how to make the paneer soft from inside?

Response: Hi Reeni, thanks for trying the recipe. We have used the homemade paneer to make this snack. Follow our step by step photo recipe to learn how to make soft paneer at home.
---
Jul 06, 2014 by Hiba
Nice one. it is so tasty.. my family loved it.

---
Jul 01, 2014 by manpreet
awesome recipe .. Quick and tasty.

---
Jun 24, 2014 by usha santosh
Very quick and yummy recipe....

---
May 03, 2014 by pavan joseph jackson
very tasty while seeing and while eating please every one try it and rate it

---
Dec 16, 2013 by shobhnaa
The recipe with step by step presentation is appreciable. Lovely recipe, bookmarked it, Foram.

---
Sep 30, 2013 by Jasee
Nice appetizer. Good taste.

---
Sep 23, 2013 by abirami sivasankar
It's good.

---
Sep 09, 2013 by dinesh
very spicy and veri tasty

---
Oct 27, 2012 by Sneha Gujarathi
Very good recipe :) It was perfect to my taste

---
Sep 12, 2012 by Mohan Tripathi
Excellent recipe, loved the tang put in by a curd and spiciness put in by chilli. The outer layer was crisp and soft at the same time.

---