Whether you want to entertain guests or just enjoy the pleasant rainy evening or cold wintery days, crispy and spicy onion pakoda can never go out of fashion. Its even better when accompanied by masala tea or your favorite chutney. With this step by step photo recipe, making it at home is now easier than ever and you can't go wrong with it even if you are novice. In this simple preparation, onions are mixed with gram flour, rice flour and basic Indian spices and then deep fried until crispy.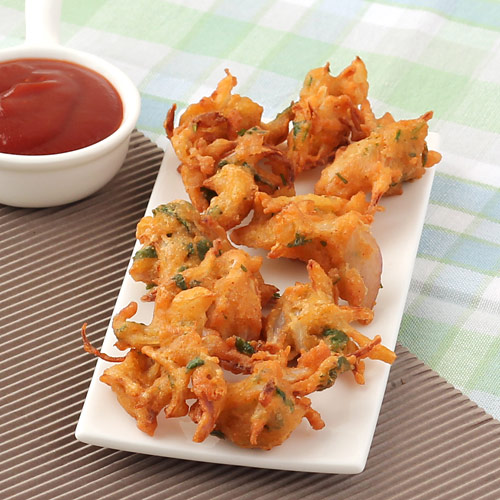 Preparation Time:
15 minutes
Ingredients:
3 medium size Onions, finely sliced
1/2 cup Gram Flour (Besan Flour)
1/4 cup Rice Flour
1 teaspoon grated Ginger
5-7 Curry Leaves, chopped, optional
1/2 teaspoon Red Chilli Powder
A pinch of Baking Soda (soda-bi-carbonate)
2 tablespoons finely chopped Coriander Leaves
Oil, for deep frying
Salt to taste
Directions:
Take sliced onion in a large bowl.

Add gram flour, rice flour, ginger, curry leaves, red chilli powder, baking soda, coriander leaves and salt.

Mix well using spoon and keep aside for 10 minutes.

Add water little by little (approx. 1/4 cup) and mix all the ingredients such that sliced onion is coated well with flour batter. Do not add more water unless required – if batter becomes too watery or thin then pakodas will not turn crispy.

Heat oil in a deep pan over medium flame. Check whether oil is sufficiently hot or not by dropping a pinch of mixture in hot oil – if it comes upward immediately, then oil is sufficiently hot for deep frying. Take small portion of mixture in the hand and gently drop 3-4 small fritters into the oil and deep-fry until they turn golden brown in color – keep stirring occasionally in between so that they cook evenly and keep heat/flame to medium.

Take them out using slotted spoon and drain excess oil. Place them on paper towel in a plate to absorb excess oil. Repeat the process for remaining batter and deep-fry in batches. Do not over crowd the oil with onion fritters, this will help them cook evenly.
Tips and Variations:
If you want to prepare pakoda once and enjoy over 1-2 days then do not add any water in step-4 while preparing batter. The water released from sliced onion will be sufficient to coat onion with the mixture. If required, add only 1-2 teaspoons water.
Do not fry them over low flame, it will make them soggy and absorb too much oil.
For variation, add finely chopped potato in step-2 while preparing batter.
Serving Ideas:
Serve them hot as delectable snack with chutney or with a cup of tea or coffee in the evening.
Other Step by Step Recipes
---
31 Comments
---
Feb 04, 2018 by Nazma
Just made some for tea. Used some fresh green chills as well. Excellent.
Hope they stay crispy for tomorrow as I've saved some for a friend

---
Jan 11, 2018 by Verma
Good one. Easy to cook and great in taste.

---
Dec 05, 2017 by Alisha
I wanted to prepare pakodas so I did exactly what your recipe stated.
It came out to be very tasty and my family enjoyed it.
Thank you once again.
Alisha

---
Aug 31, 2017 by SarBanI
Your recipe is always good. I tried it and it turned fabulous.

---
Jul 20, 2017 by Anamika
Once again awesome recipe. tried just now, just a perfect taste. Perfect crispy. Just like market one. Thanks a ton for sharing all your secret recipe with us.

---
Jul 10, 2017 by Rachel
Tried this recipe with my mother, was lovely :o)

---
May 14, 2017 by Praveen
Very yummy. Thanks very much!

---
Apr 19, 2017 by Darshna
Also try adding coarse dhaniya seeds in the batter, the taste will come the best.

Response: Thank you Darshna for sharing the tip. It would be definitely helpful to our readers.
---
Mar 31, 2017 by Mubashireen
I tried in evening...it was very tasty...thanks.

---
Jan 31, 2017 by blob
I loved the pakoras. Do you need to use the baking soda?

Response: Baking soda is added to make the pakodas soft from inside and crispy from outside.
---
Jan 14, 2017 by Madhu
Simple, brilliant recipe. Tried it and it was lovely. Thanks for adding pictures to steps

---
Dec 20, 2016 by Gita
Made this for a colleague, simply loved it. Nice twist with the coriander and curry leaves. Tasted awesome with Mint chutney. Thanks!!

---
Dec 07, 2016 by Anu
Lovely and simple recipe.. I liked all your recipes..the way u explained is understandable..pls add more simple recipes..and need an app for this website..thank u..

---
Jul 30, 2016 by Suni
I tried and it was so perfectly crispy awesome taste...

---
Jun 18, 2016 by Mohini
Love to see the recipe.....steps are awesome....

---
May 21, 2016 by Jon
Onion pakoda. I did these a few weeks ago and without doubt the nicest Bahji I've ever tasted. Don't be tempted to make them bigger or do too many at once, brilliant recipe, thank you JW.

---
Dec 06, 2015 by Sameer
Hi, can I substitute rice flour with corn flour? Thank you.

Response: Yes, you can substitute rice flour with corn flour (or with gram flour).
---
Oct 15, 2015 by Jesika patel
I like your website so much your recipes is too easy making and all the food...I m thanking you and plz mail me uploaded new recipes...thanks again.

Response: Hi Jesika, subscribe to our email feed to get the new recipes notification via mail.
---
Sep 13, 2015 by Sindhu
Hi,
Your recipe are good nd very simple. I made onion pakoda nd my family like it very much thank your for your post. Please post how to make panner butter masala and many other recipe.
Thank you.

---
Sep 03, 2015 by Reshma
Please tell me if I don't add rice flour, is it ok? I don't have it with me.

Response: If rice flour is not available, you can skip it.
---
Aug 10, 2015 by Paibal
Yummy..n easy even for a beginner like me...thank you

---
Aug 03, 2015 by Darshan
Hi,
Your presentation skill is very nice.
I have tried almost all recipe .
It's nice. Keep us helping like this all time.

---
Jul 29, 2015 by SONIA
Hi, thanks for sharing all your recipes. I've tried many of them & it came out best in first try only. I like your recipes. Can I substitute all purpose flour for rice flour?

Response: Thank you Sonia for trying the various recipes from our website and I'm glad they turned out well.
Rice flour is used to get the crispiness, if you don't have rice flour, add the same amount of gram flour instead of it but don't add all purpose flour instead of it.
---
Jun 21, 2015 by Lakshmi
Please keep me posted about new recipes.

Response: Hi Lakshmi, subscribe to our email feed so when we upload the new recipe, you will get the notification via mail.
---
Jun 13, 2015 by Pooja
Hi,
It was raining so wanted to make pakodas. Saw this recipe and turned out excellent in the first go. Thank you. It's really good for those who are novice cooks like me :) :) Thanks again. I skipped the soda and used my mom's tip for making them crispy- added a tablespoon of the hot oil to the batter and they turned out really good. Thanks again!

---
Apr 14, 2015 by Santhamani
Dear mam/sir, I want know how to make easy home made paneer.

Response: Follow this link of easy recipe of homemade paneer to make paneer at home.
---
Feb 11, 2015 by Michael
Hi,

what can I substitute for rice flour?

Thank you.

Michael.

Response: Hi Michael, if rice flour is not available, use same amount of gram flour instead of it.
---
Jan 29, 2015 by Sailesh Misra
Excellent presentation. Actually it would help those who are staying alone and want home made good food by self preparation. Thanks a lot.

---
Dec 27, 2014 by DK
Tried this snack, it came out very good and tasty. Thanks.

---
Sep 13, 2014 by M. Leela
Please send the recipe of how to make restaurant style sambar powder to my email id.

Response: Hi, I have sent the sambar powder recipe to your email.
---
Jun 17, 2014 by rohith shetty
sir this what the food preparing site i was searching for really very good and i am from bangalore. i want to know how to prepare sambar for idly which we usually get in hotels / darshinis. Can u send me it sir....thanking you rohith shetty.

Response: Hi Rohith, we have already posted the recipe of sambar powder - http://foodviva.com/south-indian-recipes/sambar-powder/ and we will soon post the recipe of how to make restaurant style sambar. Please, subscribe to our recipe feed so when we upload the new recipe, you get the notification via mail.
---