Methi puri is a crispy deep fried Indian bread or poori, which is prepared from plain flour and chopped methi (fenugreek) leaves. There are two types of methi pooris one can prepare. 1) for immediate use as Indian bread in main course, and 2) as a crispy snack similar to farsi puri. This recipe is for making crispy snack. This appetizing fenugreek based snack is a wonderful and tasty treat for all Indian snack lovers.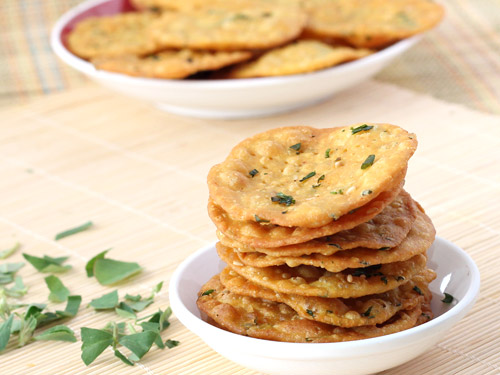 Preparation Time:
5 minutes
Ingredients:
1 cup Wheat Flour
2 teaspoons Sesame Seeds
3 tablespoons Semolina (Suji /Rava)
1/2 teaspoon Red Chilli Powder
1/3 teaspoon Turmeric Powder
1/3 cup Fresh Fenugreek Leaves, chopped
for deep frying + 3 tablespoons Cooking Oil
Salt to taste
Water
Directions:
Take a wide bowl. Add wheat flour, semolina, sesame seeds, red chilli powder, turmeric powder, fresh fenugreek leaves, 3 tablespoons cooking oil and salt in a bowl and mix them properly.

Knead little bit hard dough than paratha by adding water as required. Cover it and keep aside for 10-15 minutes.

Divide dough into 16 small equal size round shaped balls.

Roll out each portion into small circles of 3-4 inch diameter which is slightly thicker than chapatti. Make 4-5 pricks on its surface with a tip of knife or fork.

Deep fry 3-4 puris at a time on medium heat until light brown and crispy.

Take them out and drain excess oil. Transfer them over kitchen paper in a plate.

Fry remaining methi puris and store them in airtight container. You can store them for 15-20 days.
Tips and Variations:
Knead hard dough to make them crispier.
Do not deep fry them on high flame.
Serving Ideas:
Serve them with tea as a snack. It can also be enjoyed with flavored or plain yogurt.
Other Step by Step Recipes
---
11 Comments
---
Dec 11, 2017 by raj
Thanks for these easy tips.

---
May 31, 2017 by Mita
Hi. Thanks for this recipe. My husband travels a lot and I made this for him to take with him. The taste was lovely but I found the puris slightly thick. Can you please let me know where I went wrong and what I can do to get those lovely disks in your pics. Thanks a mil for all your effort and lovely recipes.

Response: Hello Mita, if you don't like thick puris, you can roll them little thinner.
---
Sep 18, 2016 by Swati
Hello, I m a big fan of all your recipes. Yesterday I tried your Methi puri recipe and it turned out awesome. Thanks a lot for the recipe. As I am a Maharashtrian girl, I am a big fan of Spicy Puri (in marathi- Tikhat Puri). If you know how to make it, please share the recipe for me. Thanks!!

Response: Hello Swati, thank you for trying the recipe. You can follow the similar recipe of Masala Poori (North Indian Style) on this site here Recipe - Masala Puri.
---
Jan 30, 2016 by Monisha
Turned out perfectly. The only variation that I made was to use a small cookie cutter to make bite size puris. The family loved it. Thanks for making the recipe so easy to follow.

Cheers!

---
Jan 21, 2016 by Swati
Hi, I have tried all your recipes which are really very good and easy to make. This is very good recipe but my puri turned out little bitter. Where as its not that excess salt is there but don't know its not at all good to taste. First time I failed to make good recipe.

Response: Hi Swati, I am sorry to hear that puri turned out bitter. Puri tastes bitter if you add excess amount of fresh fenugreek leaves. Did you add more amount of fenugreek leaves or did you use dried fenugreek leaves? It should not taste bitter for the given amount of fresh fenugreek leaves in this recipe. When you try this next time, reduce the amount of fenugreek leaves.
---
Jan 13, 2015 by Archana
It's very easy recipe and has great taste, and the most important thing, it is healthy too.

---
Jun 21, 2014 by Suchi P
Yummy!! Delicious and healthy too!

---
Jun 20, 2014 by Sharmila
Very good taste. Son also enjoy this.

---
Jun 19, 2014 by vedika
awesome!!!thanks for this lovely recipe!

---
May 12, 2014 by Hajira
Very good!!!!!!!!!will make them again, quick and easy

---
Nov 13, 2012 by Neeraja.abel
Made this puri with green fenugreek leaves and it was awesome. Excellent recipe!

---