These eggless chocolate chip cookies are a bliss for the people who don't include the egg in their diet as they either follow specific diets like vegetarian or have an allergy to eggs. Chocolate Chip Cookies prepared with this recipe are completely eggless and still have a soft, chewy texture and chocolaty taste. With this recipe you can also make them as soft or crunchy as you like by changing the baking time (see more details in tips section below). Additionally, this recipe also provides detailed directions with accompanying photos to make baking easier for first timers. So what are you waiting for? Prepare these Eggless Chocolate Chip Cookies for your kids or yourself today. And yes, don't forget to tell us how it came out.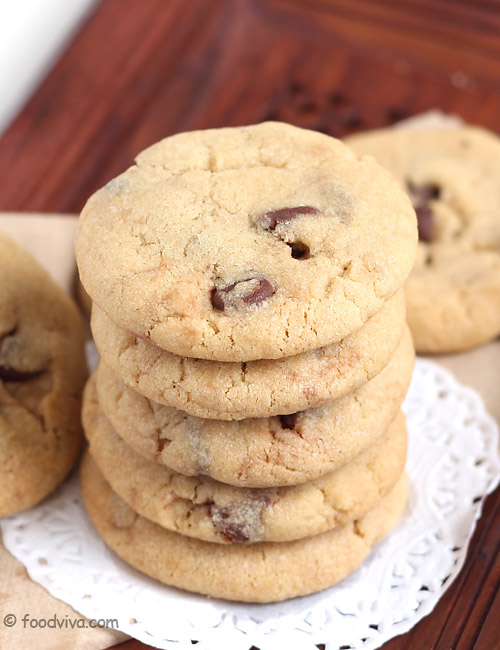 Preparation Time:
 10 minutes
Serves:
4 servings (16 cookies)
Ingredients:
1¼ cup Maida (all purpose flour)
1/2 teaspoon Baking Soda
A pinch of Salt
1/2 cup Butter (melted)
1/4 cup White Fine Granulated Sugar
1/4 cup Brown Sugar (light or dark)
2 tablespoons Milk
4 drops of Vanilla Essence or 1/8 teaspoon Vanilla Extract
1/2 cup Chocolate Chip Cookies
Directions:
Preheat the oven to 350 degrees F (180 degrees C) for at least 10 minutes. Sift 1 cup 2 tablespoons cup maida/all purpose flour, baking soda and salt in a bowl. Keep 1/8 cup (2 tablespoons) maida for later use. Don't add salt in this step if you are using salted butter.

Take butter in another bowl.

If the butter is not melted, microwave it for 15-20 seconds to melt it. It should be melted but not hot.

Add brown sugar and white fine granulated sugar. (If white sugar has large granules, grind it in a mixer grinder into powder.)

Whisk it until creamy.

Add milk and vanilla extract.

Whisk it for 1-2 minutes.

Add flour mixture.

Mix well until incorporated. If the mixture looks sticky, add little maida (flour) as needed and mix well (previously kept in step-1). Don't add more than 2 tablespoons flour otherwise the cookie will turn dense.

Add chocolate chips.

Mix well.

Line the baking sheet with aluminum foil or parchment paper. Divide the dough into 16 equal portions and make round shaped balls from them. Press each ball a little between your palms and place on baking sheet. Don't press them too much, just press a little. Keep enough space between them as cookie size will increase to almost double during baking.

Place baking sheet on the middle rack in preheated oven and bake for 10-12 minutes or until little golden. For soft textured cookies, don't bake them for more than 12 minutes. For little crunchy cookies, bake them for 15 minutes. Remove them from the oven. After about 12 minutes of baking, cookie will have light golden brown color and may look raw. However, don't worry about it if you want to have a soft inner texture.

Take out the tray. Keep cookies in them and let them cool for 5-7 minutes. Carefully transfer them to a cooling rack and let them cool down to room temperature. Store Eggless CHocolate Chip Cookies in an airtight container and consume within a week.
Tips and Variations:
Butter should be melted completely to make perfect cookies.
Don't change the ratio of flour and baking soda. Changing the ratio may turn cookie dense.
Use chopped chocolate chunks if chocolate chips are not available.
Taste:
 Crunchy outer layer with soft and chewy inside.
Serving Ideas:
 Chocolate chip cookies can be enjoyed at any time as stand alone snack or with coffee. Sprinkle crumbled chocolate chip cookie and chocolate sauce over vanilla ice cream and serve it as a delicious dessert.
Other Step by Step Recipes
---
9 Comments
---
Sep 09, 2017 by jayati khatri
Hi, can I use only white sugar?

Response: Hello Jayati, if you use only white sugar, you will not get the soft chewy texture in cookies.
---
Aug 27, 2017 by Rima
Hello,
Can I substitute the butter with oil??
How much should I use??
I don't mind my cookies to be crispy instead of chewy..
Thanks

Response: No Rima, you cannot substitute butter with oil in this recipe. If you like crispy cookies, don't add milk and bake them little longer.
---
Aug 12, 2017 by Anne
I made the cookies following this recipe. They were tasting great, but all of them got burned in the centre.The base and sides did not burn.

Response: Hello Anne, I am not able to understand why they got burned in the middle and not on the sides or base. I think you have baked in convection oven with microwave mode. Don't keep the microwave mode on while baking to prevent this.
---
Mar 01, 2017 by Manjunath Ramaswamy
Hi,
it seems to be a great recipe, I am a first timer in baking, please let me know if can I use baking powder instead of the baking soda?
Thanks,
Regards

Response: No, you can not use baking powder insted of baking soda in this recipe.
---
Dec 11, 2016 by Dr Neeta Grover
Great recipe. Can I use milk powder instead of milk for a slighter longer shelf life?

Response: Hello Dr Neeta, milk is added to make the cookies chewy, so you cannot use milk powder instead of milk in this recipe.
---
Nov 10, 2016 by Shveta
Thank you for the recipe! The cookies turned out great :)

---
Sep 20, 2016 by Miriam
Turned out very tasty. However, the butter was oozing out when forming the balls. Maybe I made some mistake. The taste was great.

Response: Thank you Miriam for trying the recipe and giving the feedback. You didn't make any mistake, the butter is oozing out while forming the ball is normal as the melted butter is used and cookie dough is not kept in the refrigerator in this recipe.
---
Sep 07, 2016 by Ruchi
Hi,

Is brown sugar necessary?

Response: Hello Ruchi, if you don't use the brown sugar, the cookies will turn crispy and flat compared to cookies made with brown sugar.
---
Sep 07, 2016 by Janu
Very good recipe..it's my favorite..Thanks lot.. Can I use chapati flour for making cookies? Plz guide me..

Response: If you use the chapati flour (wheat flour), the cookies will turn little dense compared to cookies made using white flour (maida). You can try this cookies by using half amount of chapati flour and half amount of maida.
---