It is a delicious and hearty Indian snack which can be served as a starter, appetizer or simply evening snack. This easy bread cutlet recipe uses bread, mashed potatoes, boiled green peas and few veggies and uses shallow fry technique to make them stomach filling and healthy. Whether you serve it with tea or classic Indian green chutney, you are going love every bite of it.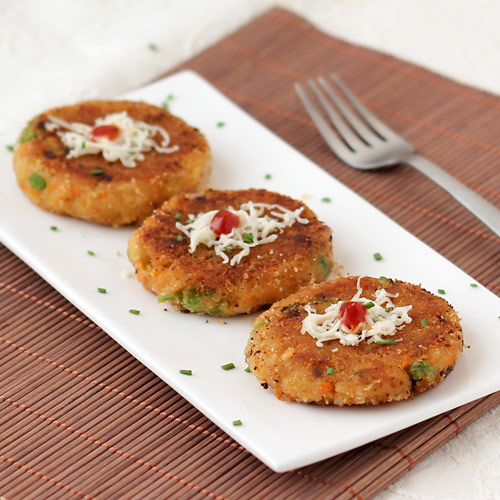 Preparation Time:
15 minutes
Ingredients:
4 White Bread Slices (or brown bread)
1 large Potato, boiled, peeled and mashed
1/3 cup Green Peas (fresh or frozen), boiled
1/3 cup grated Cabbage
1/3 cup grated Carrot
2 tablespoons + 1/3 cup Dry Breadcrumbs
1 medium Onion, finely chopped
1-2 Green Chillies, seeded and finely chopped
1/2 teaspoon grated Ginger
1/4 teaspoon Garam Masala Powder
1 teaspoon Lemon Juice
1 tablespoon + 3 tablespoons Oil
Water
Salt to taste
2 grated Cheese Cubes and Tomato Ketchup, for garnishing
Directions:
Heat 1-tablespoon oil in a pan over medium flame. Add finely chopped onion and sauté until light brown or for approx. 1-2 minutes. Add grated ginger and green chillies, sauté for 30 seconds.

Add grated carrot, grated cabbage, boiled peas and garam masala powder.

Sauté for 1-2 minutes. Turn off the flame and transfer prepared mixture to a bowl. Let it cool for 4-5 minutes at room temperature.

Dip each bread slice in water and immediately take it out. Squeeze it to remove excess water and add to the veggie mixture. Add mashed boiled potato, 2 tablespoons dry breadcrumbs, lemon juice and salt.

Mix well and taste for salt, add more if required.

Divide mixture into 8 equal portions and give them ball shape. If you are not able to form balls, then add 1-2 tablespoons dry breadcrumbs and try again. Take each ball and flatten it to form 1/2-inch thick pattie.

Take 1/3 cup dry breadcrumbs in a plate. Roll each pattie into it to coat its surface with it and transfer it to another plate. Repeat the process for each pattie.

Heat non-stick shallow-frying pan on medium flame and drizzle 2-3 teaspoons oil over it. Put 2-3 cutlets on it and shallow fry them over medium flame until bottom surface turns light golden brown.

Flip them gently, spread 1-teaspoon oil over each of them and shallow fry another side until it turns golden brown. Flip and cook as required to make both sides golden brown. It will take approx 2 minutes on medium flame to cook each side. Transfer shallow fried cutlet to a plate.

Shallow-fry remaining ones and prepare for serving. Garnish each one with grated cheese and tomato ketchup.
Tips and Variations:
To make it healthier, use whole wheat bread or multi-grain bread instead of using white bread.
You can also deep fry cutlets in oil. Make sure that oil is smoking hot before sliding raw cutlets in it for deep-frying. If oil is not hot enough, it may break into pieces.
You can avoid carrots and cabbage if they are not available.
Taste:
Crispy from outside and soft from inside.
Serving Ideas:
Serve it with tomato ketchup or tea as an afternoon snack. It is an appetizing starter when served with green coriander chutney.
Other Step by Step Recipes
---
12 Comments
---
Feb 25, 2018 by Sahana
Can you please give the recipe of green coriander chutney?

Response: Please see it here - http://foodviva.com/chutney-raita-recipes/green-coriander-chutney/
---
---
Jul 10, 2015 by Prajwal
Can we add some chiken pieces to the masala? Reply fast, please.

Response: Hi Prajwal, I am sorry but I have no idea about adding chicken to the masala.
---
Apr 05, 2015 by Amrutha
Thanks foodviva. Everyone was very impressed by this recipe.

---
Feb 19, 2015 by Vikrant Dange
Very good. Most useful for making good cutlets.

---
Feb 08, 2015 by Tanya
Please suggest me for how many days I can store this snacks ...minimum for a weak or so ?

Response: Hi Tanya, as we use the fresh vegetables and boiled potato, you cannot keep cooked cutlets for a week. However, you can prepare raw cutlets a day ahead and store in the refrigerator, as I have replied in the previous comment or store it in the freezer section (keep parchment paper between cutlet and store in an airtight container) for upto a week and shallow fry or deep fry them at the time of serving.
---
Feb 03, 2015 by Aditi
Helped me a lot.
Considering I'm a newcomer in kitchen.

---
Jan 18, 2015 by Deepika
Can we prepared this one day before party and store the in freeze???? Please reply asap.

Response: Yes Deepika, you can store raw cutlets in the refrigerator in an airtight container or in a Ziploc bag a day before the party. Put a parchment paper or butter paper or plastic between raw cutlets to prevent them from sticking to each other. Shallow fry or deep fry them just before the serving on the day of party to get crispy texture.
---
Nov 16, 2014 by alka saini
It's delicious, my kids love this recipe.

---
Sep 10, 2014 by lakshmi
Hi, I don\'t have bread crumbs. Is there any substitute for that? please help.

Response: You can use crushed corn flakes (makai poha), crushed rice flakes (rice poha) or crushed oats as a substitute of bread crumbs.
---
Feb 08, 2014 by Saurav
Awosme recipe ! Quick n delicious healthy breakfast! :)

---
Feb 28, 2012 by Niti
Nice and quick recipe for kids.

---