It's a monsoon time and what could be the better way to enjoy the cool breeze of air with warm Batata vada with spicy coriander chutney? This street food of Mumbai is almost guaranteed to be found at every chat vendor's stall in entire Maharashtra and key ingredient in Pav-Vada – a staple food for hard working Maharashtrians. Follow this step by step photo recipe to learn how you can make this yummy snack at home in just 20 minutes and enjoy the monsoon to the fullest without worrying about the health risks of eating street food.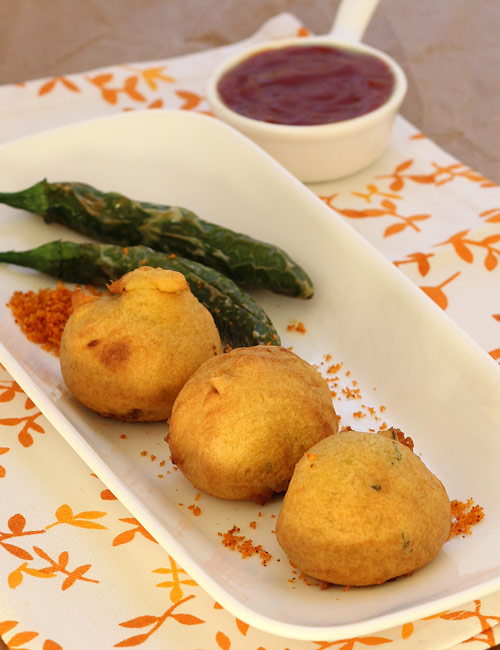 Preparation Time:
10 minutes
Ingredients
3 medium Potatoes, boiled
1/4 teaspoon Mustard Seeds
A pinch of Asafoetida
2 Green Chillies, chopped (or more to taste)
1/2 inch piece of Ginger, chopped
2 cloves of Garlic, chopped, optional
3-4 Curry Leaves, finely chopped
1/3 cup finely chopped Coriander Leaves
1/4 teaspoon Turmeric Powder
1 teaspoon Lemon Juice or 1/2 teaspoon Dry Mango Powder, optional
1/2 cup Gram Flour (besan/ chickpea flour/ chana flour)
1/3 cup Water (or more)
A pinch of Baking Soda (soda bi carbonate)
2 teaspoons Oil + for deep frying
Salt to taste
Directions:
Have all the ingredients ready before starting to make vada. Make a paste of green chilli, ginger and garlic using mortar and pestle or in the small chutney jar of a mixer grinder.

Peel boiled potatoes and mash them with backside of a large spoon.

Heat 2-teaspoons oil in a small pan over medium flame. Add mustard seeds. When they start to crackle, add asafoetida, curry leaves and a paste of green chilli-ginger-garlic.

Stir and cook for a minute. Add turmeric powder and mix well.

Turn off the flame and transfer the prepared tempering over mashed potatoes. Add chopped coriander leaves, lemon juice and salt.

Mix well and taste for the lemon juice and salt. If required, add more lemon juice or salt.

Divide it into 9-10 equal portions. If mixture turns sticky, grease your hands with oil and make round shaped balls from it.

Prepare batter for vada – take gram flour, baking soda and salt in a wide mouthed bowl.

Add water (approx. 1/3 cup) little by little and stir continuously and make a lump free smooth batter. Consistency of the batter should be slightly thinner than dosa batter. If batter is too watery then add 1-2 teaspoons gram flour and if it is too thick then add little water and mix well.

Heat oil in a pan over medium flame for deep-frying. When oil is medium hot, dip each potato ball into batter and coat it evenly with hand or spoon and gently drop it into the hot oil. Drop 3-4 balls in a single batch and deep-fry them until light golden brown.

Drain excess oil using perforated spoon and transfer them over paper napkin on a plate. Deep-fry remaining balls. Batata Vada is now ready for serving. Serve hot with tea and green chutney / tomato ketch up.
Tips and Variations:
Mashed potato mixture will turn sticky if boiled potato has excessive moisture. If mashed potato has excess moisture, cook it in a non-stick pan until excess moisture evaporates. Transfer it to a bowl, let it cool for few minutes and then add tempering and mix properly.
Add 1/2-teaspoon cumin seeds and 1/4-teaspoon urad dal with mustard seeds for variation.
If you want to make them in large quantity, prepare the vadas in advance and deep fry them again at the time of serving for crispy outer layer.
Taste:
 Crispy from outside and soft and spicy from inside
Serving Ideas:
 Serve Batata Vada as a snack or side dish with green chilli and
coriander chutney
. It can also be served alone with tomato ketchup.
Other Step by Step Recipes
---
16 Comments
---
Nov 27, 2017 by Bud Bhayani
Out of hundreds of Indian recipe sites this one is best.

---
Nov 09, 2017 by Shilpa
Lovely recipes. Yesterday I follow step by step and they turned tasty. Thanks.

---
Aug 03, 2017 by Minty
I made this twice. First without Urad dal, and second time with. Both variations turned out absolutely amazing. The vadas were gone in 5 minutes.

---
Jul 27, 2017 by Dipika
This turned out amazing..I tried many recipes of vada pav, nothing turned out as good as this one.

---
Jun 21, 2017 by Sup
This was my first attempt making Vada pave and I nailed it. Thank you for the step by step easy to make recipe.

---
Apr 29, 2017 by Hiral Sompura Desai
Made attempt for the first time ever and because of step by step instructions with photos it came out so well and yummy. Thank you. ????

---
Dec 03, 2016 by uma
Made it, ate it, loved it!

---
Nov 27, 2016 by Jyoti menon
Recipe of vada pav with pics, superb.

---
Aug 15, 2016 by Shubhangi
Receipes on site are well explained I want that for samosa like vada pav.

---
Aug 06, 2016 by Pratikshya
Its really nice..very easy.

---
Aug 06, 2016 by Shubhi
I just loved the recipe...it tastes amazing.

---
Jun 08, 2016 by Saam
It's a great site..luv it. Your step by step explanation with pictures makes us to try ur recipes very easily. I already made green chutney,falafel,pav baji....

---
Jun 08, 2016 by Saam
its a great site..luv it..ur step by step explntn wid pictures makes us to try ur recipes vry esyly..i alrdy made green chutney,falafel,pav baji....

---
Apr 16, 2016 by Andrea Joseph
This recipe is perfect, everything tasted just like the batta vada I've eaten in India!

---
Jan 21, 2016 by Mamatha
It's a wonderful site. Explained really well about each recipe.

---
Dec 30, 2015 by Mamata H Parekh
Its wonderful site for newly cook.

---