It is a delicious combination of Indian aloo tikki and a soft bun. This is a derived snack food that combines Indian tradition with new western fast food craze. This Indian veggie burger with potato patties recipe uses soft bun, which is shallow fried in a butter and homemade aloo tikkis for complete burger experience preferred by Indian palate.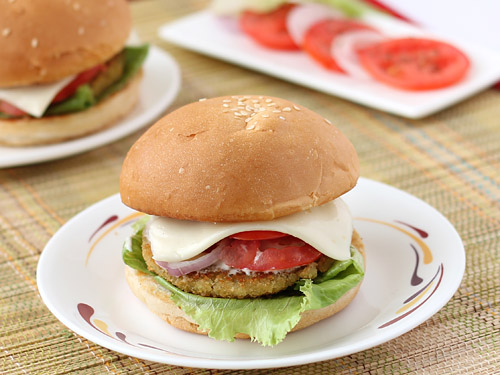 Preparation Time:
5 minutes
Ingredients:
2 Aloo Tikkis
2 Burger Buns
1 tablespoon Butter
1-2 tablespoons Tomato Ketchup
2 Lettuce leaves
2-3 tablespoons Mayonnaise
1 large Tomato, cut into round slices
1 medium Onion, cut into round slices
2 Cheese Slices
Directions:
Cut bun horizontally into two halves. Heat butter in a flat pan and shallow-fry bun halves until light brown.

Take bottom base of bun and spread tomato ketchup over it.

Place lettuce leaf followed by aloo tikki.

Spread 1-tablespoon mayonnaise over it.

Place 1-2 tomato slices and 3-4 onion slices in given order.

Finally place cheese slice over it.

Cover it with top base of the bun.

Aloo tikki burger is ready for serving. Serve it with ketchup and soft drink.
Tips and Variations:
Add sliced cucumber and flavored mayonnaise for variation.
You can also buy frozen potato patties from grocery stores, fry or shallow fry them as per the instructions and follow the directions given above to make stomach filling burger in no time.
Use whole wheat or multi grain bread bun to make it healthier.
Taste:
It is outright delicious in every bite. The use of veggies like tomato, onion and lettuce adds subtle taste, flavor and crispness.
Serving Ideas:
Serve it as a snack or as light evening dinner. It tastes even better when accompanied by fresh veggie salad or French fries and Coke or Pepsi.
Other Step by Step Recipes
---
15 Comments
---
Feb 10, 2017 by Alpana sinha
Good one, my children really loved it but we can make it more spicy by adding green chutney?

Response: Yes Alpana, you can make it more spicy by adding green chutney.
---
Feb 01, 2016 by Samrudhi
I especially love this recipe since I am a vegetarian and a huge fan of burgers. A win-win situation I must say. I followed the recipe exactly as is and made a really awesome burger! Pro tip: The go cheese slices complement the flavours especially well with the burger in this recipe.

---
Jul 29, 2015 by Aanchi
I love this recipe because it was very easy and tasty,

---
Jun 23, 2015 by Sania Sharma
This makes each and every recipe easy. Each person can make things at home by reading instructions.

---
May 05, 2015 by Rashmi Rao
I'm just loving this. So simple and so effectively. Especially those pics of each step guides more. So that I'll be perfect in every step. As a beginner it just guides me like a mother. Loving it.

---
Nov 17, 2014 by Doll
I have never seen such tasty recipe, thanks.

---
Sep 08, 2014 by Jayshree
I made this, turned out very delicious. I added green chutney before tomato ketchup.

---
Jul 04, 2014 by abba
wow..i love your recipes..after going through site..i felt cooking is really simple..thanks and keep it up.

---
Jun 20, 2014 by anita
I like it very much because it\'s very easy to learn.

---
May 28, 2014 by rupali
U have not given the recepe of aloo tikis

Response: Recipe for Aloo Tikkis is provided in separate page and it can be accessed by clicking link given in 1st ingredient and in Step-2. Here is the direct link for the recipe http://foodviva.com/snacks-recipes/spicy-aloo-tikki-recipe/
---
May 26, 2014 by devender
Good very good .because I m in continental chef

---
Jan 07, 2014 by simran
superb recipe, i love it

---
Aug 08, 2013 by seema patel
help to taste new dishes

---
Jul 24, 2013 by SUNITHAVAKITI
it is very healthy and testy food for kids

---
Oct 05, 2012 by amar chhetri
Nice recipe, I am giving 4 starts because there are no step photos otherwise I would have given 5 stars. It would have been even better if you would have shown step by step photos as in other recipes of your website.

Response: Hi Amar, We have now provided photos for each step of this recipe as we have on all other recipes. Thanks for the feedback though!
---