This is a delicious coffee flavored drink made from brewed coffee, banana and yogurt. Follow this recipe to make nice and taste buds soothing coffee smoothie with milk and yogurt in less than 5 minutes.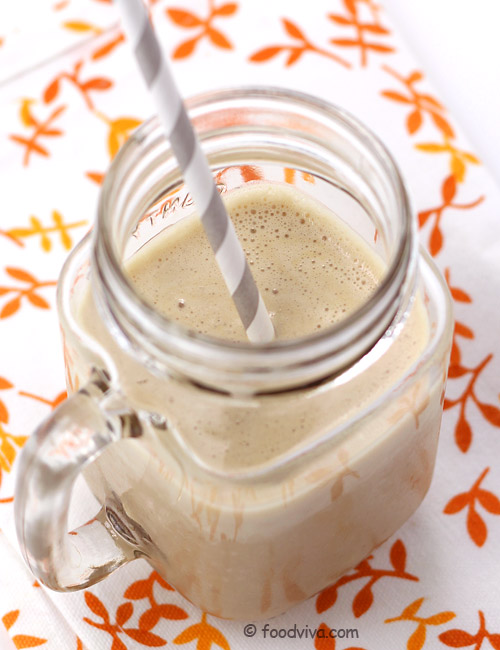 Preparation Time:
5 minutes
Ingredients:
1/4 cup cold Brewed Coffee
1 Banana, sliced or 1/2 Avocado
1/2 cup Plain Greek Yogurt or Vanilla Yogurt
2-3 drops of Vanilla Extract or A pinch of Ground Cinnamon
2-3 Ice Cubes
2 teaspoons Honey or Sugar
Directions:
To make brewed coffee at home using Instant Coffee Powder – Take 1/2 teaspoon Instant Coffee Powder in a medium bowl and pour 1/4 cup hot water over it. Stir with a spoon until the coffee powder is dissolved. Let it cool before using in the next step.

Add sliced banana and plain greek yogurt in a blender jar.

Add honey and vanilla extract.

Add brewed coffee and ice-cubes.

Blend until smooth puree. Pour prepared drink into a serving glass and serve.
Tips and Variations:
For variation, add 2-3 chopped dates instead of honey/sugar.
Add 1/2 tablespoon sweet chocolate syrup and reduce the quantity of honey to 1 teaspoon for chocolaty taste of coffee.
Taste:
Sweet and creamy coffee flavor with natural tang of yogurt.
Serving Ideas:
Serve it as an afternoon beverage. It also goes well with party snacks.
---
3 Comments
---
Mar 01, 2018 by Preston R
Great tasting smoothie. Instead of banana I put 1 scoop of protein powder and it came out great! Now I'm going to have to pick up some bananas and try it with them in it. Such a great tasting healthy treat! Great recipe!

---
Mar 31, 2017 by ShivaniAky
Modern recipes with less effort and a great taste.
Thanks FOODVIVA

---
Apr 11, 2016 by Mya P.
Soooo good. I wanted a lot out of it so I doubled up everything and now we have enough to last me throughout the day haha. I also added two little frozen bananas in it and it was great!! I'm definitely making this more often.

---