Chocolate Smoothie Recipe
Chocolate Smoothie, a cool and creamy way of satisfying your cravings for chocolates, is simple and easy to prepare and pleasure to taste buds. In this smoothie recipe, cocoa powder, chocolate chips, soy milk, yogurt and banana provide best creamy chocolaty experience to your palate while garnish of whipped cream and chocolate shavings provide drool worthy visual treat to your eyes.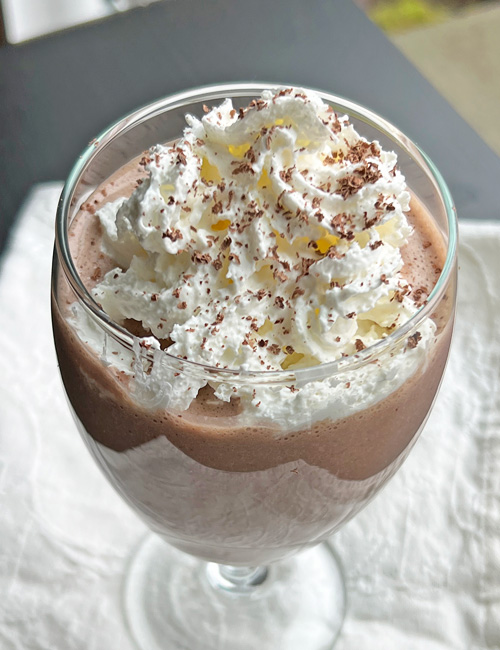 Preparation Time:
10 minutes
Ingredients:
1 tablespoon Cocoa Powder
1 tablespoon Chocolate Chips
1½ cup Soy Milk
1/2 cup Vanilla Yogurt
2 Bananas, peeled and chopped
Whipped Cream
Chocolate Shavings
3/4 cup Crushed Ice
Directions:
Start by placing cocoa powder and chocolate chips in a blender. Add soy milk and blend until smooth.
Add banana and yogurt; blend until smooth and there are no banana pieces.
Add crushed ice and blend again until slushy. Pour prepared smoothie into serving glasses.
Top each glass with as much whipped cream as you like, sprinkle chocolate shavings over it and serve.
Taste:
Sweet and chocolaty.
Serving Ideas:
Healthy chocolate smoothie prepared with soy milk, chocolate chips and yogurt can be served on its own or with any other snacks at any time of the day. Your kids and family members will definitely love to drink it in the breakfast. It can be served as a perfect party dessert too.
---
5 Comments
---
Mar 30, 2018 by Kavya
Nice recipe can you also tell us recipe of chocolate syrup and corn syrup........ There are many recipes that I have tried at home .....

Response: Hi Kavya, we will try to publish the recipe of chocolate syrup and corn syrup soon.
---
Feb 28, 2018 by Kelechi Asika
Like this site, I've taken so many recipes from it. Cheers!

---
Mar 02, 2017 by Swati daga
Many recipes are provided at this site which are easily prepared at home.

---
Oct 28, 2016 by Ramya
Can you post the pics please?

Response: Hello Ramya, we are trying to update all old recipes with stepwise photos. We will definitely post the pics of this recipe soon.
---
Sep 30, 2014 by Tasha
This site is cool I love who made this site.

---