Strawberry blueberry smoothie is a perfect sweet and tangy breakfast drink for busy mornings as it can be made in minutes with this recipe. The sweet blueberry and tangy strawberry compliments the taste of yogurt and banana and gives this smoothie an all new complex flavor profile which will surely make your taste buds happiest in the town.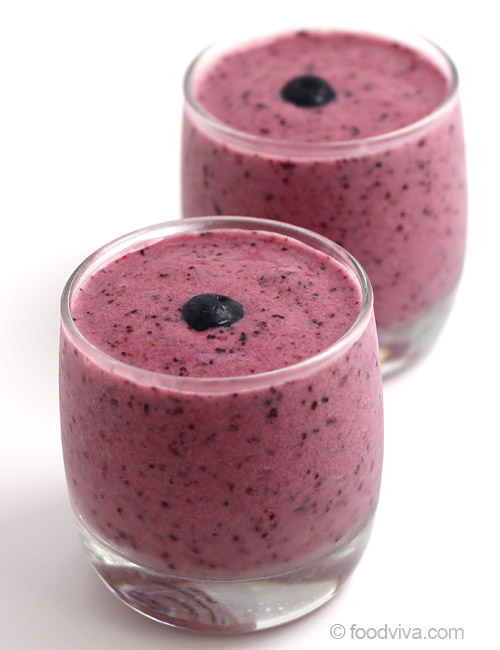 Preparation Time:
10 minutes
Ingredients:
1 cup Blueberry (fresh or frozen)
6 Strawberries (fresh or frozen), stem removed and diced
1 6 oz container of Vanilla Yogurt
1 frozen Banana, sliced
3-4 Ice Cubes
Directions:
Place blueberries, strawberries, vanilla yogurt and banana in a blender. Blend until smooth.

Add ice cubes and blend again on high speed until slushy.

Pour prepared smoothie into serving glasses and serve.
Taste:
Sweet and mild tangy
Serving Ideas:
Apart from being suitable to be served as breakfast drink, smoothie of blueberry and strawberry is also a perfect afternoon beverage during hot summer days. Serve this delicious drink to kids a healthy alternative to fizzy or canned drinks.
---
3 Comments
---
Aug 26, 2017 by Bell
Smoothie recipes. It is extremely disappointing that we cannot print these recipes with the photos.

Response: We have not given the option to print the recipe with photo yet as most of the people don't found it useful. However, we will definitely try to add an option to print the recipe with/without photo in future.
---
Aug 03, 2015 by Dana
I absolutely love smoothies!! They are very healthy and I really enjoy them. I lost weight off of drinking smoothies. I wanna try strawberry, kiwi smoothie. Thank you for having this website I love it. Have a blessed day.

Response: Thanks Dana.
---
Apr 09, 2013 by Margaret Agarwal
Thanks a lot for the smoothie recipes. My son loves smoothies and with summer approaching in USA, the grocery store is flooded with strawberries, blackberries and blueberries. I am going to start trying the smoothie recipes. Thank you for your recipes.

---