It is a nutritious and yummy Indian flat bread prepared using palak (spinach), wheat flour and other Indian spices. With this recipe's unique process, preparing delicious palak paratha (spinach paratha) is an extremely easy task; it just requires preparing a palak puree, using which dough is kneaded and paratha is cooked in a normal way. No stuffing, no mess, no nothing, just simple, easy and healthy. That's not all, garlic, chilli, ginger and coriander used in this recipe make it so delightfully tasty that it can rival the taste of stuffed one.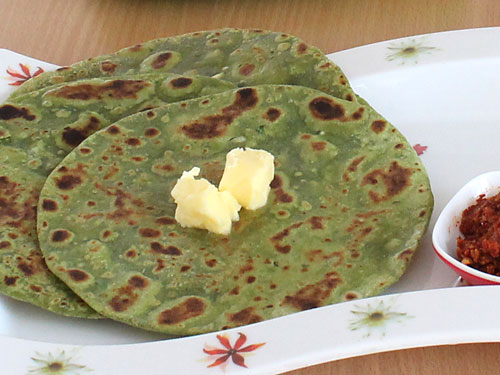 Preparation Time:
20 minutes
Ingredients:
1½ cups (for dough) + 1/2 cup (for dusting) Wheat Flour
3/4 cup roughly chopped Palak (Spinach)
1/2 teaspoon roughly chopped Ginger
3 cloves Garlic
1 Green Chilli, chopped
2 tablespoons chopped Coriander Leaves
3 teaspoons + for shallow frying, Oil
Salt to taste
Butter, for serving
Directions:
Clean spinach and coriander leaves using water and remove dirt and impurities, if any. Chop spinach, coriander leaves, ginger, garlic and green chilli.

Grind spinach, green chilli, garlic, ginger and coriander leaves in a grinder or food processor and make a smooth puree. Do not add water while making puree.

Combine 1½ cups wheat flour, 2 teaspoons oil, salt and prepared spinach puree in a deep bowl. Add water as required and knead smooth and soft dough.

Grease the dough surface with 1 teaspoon oil. Cover it a plate or a clean muslin cloth and let it rest at room temperature for 20 minutes.

Take 1/2 cup dry wheat flour in a plate for dusting. After 20 minutes, divide it into 9 equal parts and give them a round ball shape. Take one dough ball and convert it into thick pattie by pressing between your palms or against rolling board. Lightly coat its entire surface with dry wheat flour.

With the help of rolling board and rolling pin, roll it out into round raw paratha of approx 6-7 inch diameter. It should be little bit thicker than phulka roti but less thicker than tandoori roti, (around 2-3 mm).

Place it on a heated tava/griddle and cook it as you would cook plain paratha. i.e Cook each side with 1/2 teaspoon oil until light golden brown spots appear on both sides. (Read detailed steps given in

plain paratha recipe

if you are a beginner.)

Place butter cube over hot palak parathas and serve them with tomato chutney, curd or pickle.
Tips and Variations:
Use blanched palak (spinach) and blanched onion (1 small size) to make onion palak puree for variation.
Knead very soft dough to make them softer.
Use 3 tablespoons chopped palak along with its puree for a tempting look.
Generally kids do not like green vegetables; however, you can prepare it with the stuffing of paneer for kids.
Taste:
Soft and mild spicy
Serving Ideas:
Healthy and easy to make palak paratha is a treat to taste buds when served with curd or with aloo tamatar sabzi and garlic chutney. Pack it in your kids's lunch box with pickle as healthy snack.
Other Step by Step Recipes
---
17 Comments
---
Mar 22, 2018 by shruti
Such a lovely recipe. Im sure it will taste really good. Thanku soo much for sharing this recipe.

---
Mar 15, 2018 by ajit shah
simple n deliciou recipe...

---
Dec 29, 2017 by Priyanka
Tried fr the first time today n it came out really well.. my kid too enjoyed it despite of the fact that he dislikes palak.. Thanks for the recipe :)

---
Sep 25, 2017 by Hetal
Amazing layers done. Nice recipe with clear idea and photoes.

---
May 23, 2017 by shakuntala
Very good, tastes just fine. Thanks a lot.

---
Oct 28, 2016 by Aswathy shamkumar
Very good, simple and tasty recipe.

---
Feb 17, 2016 by Siddiqua
Thanks for instructions. These recipes are easy, healthy and tasty too.

---
Jan 30, 2016 by Sravanthi
Its nice and healthy for children.

---
Jan 27, 2016 by Aarti
Hi this recipe is quick, healthy and tasty, thank you.

---
Oct 05, 2015 by Sumit
Thanks for this healthy recipe.

---
Feb 28, 2015 by Sachin
Wonderful recipes.
We have tried your various recipes like manchurian, veg pulav etc. All cooked wonderful. Your good thing is that step wise images are shown for lively guidance. Thanks. Keep on flavoring us with yummy dishes.

---
Feb 16, 2015 by Chetana
Today I tried this parata receipe. It turns very good. Thank you for the delicious recipe.

---
Oct 14, 2014 by madhuri
I tried this recipe today.
It is excellent recipe, I added ajwain in the dough for a change. Superb recipe, my children loved it. Thank you.

---
Jul 30, 2014 by Indira
Plalak paratha recipe is good. Please upload nutritious quick recipies for kids.
Thank you.

Response: Hi Indira, we will definitely upload the more quick recipes of kids. Follow our healthy kids recipes section to get more ideas about kids recipes and subscribe to our recipe feed so that when we publish the new recipe, you get the notification via mail.
---
Apr 27, 2013 by rbindra kumar dash
I like your such type of recipes. Mostly I like to eat palak paneer, methi subji.

---
Dec 05, 2012 by Mallikarjun
Please upload the malai kofta recipe

Response: Hi, we will definitely develop the recipe, prepare it in our kitchens and put on our website. We will let you know once its available on the website.

UPDATE (11/05/2014): Malai Kofta recipe is now available on foodviva at http://foodviva.com/curry-recipes/malai-kofta/
---
Oct 20, 2012 by Farida
This receipe turns out nice and easy but if you need little sweetness, puree one banana in the palak mixture and make it as usual.....tastes delicious..enjoy......

Response: Hi Farida, This is an awesome suggestion, we are sure that banana will also make it kids favorite. Thanks for making it even better for our readers. Thank You!
---