Muli Paratha (Radish Paratha) is a deliciously healthy, easy to prepare, Indian bread and best alternative of plain chapati or roti. Its preparation closely resembles to plain paratha but its magic lies in dough prepared from wheat flour, shredded radish (muli) and Indian spices. It is a perfect dish for growing kids as there is no other better way than this to provide goodness of radish to kids. This easy recipe prepares simple paratha with muli without stuffing. Check out our Stuffed Mooli Paratha recipe to prepare it with stuffing.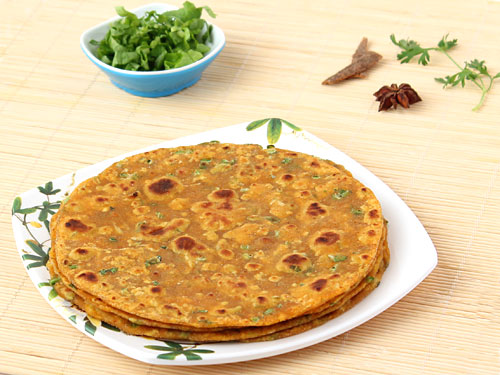 Preparation Time:
10 minutes
Ingredients:
1 cup (for dough) + 1/2 cup (for dusting) Wheat Flour
1/2 cup shredded White Radish (Muli)
1/4 cup finely chopped Radish Leaves (Muli Patta)
2 teaspoons Curd
1/2 teaspoon Coriander Powder
1 teaspoon Red Chilli Powder
1/2 teaspoon Turmeric Powder
2 tablespoons finely chopped Coriander Leaves
1 tablespoon Oil + for shallow frying
Salt
Directions:
Take one medium size bowl and add 1 cup wheat flour, 1 tablespoon oil, salt, shredded radish, chopped radish leaves, curd, chopped coriander leaves, red chilli powder, turmeric powder and coriander powder; mix them properly.

Knead smooth and soft dough by adding water as required in small quantities. Grease its surface with 1/2 teaspoon oil and cover it with clean muslin cloth for 15 minutes.

Divide it into 6 equal parts and give them a round shape of ball.

Take one ball, press it and coat it with dry wheat flour.

Roll it out on roti making board (chakla) and give it a round shape. Thickness of rolled circle should little bit more than phulka roti.

Heat tava over medium flame and cook raw paratha on it.

When you start seeing tiny bubbles rising on the surface, flip it upside down. With the help of spatula, spread 1/2 teaspoon oil around its circular edge and cook for a minute.

Flip it and again spread oil around its edge. Press it with spatula and cook for 30-40 seconds. Repeat flip and press process until light brown spots appear on both sides.

Repeat steps 4 to 7 for remaining dough balls. Yummy muli parathas are ready. Serve them with cucumber raita and mango pickle.
Tips and Variations:
Add 1/2 teaspoon grated ginger for a spicy taste.
If white radish is not available, then use red or pink radish.
Taste:
Soft and mild spicy
Serving Ideas:
Plain muli ka paratha makes delicious and wholesome healthy meal when served with aloo tamatar sabzi, cucumber raita and gajar halwa. It can also be served with masala chai or coffee or just with plain curd and pickle as breakfast or light dinner.
Other Step by Step Recipes
---
6 Comments
---
Jan 07, 2017 by RAJESH DAS
Can I avoid curd? Please reply.

Response: Yes, you can avoid curd.
---
Jul 30, 2015 by Sonia
Hi, can I keep the prepared dough in the refrigerator overnight & use it early morning?

Yes, you can prepare the dough I advance and keep in an airtight container in refrigerator. Sometimes, paratha prepared from refrigerated dough may turn chewy after cooling so if you want to eat paratha immediately after cooking, then you can use the refrigerated dough.

---
Oct 09, 2014 by Sandhya
Very nice and easy recipe of paratha to make for breakfast. I love it.

---
Sep 09, 2014 by sonia
your tips are very useful. thanks a lot.

---
Jan 05, 2014 by zara
Great recipe! But how.much salt did you put in? Just for an estimate thanks! :)

Response: I added (approx.1/3 teaspoon salt) (in step-1) with other ingredients before kneading the dough.
---
Sep 24, 2013 by janani
Love this parathas any time love the clicks nicely done.

---