Preparing Lachha Paratha (Laccha Paratha), a multi layered shallow fried north Indian flat bread, is an epitome of cooking art which tells us how one can make delicious and tempting food from common unassuming ingredients by just deploying a new technique in its preparation. This layered paratha is also popular as kerala parotta in malabar region of kerala. This step by step photo recipe employs extremely easy and unique technique and provides detailed instructions to help you make perfectly layered paratha.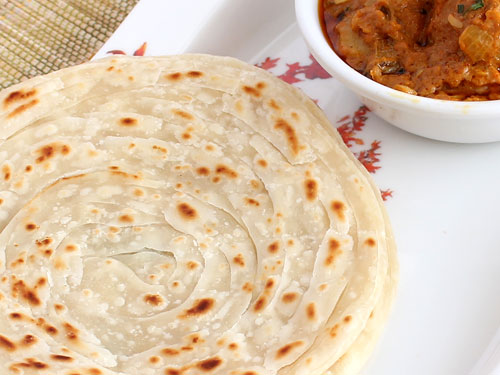 Preparation Time:
25 minutes
Ingredients:
1 cup (for dough) + 1/2 cup (for dusting) Maida (all purpose flour)
Warm Water for kneading
1 tablespoon + for shallow frying Oil or Ghee (clarified butter)
Salt
Directions:
Take 1 cup maida, 1 tablespoon oil and salt in a large bowl. Knead smooth dough by mixing all ingredients and adding warm water in small incremental amounts (1 or 2 tablespoons at a time). Addition of water in small quantities as required will prevent you from adding too much water to bind dough. The dough should be soft like chapati dough. Grease surface of dough with 1/2 teaspoon oil, cover it with clean muslin cloth and leave it to set at room temperature for 25 minutes. Divide dough into 4 equal chunks and give each chunk a shape of ball.

Take one dough ball, flatten it like pattie (by pressing between your palms of against rolling board) and coat it with dry wheat flour.

Roll out dough ball in a circular shape (approx. 7-8 inch in diameter) or as thin as possible. Now spread 1/2 teaspoon ghee or oil evenly over entire surface using brush or your hand and sprinkle 1 teaspoon dry wheat flour over it.

Hold approx 1/3 inch wide strip with your first two fingers and thumb from the top edge of rolled raw paratha, lift and fold backwards such that top edge remains on top.

Now hold two ends of plited strip and repeat lift and fold backwards process until entire rolled paratha is like a stack of folded plits.

Now hold each ends of long stacked-plited strip with your first two fingers and thumb. Lift the strip slowly away from rolling board and give a few mild gentle swings. This will stretch the strip a bit.

Horizontally place elongated strip on a rolling board.

Roll it like a Swiss roll. Press and stick outer-end against roll's immediate surface. Prepare remaining rolls.

Take one roll and place it horizontally on rolling board. Coat it with dry wheat flour and roll it out gently without applying too much pressure and give it a round shape (approx 5-6 inches diameter).

Heat tawa or griddle over medium flame. Place raw lachha paratha on a hot tava. When you see tiny bubbles rise on the surface, flip it up side down.

Spread 1 teaspoon oil over each side with spatula and cook until both sides gets evenly spread golden-brown spots.

Transfer to plate and spread butter or ghee as per your preference. Repeat process for remaining rolls. Soft and crispy parathas are ready. Serve them with

healthy palak paneer

or

dum aloo curry

and coconut chutney.
Tips and Variations:
Replace maida flour with wheat flour or mix of 1/2 cup wheat flour and 1/2 cup maida.
Use ghee instead of oil to knead dough for more soft and crispy paratha.
Do not apply too much pressure while rolling out to get more visible layers in cooked lachha paratha.
Taste:
Soft layers concealed by crisp outer layers .
Serving Ideas:
Serve them with dal makhani, chickpea curry and tomato salad for healthy lunch. It makes tummy filling breakfast when served with sour mango pickle and tea or coffee.
Other Step by Step Recipes
---
33 Comments
---
Dec 07, 2017 by Urusa Khan
I loved all the paratha's recipe.

---
Sep 21, 2017 by Baivab jha
Very good recipe. It is famous at Maharashtra, pune, uttrakhand and many other places....

---
Mar 24, 2017 by Deepa
Well explained with elaborate pictures.

---
Mar 13, 2017 by Jaya
Hi Foodviva.com

I m a Student. Cooking and experimenting different things in cooking is my hobby. I love Cooking . And I love foodviva as well . Because it presents recipes with visual presentations.....I first tried out making khaman-dhokla from your website.....and it came out SUPER AMAZING....YUMMY....VERY TASTY....
So first of all THANK YOU SO MUCH for such a wonderful blog.

And Second thing I want to tell you that I cannot find Homemade ice creams and and Cakes recipes on foodviva.........So Please Upload these Recipes.........

And Please note that I have tried and made Cooker Cakes containing Eggs and Egg less (as I don't have oven)........But only that Cakes made from Eggs come out yummy , soft and delicious.......So Please Upload HOMEMADE Cooker Egg less Cakes AND HOMEMADE Egg less Ice creams With visual clear presentation In your style:-) :-) And inform me about the same asap.

Once again THANK YOU SO MUCH for such Wonderful recipes. Awaiting for your reply.

Thanks

Regards
Jaya

Response: Thank you Jaya for the feedback. Unfortunately we currently do not have recipes for homemade ice creams. We will try to publish recipe for how to make eggless cakes in cooker soon.
---
Sep 07, 2016 by Ammu Kelan
Oh my god!! Your blog is such a visual treat to me...Thanks a lot for this wonderful blog...your presentation is good..I need to try it with the Best Porota Maida and your plain paratha is looking yummy..mouth watering.

Response: Best of luck Ammu for the parota recipe.
---
Jul 18, 2016 by Pallavi
Nice and easy paratha. I will try this with paneer.

---
Jul 01, 2016 by Sinusminnu
Perfectly explained..definitely try this one

---
Apr 14, 2016 by Tina Fernandes
Very nicely explained.

---
Apr 13, 2016 by Mita Das
Like your post very much. Too easy to learn and also awesome.

---
Feb 02, 2016 by Nikky
Really helps everyone a lot.. especially me :)

---
Feb 01, 2016 by REVATHI KIRUBAKARAN
Came out really well as shown in the pictures by you.Thanks a lot.

---
Jan 27, 2016 by Suresh Saini
Nicely explained recipe and easy to follow.

---
Jan 23, 2016 by Ankita bhattacharya
Awesome site :-)
Easy to learn.

---
Jan 17, 2016 by Manali
Easy to make recipes....after going through your website I really feel like cooking everyday something new.

Thank you for your wonderful effort.

---
Dec 26, 2015 by Sajitha
Wonderful site, not at all confused, very delicious and steps are simple. Thank you very much for your effort and really enjoys cooking and also you are teaching the Art of Cooking.

Response: Thank you Sajitha for the feedback. It keeps us motivated.
---
Dec 25, 2015 by Varsha
I usually buy lachha parantha at the supermarket, frozen ones by Sumeru. These can be used within 6 months or more. How can I make my own lachha parathas which could be used within the next few weeks or months. Of course they will be frozen.

Response: Hi Varsha, I have never tried to freeze the paratha but you can freeze raw parathas by keeping a parchment paper between them in an airtight container or a zip-lock bag. Use it within a month.
---
Nov 08, 2015 by Jony
Hi there,

I stayed outside from my hometown for my job. I used to cook my own food as I don't like to eat in hotels. I tried lacha prantha and all my friends ate and said Yaar aapna hotel khol key bahut chalega. Thanks for sharing.

---
Jul 20, 2015 by Athu
It came out great but layers didn't come good what can I do?

Response: Hi, thanks for trying the recipe. When you make this next time, apply some oil over dough roll (like swiss roll in step-9) before coating it in dry flour(before rolling out the paratha), oil helps to keep the layers separate.
---
Jul 17, 2015 by Keya
The lachcha paratha recipe helps me a lot to make it, so yummy!
Thanks a lot for sharing.

---
Apr 26, 2015 by Asmita
Thank you so much for posting this wonderful maida paratha recipe. I was looking around for this recipe but could not find any pics, but thank you for sharing the pics. It's an amazing dish.

---
Feb 15, 2015 by Abhipsa
Easy recipe of lachha parota. Thank You.

---
Jan 16, 2015 by Namrata
I like the way of explaining the recipes so briefly and simply. Especially the pictures help a lot. Better than any recipe video, best and best site. Thanks.

---
Dec 12, 2014 by tanmay Purohit
How can we store the parathas if there are some that could not be finished? Also, how can we preserve the dough if it's mistakenly made of large quantity.

Response: Hi Tanmay, you can keep the paratha at room temperature for a day and in the refrigerator for 2-3 days. To store them in refrigerator, place them in a container and cover with a lid to prevent from drying. To consume it, remove it from refrigerator and heat it over tawa for a minute or in a microwave for 30 seconds.
You can keep the dough in an airtight container in refrigerator for 2 days. Remove the dough from refrigerator for at least 30 minutes before making paratha. However, I would suggest you to make the paratha from fresh dough because if you make the paratha from refrigerated dough, sometimes, they do not turn soft and turn chewy when cool down.
---
Nov 03, 2014 by Nilofer
This is the best site I found for making paranthas and recipes to be served with their favorite yummy mummy parathas for a happy lunch box with lots of love for my kids.

---
Jul 15, 2014 by Mahesh
It is easy to make any item without any other peoples help..

---
Jun 25, 2014 by Akanksha
Perfect representation. Thank you much

---
Jun 24, 2014 by yash
I tried n cooked kadai paneer it was so easy to make after reading the instruction given.simple way to cook. The food was really tasted n everyone appreciated. Thanks to you.

---
Jun 07, 2014 by Sumi
I like the wonderful way of your representation of the receipe and it taste truly very nice.Thank you

---
Apr 22, 2014 by Swati
Easy to learn recipies in an easy way.
like ur all post........

---
Mar 16, 2014 by anna pauly
Very good posting by you. Very simple to learn.

---
Oct 20, 2013 by priyanka
I like your way of posting recipe... it\'s gr8... thanks for sharing with us....

---
Oct 06, 2012 by jyoti
Very Tasty

---
Sep 04, 2012 by jyoti tekchandani
i like your way of sending recipe now you can send me receipe of mcdonald aloo tikki burger and veggie burger.

Response: Dear Jyoti, thanks a lot for your positive feedback. Recipes of McDonald's burgers are highly secret and nobody knows hot to get exact taste. However, we will try to create recipe havong similar taste as theirs.
---