Vegetable Pulao (Veg Pulav) is a spicy rice dish prepared by cooking rice with various vegetables and spices. In this recipe, assortment of spices, veggies and rice are first sautéed in oil and ghee and then cooked in pressure cooker as you would cook plain rice. However, the uniqueness of this easy mixed vegetable pulao recipe lies in use of bay leaf, cinnamon and cloves which provides nice and complex aromatic feel that simply makes juices flowing in mouth.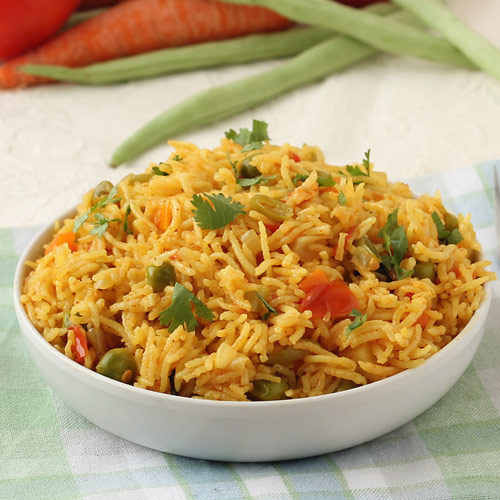 Preparation Time:
15 minutes
Ingredients:
1/2 cup Basmati Rice (long grained rice)
1 medium Onion, finely chopped
1 small Tomato, finely chopped
1/4 cup Green Peas (mutter), fresh or frozen
3 tablespoons finely chopped French Beans
1/4 cup finely chopped Carrot
1 small piece of Bay Leaf
1-inch piece of Cinnamon
2 Cloves
1/4 teaspoon Garam Masala Powder
1/8 teaspoon Turmeric Powder
1/2 teaspoon Red Chilli Powder
2 tablespoons finely chopped Coriander Leaves
2 tablespoons Oil
1 teaspoon Ghee
1 cup Water
Salt to taste
Directions:
Wash rice and soak it in water for 15-20 minutes. Drain and keep aside until needed.

Heat ghee and oil together in a pressure cooker (2-liter capacity, stainless steel cooker) on low flame. Add bay leaf, cinnamon, clove, and sauté for 30 seconds. Add onion and sauté until it turns light brown or for approx. 2 minutes.

Add chopped tomato, green peas, french beans and carrot.

Stir-fry them for approx. 2 minutes.

Add soaked (drained) rice, garam masala powder, turmeric powder, red chilli powder and salt.

Stir-fry them for approx. 2 minutes.

Add 1 cup water and mix well.

Close the lid and cook over medium flame for 2 whistles. When 1st whistle is completed, reduce the flame to low and cook until another whistle. Turn off flame.

Let it cool at room temperature until pressure inside cooker comes down naturally. Open the lid carefully and fluff the rice with a fork. Transfer it to a serving bowl and garnish with fresh coriander leaves.
Tips and Variations:
We have used 2 liter capacity stainless steel cooker in this recipe. However, you can use larger size of cooker as well but you need to determine how many whistles and what flame intensity will be required to cook it properly. If you are using pressure cooker made of aluminum then cook it for 2 whistles on medium flame.
You can prepare it in large quantity in larger pressure cooker. Just use rice and water in 1:2 ratios. i.e. for every one cup rice two cups water should be added.
You can also prepare equally delicious mixed vegetable rice pulao in a pan with a lid. Use same amount of ingredients as mentioned in this recipe, cover pan with a lid and cook it on low flame for 8-10 minutes. Do not open the lid in between while cooking. After turning off the flame, open the lid after 7-8 minutes. However, cooking in a pan may require more water as steam will escape easily, hence add 1/4 cup more water for given recipe.
Serving Ideas:
Indian vegetable pulao is traditionally served with cucumber raita or onion raita, papad and pickle. In south Indian states like Andhra Pradesh, Kerala, Karnataka and Tamilnadu, it is served and enjoyed with coconut chutney. It is a perfect dish for bachelors to make for dinner.
Other Step by Step Recipes
---
51 Comments
---
Apr 01, 2018 by Sanjeev Sharma
I tried this for the very first time and it was very delicious. I had never cooked anything in my life but this recipe was simple and very useful .
Thankyou.

---
Feb 11, 2018 by Dephan
Good recipie, but what about cardamom ? and mint leaves do they find place somewhere?

Response: Hi Dephan, This recipe doesn't use cardamom and mint leaves.
---
Jan 09, 2018 by Alex B
Can this recipe be made in a cast iron Dutch Oven instead of the pressure cooker?

Response: Yes, you can use Cast Iron Dutch Over to Vegetable Pulao in it. We recommend to pre-cook vegetables in steam for this.
---
Dec 27, 2017 by Ajjampur Manjaiah Nagaraju
Excellent. We are planning to prepare vegetable veg pulao. We have invited our close relatives. Txs.

---
Dec 04, 2017 by Regina
I've tried this recipe today and came out perfect, I didn't add cinnamon and in place of garam masala I've added chicken masala as it was a side dish of chicken curry, thank you and I'm going to try others recipes.

---
Dec 03, 2017 by Sunay Das
Awesome thanks again this recipe.

---
Sep 30, 2017 by Sangeetha pai
Awesome recipes i had tried one of them and my family loved it.

---
Sep 24, 2017 by Rita tiwari
Nice. I really like this simple pulav recipe.

---
Jul 24, 2017 by Juliana
I really like this simple pulav recipe. I tried to cook puval for the first time and it turned up to be delicious.

---
Jul 02, 2017 by Sarala Badiger
It is awesome . And tasty and yumm..........

---
Jun 11, 2017 by Pinky Suseelan
Thank you so much...... I tried this and it was awesome.... Thanks again.

---
Mar 18, 2017 by bhushan
Thanks a lot ! I cooked nearly after a decade. I chose this recipe. My wife and kid liked it so much. foodviva...you made me day!

---
Mar 13, 2017 by leenadri doley
It looks and seems vry delicious

---
Feb 08, 2017 by Chitra.J
Good teaching with pictures.

---
Oct 08, 2016 by Tricia
Are there any tips you can give for using a rice cooker with this recipe?

Response: Hello Tricia, I have never used the rice cooker so I am not able to give you any tips.
---
Sep 14, 2016 by NIKITA SONI
Really too good method to teach. Even the person who don't have any knowledge about the ingredients, they can also cook from your method of teaching....

Really Superb!!!

Response: Thank you Nikita.
---
Jul 09, 2016 by Devendra mishra
Excellent way to teach preparations by using photos, step by step to make the job easier.

---
Jun 09, 2016 by vishwas
Awesome food. Never tasted such a food before.

---
Jun 01, 2016 by Preeti
Its really awsome... step by step photos made it so easy. I tried and it was perfect as explained... I love this.

---
May 27, 2016 by Chaitra Shettigar
Followed the same mentioned in this. Came out well. But there were little sticky may be because of water ratio. Except that came out very nice..
Most of my family members liked it..

Response: Thank you Chitra for trying the recipe and writing the feedback. When you try this next time, add less water to make non-sticky rice.
---
May 24, 2016 by Cynthia
If I need to double the quantity of rice, do I need to double the rest of the ingredients, including spices, proportionately?

Response: Yes, you need to double the ingredients.
---
Apr 30, 2016 by Anjali
Nice recipe. Came out very tasty.

---
Feb 29, 2016 by Nida
Can I use potato in vegi?

Response: Yes, you can add potato with other vegetables.
---
Feb 13, 2016 by Raj
I tried it as per the proportions mentioned here, turned out yummy with nice aroma.

---
Jan 18, 2016 by Biswaranjan swain
1/2 cup rice means how much gram?

Response: 1/2 cup rice means 100 gms of rice.
---
Jan 01, 2016 by Deepa kumari
Thanks for this recipe. Very good. Thanks for nice and easy recipe.

---
Jan 01, 2016 by Dana hicks
The best rice dish ever. A must try.

---
Dec 25, 2015 by Krishnan
Garam masala already has cinnamon and clove. Why add them again in this recipe in whole form? Also, your recipe doesn't call for the garam masala to be friend with onions. Will this not leave a "raw" taste? Thanks in advance for your reply.

Response: Garam masala has cinnamon and clove but whole cinnamon and clove gives strong flavor to the pulao. No need to fry the garam masala in oil because the masala is be cooked with rice in next steps, so it will not taste raw.
---
Nov 25, 2015 by Noel Rodrigues
This is sweet and simple method of making a pulav. Very helpful.

Thank you.

---
Nov 14, 2015 by Ayesha
Like it.... Same like mom used to make... Thanks for sharing

---
Sep 13, 2015 by Fairy khan
Awesome recipe, my mom said wow.

---
Jul 21, 2015 by Fatema
Do I need to boil the rice first?

Response: Hi Fatema, no need to boil the rice first.
---
Jul 18, 2015 by Sibram das
It was fabulous having it, my mother loved this recipe.

---
Apr 28, 2015 by Vinod
Excellent recipe hardly took 20 minutes. Thanks a lot.

---
Apr 10, 2015 by Asun
Can't wait to make this recipe, but can you share the cooking time in minutes. I don't quite understand how long is 2 whistles. Sorry.

Response: If you have never used the pressure cooker then I suggest you to follow the instructions completely (like amount of water and cooking over medium flame) and do not change any ingredient ratio. Two whistles means when two times pressure cooker whistles completed. You can also cook it in a pan, follow the same method and cook it for 10-12 minutes over low flame in covered pan or until rice is cooked (for detailed direction to cook pulao in a pan follow this recipe of palak pulao).
---
Mar 18, 2015 by Ranjini
Simply superb and excellent pulao. Thanks for the recipe.

---
Mar 07, 2015 by Anjali Sreejith
First time when I cooked it was awesome and my husband loved it. Second time, rice got sticky. How did it happen?

Response: Hi Anjali, follow the given tips to make non-sticky rice.
1. Always use basmati rice for pulao.
2. Wash the rice at least 3-4 times or until water is clear.
3. Do not add more water. For 1/2 cup rice use 1 cup water or follow the instructions given on the backside of rice package to get water amount.
4. Do not cook it for longer period because we have already soaked the rice.
5. Do not forget to stir fry the rice for around 2-minutes in step-6.
---
Mar 03, 2015 by Paiker
This is very nice recipe. First time I cooked and it was really tasty. Thanks a lot.

---
Feb 24, 2015 by khusboo
My husband just loved it.

---
Jan 05, 2015 by Maruthi
Thank you so much. Followed the procedure and it was very nice.

---
Dec 25, 2014 by Vikash
Very good, thanks for such a nice and easy recipe.

---
Dec 14, 2014 by Diana cruz
It's really yummy and tasty. It's easy to cook and make family happy. I loved it.

---
Nov 02, 2014 by Zara
Yummy, how to prepare paneer pulao?

Response: Hi zara, check our pulao section to make the various types of pulao and rice dishes and follow the given link to make paneer pulao.
---
Oct 23, 2014 by swagata
Simply awesome and delicious. Just loved it.

---
Oct 10, 2014 by Shifa
Looks amazing
Even the dal tadka was fabulous

---
Oct 06, 2014 by paresh
Hi,
Please share some tricks of how to keep it fresh to be consumed after 4-5 hours.

Response: Hi, pulao remains good for 5-6 hours at room temperature and for a day in refrigerator. Just reheat it in the microwave or in a pan before serving.
---
Sep 28, 2014 by Long Man
Excellent - followed the recipe and results were good. Used the frozen mix of vegetables with corn, and microwaved the veggies in water for 4 minutes before putting in the cooker and came out well.

---
Sep 24, 2014 by Saumya Varghese
Best receipe... Love it :)

---
Jul 14, 2014 by nisha
how to make it more spicy?

Response: To make spicy pulao, increase the amount of red chilli powder (as per your taste) and add 1-2 chopped green chilli in step-3.
---
Jul 05, 2014 by Geetha
Simply superb... just followed the recipe as it is and it is delicious...

---
Jul 02, 2014 by vinita
Superb recipe.. I loved it and also prepared it at home..it came out so yummy...

---