This simple Indian rice dish probably needs no introduction. Just add some green peas while steaming the rice and voila! peas pulao is ready! However everyone knows this and probably won't require a recipe for it. However, this recipe is much more than the dish mentioned above; the rice and green peas are first stir fried with onion, ginger, garlic, green chilli, cinnamon and cloves and then steamed to perfection having each rice grain separated. Simple, easy to make and healthy!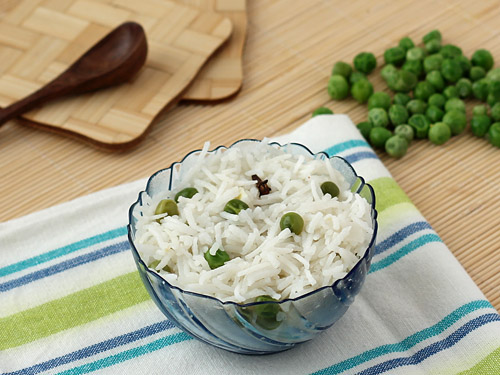 Preparation Time:
15 minutes
Ingredients:
1/2 cup Long Grained Basmati Rice
1/2 cup Green Peas, (fresh or frozen)
1 small piece of Cinnamon
2 Cloves
1 medium Onion, finely chopped or sliced
1/2 tablespoon Ginger-Garlic, crushed
1 Green Chilli, finely chopped
1 cup Hot Water
Salt
1/2 tablespoon Oil
1/2 tablespoon Ghee
Directions:
Wash and soak long grained rice in water for 15-minutes. Drain water and keep them aside.

Heat oil and ghee in a pan for sauteing. Add cinnamon and cloves; when cloves begin to crackle, add crushed ginger-garlic, green chilli and onion.

Sauté until onion turns light pink, approx. 1-2 minutes.

Add soaked rice and green peas.

Mix and sauté for 1-2 minutes.

Add 1-cup hot water and salt to taste and stir a bit. Bring mixture to boil over medium flame.

When it starts to boil, reduce flame to low and cook covered for 8-10 minutes and check whether rice grain has become tender and cooked. If not, cook for some more time. Do not open the lid in between multiple times otherwise rice may not cook properly.

After 8-10 minutes, turn off flame and let it stand (with lid on) for 7-8 minutes. Remove the lid and separate rice grains with fork.

Transfer matar pulao to serving bowl and enjoy with dal.
Tips and Variations:
The general measure of water required to cook rice is 2:1 (2 cups water for 1 cup of rice). However, different brands of basmati rice require different amount of water. You can get the information about how much water is required on backside of a rice pack.
To cook green peas pulao in pressure cooker, follow the recipe till step-5 and then transfer everything in the 3-liter capacity steel/aluminum pressure cooker, add 1 cup hot water, stir and pressure cook over medium flame for 3-whistles.
Taste:
 Mild spicy and aromatic
Serving Ideas:
 It tastes awesome when served with Punjabi kadhi or dal and papad.
Other Step by Step Recipes
7 Comments
---
Loved this recipe. Perfect for lunchbox for my little one.

---
Jul 11, 2016
by
Navnath Ghuge
I tried this recipe and it came out very nice. It's simple but very yummy, thanks.

---
This is literally the best rice recipe I've ever used. The flavour was so amazing with such few ingredients-I think the cinnamon stick really made it!

Response: Thank you Izzy for trying the recipe. Yes, the cinnamon adds the nice flavor.
---
Oct 13, 2015
by
saurabh sundriyal
That is soo amazing recipes are here ....easy to cook and delicious in taste ...

---
Nov 26, 2014
by
SREELALITHA
I tried this recipe, it's simple and yummy.

---
I tried this recipe, it came out very nice. It's simple but very yummy. Thanks.

---
Really it is very easy to follow, I tried it and it came out very nice, thank you.

---
---