Masala Khichdi is a healthy but spicy variation of simple rice khichdi wherein rice and couple of types of dals (lentils) are sautéed in ghee and typical Indian curry spices before pressure cooking. This ultimate comfort food of Indian cuisine requires knowledge of how to cook using pressure cooker and can be easily prepared at home by following the step by step photo method and enjoyed with curd, vegetable salad and papad. You can also cook this recipe in a deep pan but it will take more time to cook compared to pressure cooker.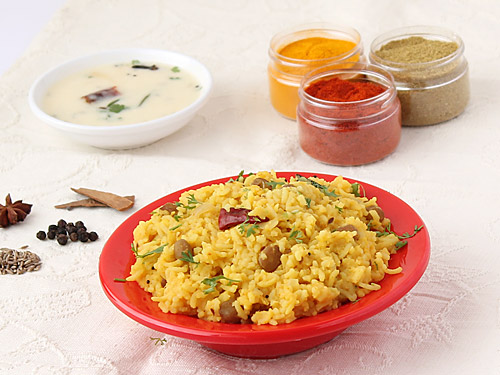 Preparation Time:
20 minutes
Ingredients:
1/2 cup Rice
2 tablespoons Moong Dal (split green grams)
2 tablespoons Toor Dal (split pigeon peas)
1 medium size Onion, finely chopped
2 tablespoons Peanuts
2 cups Water
2 tablespoons Ghee
1/4 teaspoon Mustard Seeds
1/2 teaspoon Cumin Seeds
2 Cloves
1 Cinnamon stick, broken into 2 pieces
1 small piece of Bay Leaf
4 Black Peppercorns
1/2 Star Anise
1 Dry Red Chilli, broken into halves
1/2 teaspoon Red Chilli Powder
1/4 teaspoon Turmeric Powder
1 tablespoon finely chopped Coriander Leaves
Salt
Directions:
1. Wash rice, toor dal and moong dal and soak them together in water for 20 minutes. Drain and keep aside until needed.

Heat 2 tablespoons ghee in a steel/ aluminum pressure cooker (3-4 liter capacity). Add mustard seeds and let them crackle. Add cumin seeds, cloves, cinnamon, bay leaf, black peppercorn, star anise, dry red chilli and peanuts; sauté for a minute.

Add chopped onion and sauté until onion turns light brown or for approx. 1-2 minutes.

Add drained rice, toor dal, moong dal, red chilli powder, turmeric powder and salt. Sauté for 1 minute.

Add 2 cups water, mix well and close the lid. Pressure cook for 3 whistles (1st whistle on high flame and remaining 2-whistles on medium flame).

Turn off flame and let steam pressure inside pressure cooker comes down naturally. Open the lid carefully. It will take approx. 6-8 minutes.

Transfer masala khichdi it to a serving bowl and serve it with plain curd/yogurt or onion raita and papad.
Tips and Variations:
If you are making it in less quantity and using small pressure cooker (2-3 liter capacity), then cook it over low flame.
Add finely chopped potatoes and chopped vegetable of your choice for variation.
This recipe uses ghee to get a nice aromatic flavor. However, you can also prepare it by sautéing rice and lentils in butter or cooking oil.
Taste:
Soft and spicy with nice aroma of spices and ghee
Serving Ideas:
Serve masala khichdi with Punjabi kadhi or Gujarati kadhi, papad and salad as a light and healthy dinner. It also tastes best on its own with pickle and plain curd.
Other Step by Step Recipes
---
15 Comments
---
Dec 11, 2017 by Purva Bankapure
Really nice recipe!!

---
Nov 04, 2017 by Yash Pal
Dals = lentils according to you.

However only masoor is Lentils. others are pulses, beans or legumes.

Otherwise a very good site, with detailed clear instructions.

---
May 08, 2017 by Megha
Thank you so much for such an easy recipe.... And it turned out to be awesome...

---
Jun 02, 2016 by Kismat joshi
Thank you so much for explaining every detail and also for the pictures in each step.

---
May 18, 2016 by Pooja Singh
Simply amazing recipes...my savior....kudos to the cook...

---
Feb 19, 2016 by Jannet
When I make khichdi or pulav, all masala gets collected on top why is it like that.

Response: Hi jannet, it is normal and it happens all the time, don't worry about it. The masalas float on the water as they are light weight and so they get collected on top after cooking.
---
Nov 05, 2015 by Pooja singh
Thanks for making this site ....all recipes are so easy and the dishes came out so delicious and yummy too.

---
Oct 26, 2015 by Rekha Shetty
The khichdi was very nice.

---
Oct 26, 2015 by M Pawan
Best Khichdi receipe ever....thanks a lot for sharing the recipe....Can you post non veg pulao recipe please?

---
Apr 09, 2015 by Neha Kalo
The step by step information is very helpful for begginers. Thanks a ton : )

---
Mar 31, 2015 by Prajakta Landge
I'm very beginner to cooking, please tell me salt to taste means how much?

Response: Hi Prajakta, add around 1/4 teaspoon salt and mix well. Taste the mixture (water) in step-5 for the salt and add more salt if required at this stage.
---
Mar 05, 2015 by Satya
An awesome website guys.
I just want to know how to make makkai ki roti and sarson da saag.

Response: Hi, we will soon post the recipes.
---
Dec 15, 2014 by Suhas
Superb! Loved cooking it.

---
Sep 05, 2014 by Pixel
Thanks for sharing. I tried it and it came out delicious. Keep it up.

---
May 19, 2013 by Prajakta Palande
It turned out to be really delicious

---