Gatte ki sabzi, an authentic dish from Rajasthani cuisine is a delicious curry prepared with gram flour as base ingredient. Gatte means cooked gram flour dumplings, which are added to the spicy curd gravy to make this irresistible curry. It tastes best when served with roti or any delicious Indian flat bread, dal and plain rice in lunch. Learn how to make this easy dish by following the given step by step recipe.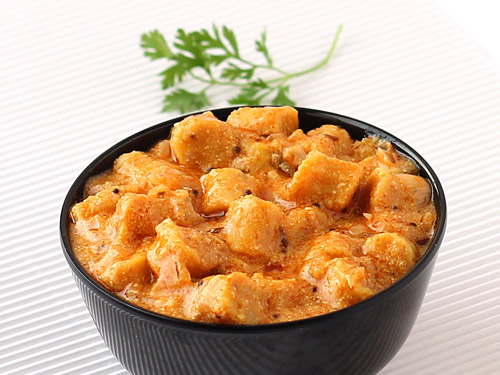 Preparation Time:
10 minutes
Ingredients:
For Dumplings
3/4 cup Gram Flour
1/4 teaspoon Turmeric Powder
1/4 teaspoon Red Chilli Powder
1/4 teaspoon Cumin Seeds
1/4 teaspoon Garam Masala Powder
1 teaspoon Oil
Salt to taste (or 1/3 teaspoon)
For Gravy
1/4 teaspoon Mustard Seeds
1/4 teaspoon Cumin Seeds
A pinch of Asafoetida
1 teaspoon finely chopped Ginger
1 Green Chilli, finely chopped
1 small Onion, finely chopped
1/2 teaspoon Coriander Powder
1/3 teaspoon Red Chilli Powder
1/4 teaspoon Garam Masala Powder
1/4 cup Curd (yogurt), slightly beaten
1 tablespoon + 1 tablespoon Oil or Ghee (clarified butter)
3 tablespoons finely chopped Coriander Leaves
Salt to taste (or 1/2 teaspoon)
Directions For Making Dumplings:
Mix gram flour, turmeric powder, 1/4 teaspoon red chilli powder, 1/4 teaspoon cumin seeds, garam masala powder, 1-teaspoon oil and 1/3 teaspoon salt in a large bowl.

Gradually add water and knead smooth and stiff dough (like paratha dough).

Grease your palms with oil, divide it into 7-8 equal portions and roll each portion into 1/2-inch thick and approx. 4-5 inches long cylindrical shape.

Boil 3-cups water in a pan over medium flame. When it comes to rolling boil, add cylindrical rolls in it.

Cook until they start to float on the surface of water for approx. 8-10 minutes. Turn off flame.

Remove cylindrical rolls from water and transfer to a plate. Keep remaining water for making gravy. Let them cool for 5-7 minutes. Take one cylindrical roll at a time and cut it into 1/2-inch long pieces. Do this process for remaining ones. Gattes are ready.
Directions for Making Gravy:
Heat 1-tablespoon oil (or ghee) in a heavy based pan or non-stick pan. Add chopped cylindrical rolls and shallow fry them over medium flame for 2-minutes. Transfer them to the same plate.

Add remaining 1-tablespoon oil (or ghee) in the same pan and heat it over medium flame. Add mustard seeds; when they start to crackle, add 1/4 teaspoon cumin seeds, asafoetida, ginger and green chilli and sauté for 20-30 seconds. Add finely chopped onion and sauté until it turns translucent.

Add coriander powder, 1/3 teaspoon red chilli powder and garam masala powder, sauté for 30-40 seconds. Add beaten curd (mix 1-teaspoon gram flour with curd to prevent it from curdling). Mix well and cook the mixture until oil comes on the surface for approx. 1-2 minutes.

Add 1-cup water (kept in step-5 while boiling dumplings) and 1/2 teaspoon salt, stir well and bring it to boil over medium flame.

When it starts to boil, reduce flame to low and add shallow fried gattes (prepared in step-1).

Cook until gravy becomes medium thick for approx. 5-7 minutes. Stir gently in between to prevent sticking. If required, add more water to make watery gravy and cook again for 3-4 minutes after adding the water.

Turn off flame. Transfer prepared Rajasthani gatte ka saag to a serving bowl and garnish with finely chopped coriander leaves.
Tips and Variations:
Add same amount of carom seeds instead of cumin seeds in step-1 while preparing dough for variation.
To know whether cylindrical rolls are cooked or not in step-5, insert toothpick or knife in it and if it comes out clean, then it is cooked else cook for another 2-3 minutes.
Serving Ideas:
Serve it with roti, paratha, phulka or any type of Indian flat bread in lunch or dinner. Serve it with steamed rice as a part of meal. You can also serve it with misi roti to have tasty Rajasthani food.
Other Step by Step Recipes
---
22 Comments
---
Mar 31, 2018 by swati
It looks great.I would love to try it but my husband is not very fond of curd.So can I skip curd and make it.

Response: Hi Swati, Curd is a must for making gravy for Gatte Ki Sabzi.
---
Nov 17, 2017 by Namrata
It tastes awesome. I prepared today.

---
Sep 06, 2017 by Elizabeth
Easy, tasty and can be prepared with minimum fuss.

---
Sep 04, 2017 by C.Raghavendra Rao
At my first attempt gatta's were hard after cooking but in my second attempt I added a pinch of baking soda in flour before kneading dough. Thus found gatta's become soft n tasty.

---
May 21, 2017 by Akshat
Thanks for this. My family liked it too much.

---
Apr 27, 2017 by Khushbu
I prepared the gatta sabji today. It tastes awesome.
Thanks for receipe.

---
Jun 09, 2016 by simee s
Thanx a lot. Tried your recipe, everyone loved it.

---
Feb 18, 2016 by Geet
Curd crumbled, what to do?

Response: Hello Geet, to prevent it from curdling, mix beaten curd with 1 teaspoon gram flour, reduce flame to low before adding the curd and stir continuously.
---
Oct 13, 2015 by Nisha
Hi When I add curd( chach) it get curdled..despite that I stir it quickly till it starts boiling... have tried so many times.. can you advice what is the reason.. how can I get resolution?

Response: Hi Nisha, mix beaten curd with 1 teaspoon gram flour to prevent it from curdling.
---
Sep 21, 2015 by Parimita acharya
Hi I love ur all recipes in fact I have tried many and all of them were good.Thank you so much for detail information and yes kindly please add some kids recipes.

---
Sep 13, 2015 by Indu
I really love your recipes. Whatever I tried it came out nice..need some recipes for kids.

---
Aug 08, 2015 by Sachin Joshi
I have made it
yeah I got confidence by your style of teaching
I can say now I can cook any thing with this site.

---
Aug 07, 2015 by kiruba
I tried this recipe..it was soo good..

---
Aug 04, 2015 by Archana
I did not like this recipe. The onions are floating in the curry. no consistency at all.

---
Jul 23, 2015 by Tanjiet Kaur Manhas
Hi,
I always try recipes from this site. Thanks for showing Step By Step.
The recipes turned so yummy that I don't have words to say.
Thank you once again.

---
Jul 10, 2015 by Neha karwa
Hi. I have measurement spoons but 1/3rd tsp is missing....only 1tbsp,1/2 tsp,1tsp nd 1/4 tsp is available.

Response: Hi Neha, you have to measure the 1/3 tsp salt by guess (andazz) (1/4 tsp salt + little more) or you can add it according to your taste (after adding salt, mix well and taste the mixture. If required add more salt.).
---
Jul 08, 2015 by Neha
How to measure 1/3rd tsp salt?

Response: Hi Neha, you need a teaspoon to measure to measure 1/3 teaspoon salt. You can also add it according to taste. If you don't have cooking measurement cup and spoon set, you can buy it from local shops or online. For more detail, follow our post of cooking measurement guide.
---
Jun 03, 2015 by indrani chakraborty
Hi, I am Indrani. I tried this recipe and it was very nice. Thank you.

---
May 25, 2015 by Kriti
Just wanted to know if the gravy can be made without onion? If yes, then how?

Response: Hi Kriti, you can make the gravy without onion, just skip the onion while making curry.
---
Feb 05, 2015 by Vali
It looks so tasty.
However, whenever I make this sabji, gatte become very hard. Please advice for this. I really want to try your recipe.

Response: Hi Vali, follow the given tips to prevent gatte from turning hard.

1. Add a pinch of baking soda while making gatte dough to make them soft.
2. Do not make too thick cylindrical rolls, as they may not cook properly from inside and turn hard.
3. Add the rolls in water after it starts boiling.
4. As soon as cylindrical rolls start to float on the surface, remove them immediately. If you boil them for longer time, they may be turn hard.
---
Dec 11, 2014 by Reshma
Looking nice recipe. Your all recipes are awesome. I really like and my family is also liked it.

Response: Thank you.
---
Jul 13, 2014 by vino
Hi tried few of the recipes from this site..it turned out so good.. Ur site contains awesome collection of north Indian recipes.. Please post more south Indian recipes.. I tried this recipe.. Wen I added curd then immediately it curdled.. I kept it in low flame and did in non stick pan only.. Pls tell me whats the reason.

Response: Hi vino, thanks for trying the recipe. Did you beat the curd before adding? Mix beaten curd with 1 teaspoon gram flour to prevent it from curdling. Add beaten curd slowly on low flame and stir continuously after adding curd to prevent it from curdling.
---