Matar Paneer (Mutter Paneer), a delicious combination of soft paneer and healthy green peas in a mild spicy tomato based gravy, is a treat to taste buds at anytime. This simple matar paneer recipe makes irresistibly tasty curry by making some changes to its preparation; the shallow fried paneer cubes brings in subtle taste and texture while cashew nut paste makes it rich and creamy. Follow our step by step photo recipe to make this simple yet yummy curry at home to serve with paratha in dinner.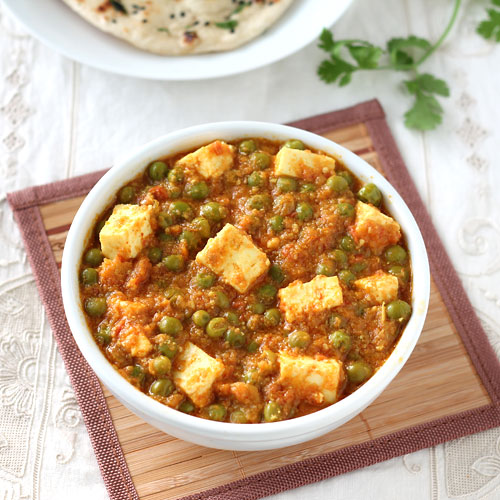 Preparation Time:
10 minutes.
Cooking Time:
25 minutes.
Ingredients:
1 cup fresh or frozen Green Peas (matar)
3/4 cup (1/2-inch cubed) Paneer (cottage cheese)
1 medium Onion, finely chopped
1 Green Chilli, chopped
2-3 cloves of Garlic
1/2 inch piece of Ginger, chopped
2 medium Tomatoes, roughly chopped
5-6 Cashew Nuts, soaked in hot water for 20-30 minutes
1/2 teaspoon Red Chilli Powder
1/4 teaspoon Turmeric Powder
1 teaspoon Coriander Powder
1/4 teaspoon Garam Masala Powder
For shallow frying + 2 tablespoons Oil or Ghee (clarified butter)
1/2 cup + 2 tablespoons Water
Salt to taste
Notes:
If you are using fresh green peas, boil them in salted water for 7-8 minutes or until tender; drain them. If you are using frozen green peas, thaw them before using.
How to Make Paneer at Home?
You can use either homemade or store bought paneer in this recipe. Follow this article of
Make Paneer using Lemon Juice
with step by step photos and directions to make it at home.
Directions:
Grind onion, green chilli, ginger and garlic together in the small chutney jar of a grinder to make medium coarse paste. Grind the tomatoes to make tomato puree. Grind cashew nuts with 2 tablespoons water until smooth paste.

Heat 2 tablespoons oil in the same pan/kadai over medium flame. Add crushed onion paste (prepared in step-1) and salt (only for onion paste, it helps to cook onion faster). Sauté it until oil starts to separate or it turns translucent. It will take around 5-7 minutes.

Add tomato puree (prepared in step-1) and cook on medium flame until oil starts to separate, for approx. 5-6 minutes.

Add red chilli powder, turmeric powder, coriander powder, garam masala powder and salt.

Stir and cook for a minute. Add cashew nut paste (prepared in step-1).

Stir and cook for 1-2 minutes.

Add boiled peas and 1/2 cup water; mix properly and cook for 2-3 minutes.

Add paneer cubes and cook for 2-3 minutes. We have added plain paneer cubes but you can add shallow fried paneer to enhance the flavor (

see tips

).

Turn off flame and transfer prepared curry to a serving bowl. Matar paneer is ready. Serve it with butter kulcha, cucumber tomato onion salad and

gajar halwa

for a complete meal.
Tips and Variations:
This recipe of mutter paneer masala uses plain paneer cubes to reduce the calories of the dish. If you are not calorie conscious, you can shallow fry paneer cubes to improve the taste and texture or deep fry them to enhance the flavor of paneer.
To shallow fry the paneer cubes, heat ghee or oil in a non-stick pan over medium flame and shallow fry them until edges turn light golden brown. (see photo)Transfer them to a plate having kitchen paper napkin spread on it. (Kitchen paper napkin will help to absorb excess oil.)
Curry prepared with this recipe will have thick gravy. If you like to have diluted gravy, then add 1/4 cup more water along with green peas in step-7.
You can always increase or decrease the quantity of green peas and paneer to get the desired texture.
Taste:
Mild spicy with thick tomato based gravy.
Serving Ideas:
It is one of the classic Indian recipes which can be paired with almost any Indian flat-breads like phulka roti, tandoori roti,
paneer kulcha
, butter naan, etc. for simple meal. However, make it a more scrumptious meal by adding tomato basil salad and gulab jamun in the menu.
Other Step by Step Recipes
---
31 Comments
---
Mar 30, 2018 by Manoj moreshwar menjoge
I love paneer sabji.

---
Mar 10, 2018 by Kavita
I love this recipe, it is awesome.

---
Oct 25, 2017 by Tejaswini
I absolutely love this recipe. Thanks for the detailed steps. One variation I also make is replacing the paneer by steamed corn.

---
Aug 12, 2017 by khushboo Akash Kumar
Quite easy to understand and quite homely way of preparation. Can prepare tasty dishes @ home itself and it helps to avoid going out 2 avoid unhygienic food outside.

---
May 09, 2017 by Rashi
I made it for the first time and it was awesome.Thanks a lot.

---
Mar 11, 2017 by sandeep
Excellent information about the all dishes. Thanks

---
Mar 01, 2017 by Neha nabar
Love this recipe and foodviva.

---
Dec 18, 2016 by Evan
Unfortunately this didn't work for me. Way too watery---was expecting it to be more creamy :( I don't know what went wrong. Maybe it could have used more cashew nut paste?

---
Oct 26, 2016 by LEKSHMI Gopal
Excellent information.... Especially kaju barfi is so simple to prepare.....we thought of very difficult.

---
Oct 20, 2016 by Niranjana
I tried out this recipe for dinner last night and it turned out superb... I just toasted the paneer without oil and soaked it in hot water with a little salt to make the paneer soft again before adding it to the curry...

---
Aug 29, 2016 by Vandana pandey
What if I don't have cashews, any substitute?

Response: You can use the same amount of almonds or white watermelon seeds (magajtari seeds) instead of cashew nuts in this recipe.
---
Jul 16, 2016 by Dikshita Naik
Very easy and simple recipe,it is delicious to eat.

---
Dec 20, 2015 by Revathi
Very simple and easy to make. Thanks.

---
Dec 02, 2015 by Amrin Aibani
Love all your recipies... They are simply awesome. You give really simple instructions which can make a new comer in cooking also an expert cook within no time. I am your biggest fan.

---
Nov 27, 2015 by Manjusha
Awesome recipes ..Thanks a lot, really tasty..I tried it twice..

---
Nov 18, 2015 by Revathy Nair
Recipe is really yummy...food vivas recepies are very simple and easy to make & delicious too.. I am a regular follower of your recipes. Thanks for helping me to be a good cook..

---
Sep 01, 2015 by Preet
Hi
I like your recipes so much but can you please help me in making chocolate cake without egg and oven.

Response: Hi Preet, we will definitely try to upload the recipe of eggless chocolate cake.
---
Aug 05, 2015 by Mekala Senthil
Your recipes are really nice. I am a south Indian.
I find your instructions are extremely easy to understand and follow. You should have a noble mind and thought that is why you are able to share such delicious recipes with the world people. God Bless You.

Response: Thank you Mekala Senthil for the positive feedback.
---
Jul 28, 2015 by Ahmad
Great recipe. Tried it and it tasted very nice. Btw instead of cashew nuts I used walnuts and it still came out fine. Thanks for the recipe, please advise how to estimate increase of portions for raw items to serve 10 or more person.

Response: Thank you Ahmad for trying the recipe. You can also use almonds instead of cashew nuts. This recipe serves 3 persons, so for 10-12 people, multiply all raw ingredients by 4. When you make the curry in large quantity, more time is required to cook.
---
Jul 25, 2015 by Vaishali
I have gone through some of your recipes. I give 5 stars to you. Great help to people like me who is willing to make such delicious food but don't know how and from where to start. I learnt to prepare Paneer at home in simple steps. Your step by step instructions with photos made my life easier. I used to get scare to make recipes with paneer. "Foodviva" you are simply awesome. I'll suggest my sister and friends to go through your website. Tomorrow onwards I'll dare to make paneer recipes and I'll win too. It will be a sweet surprise for my dear hubby & cute kid. I'm sure they will love the food which I'll cook for them with the help of your website. Many thanks to you.

Response: Thank you Vaishali for writing such a wonderful feedback. The people like you who keep us motivated to producing detailed recipes with stepwise pictures that make cooking easier and enjoyable.
---
Jul 07, 2015 by Ojhal
Can I grind kaju along with onion?

Response: No, you cannot grind kaju with onion because onion paste is cooked first to remove the raw smell and then cashew nut paste is added in later stage. You can grind kaju with tomato.
---
Jun 23, 2015 by Jerin
I have a small query. Instead of kaju paste, can we add fresh cream while making?

Response: Yes Jerin, you can add fresh cream in the last step while making the curry.
---
May 02, 2015 by Uddavshijwal
It's a famous food in case of vegeterian.

---
Apr 28, 2015 by Aprajita
Hi, I love this recipe, can I use coconut paste instead of cashew nut and thanks for the recipe.

Response: Hi, cashew nut paste is used to thicken the gravy. You can use almonds, water melon seeds or poppy seeds instead of cashew nuts in this recipe. If you use coconut paste, the taste of the curry will be changed.
---
Apr 11, 2015 by Jyoti
Hi I like this recipe. Can I use fresh malai instead of cashew nut paste?

Response: Hi Jyoti, cashew nuts are used in this recipe to thicken the gravy and get mild sweet taste. You can use same amount of almonds or 1½ tablespoons water melon seeds instead of cashew nuts in this recipe. You can also add 2-3 tablespoons malai (in step-9) instead of cashew nuts; taste will remain the same but the texture will be little bit different. Do not cook the curry after adding the malai.
---
Mar 12, 2015 by Sonal
I like the way it has been described, very easy to grasp and the results was awesome.

---
Feb 21, 2015 by Geetanjali
Can I use desi ghee instead of oil? Can I add some cream or malai to give it moghlai taste?

Response: Hi Geetanjali, you can use ghee instead of oil to enhance the flavor of the curry and can also add fresh cream in last step to get the creamy taste.
---
Jan 02, 2015 by Sangeeta
My hubby loved this recipe.

---
Dec 07, 2014 by Shraddha p
Hello,
I like the recipe. Please can you tell me which ingredients to increase in quantity to make this recipe for 4 - 5 people?

Response: Hi Shraddha, this recipe serves 3 people so if you want to make it for 5 people, double the quantity of all ingredients. For 4 people take all ingredients in 1.5 ratio (eg. take 1.5 cup green peas). You can decrease or increase the quantity of gravy, green peas and paneer according to your choice.
---
Mar 19, 2014 by princy
I like this recepie i have one doubt we can add little tamarind paste.

Response: Hi Princy, tomato is used to get a little bit tangy taste in this recipe. I have never added tamarind paste in this curry but if you want to add then it may make the curry more tangy.
---
Oct 11, 2013 by AFREEN
I like this recipe!

---