Tomato Rice – plain steamed rice cooked with tangy-spicy mixture of sautéed tomato, onion, coriander leaves and Indian spices. It is also known as Tomato Bath in Southern states of India and its preparation additionally includes coriander seeds, chana dal and urad dal based dry masala powder. This step by step photo recipe includes instructions for both North Indian Tomato Rice and South Indian Tomato Bath preparations and guides you where things differ.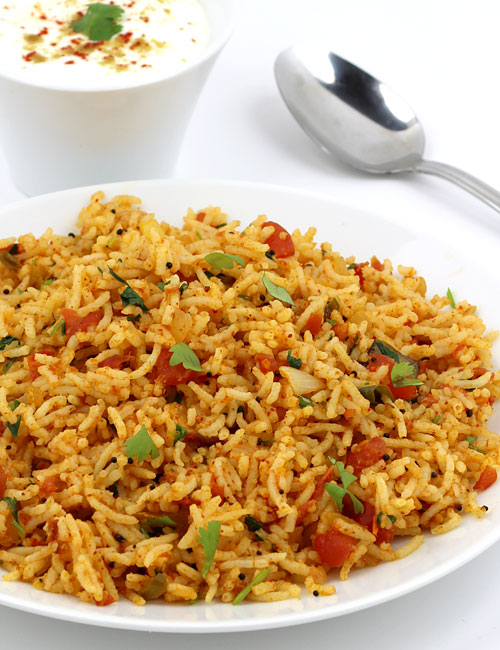 Preparation Time:
 20 minutes
Ingredients:
2½ – 3 cups Steamed Rice (Plain Cooked Rice)
A pinch of Asafoetida (Hing)
1/2 teaspoon Mustard Seeds
1 medium Onion, finely chopped (approx. ½ cup)
1 Green Chilli, finely chopped
5-6 Curry Leaves
2 large Tomatoes, finely chopped (approx. 2 cups)
1 teaspoon Red Chilli Powder
A pinch of Turmeric Powder, optional
4 tablespoons finely chopped Coriander Leaves
1½ tablespoons Oil
Salt to taste
For Powder:
1/2 tablespoon Chana Dal
1/4 teaspoon Urad Dal (split black lentils)
2 teaspoons Dry Coriander Seeds
Note:Step – 1 and 2 are for preparing dry masala powder from chana dal, urad dal and coriander seeds which is typically used in South Indian preparation. However, if you are preparing North Indian style Tomato Rice, skip step-1 and 2 below and directly start from step-3.
Directions:
To make the masala powder, we need to dry roast chana dal, coriander seeds and urad dal. Chana dal takes more time compared to other ingredients for dry roasting, so first add chana dal in a small pan and dry roast it for 2 minutes.  Add urad dal and coriander seeds in the same pan along with chana dal and dry roast all together until nutty aroma starts to release and dal starts to turn light brown.

Transfer them to a plate and let it cool for few minutes. Grind them in the small jar of a mixer grinder until smooth powder.

Finely chop the tomatoes and onion.

Heat the oil in a pan over medium flame. Add a pinch of asafoetida and mustard seeds. When seeds start to crackle, add finely chopped onion, curry leaves and green chilli. Sauté until onion turns translucent.

Add chopped tomatoes and salt (only for tomatoes).

Sauté until tomatoes turn soft. Add red chilli powder and turmeric powder.

Mix well. Add masala powder (prepared in step-2)

Stir and cook for a minute.

Add finely chopped coriander leaves and mix well.

Cook for a minute.

Add cooked rice and salt. If you have added salt while cooking the rice then don't add salt.

Mix until all rice grains are covered with masala and cook for 2-3 minutes. Tomato rice is now ready for serving.
Tips and Variations:
Reduce red chili powder quantity to make less spicy rice.
Add green peas and mint leaves in step-9 for variation.
To keep rice grains separated, prepare steamed rice couple of hours before staring to prepare this recipe.
How to prepare Tomato Rice (Pulao) in Pressure Cooker?

To prepare tomato rice in pressure cooker, you do not need to prepare steamed rice upfront.
Use 3-liter capacity pressure cooker and prepare tomato mixture in it by following steps 1 to 5.
Add raw rice (soaked in water for 15 minutes and drained) and sauté for 2- minutes.
Add 1½ cups water and salt and stir well.
Close the lid and cook for 2-3 whistles over medium flame. Turn off the flame and let the pressure inside cooker come down naturally. Remove the lid and fluff the rice with a fork.
Taste:
Tomato tangy and spicy.
Serving Ideas:
Serve tomato pulao with mint raita, potato curry and papad for lunch or dinner. It can also be enjoyed with yogurt and papad and packed in lunchbox.
Other Step by Step Recipes
---
9 Comments
---
Mar 15, 2018 by AMR
Nice taste awesome???

---
Jan 04, 2018 by Monika yadav
It's really helpful
Less time



I like it .......

---
Dec 08, 2017 by Najma
Step by step recipe pics makes the mood to go in kitchen

---
Jun 07, 2017 by Ritesh
Amazing taste, more than delicious..thanks for sharing.

---
May 08, 2017 by Sujatha amin
Really...yours tomato rice recipe is awesome ..

---
Jan 31, 2017 by Renuka
I have done as you have mentioned,it tasted really Awesome.Thanks for your recipe.

---
Jan 23, 2017 by Sneha Christopher
Came out very well! Thank u for the recipe.

---
Oct 05, 2016 by Sakshi thakur
You have amazing recipes. I totally love it and enjoying it. I love all your recepies.

---
May 02, 2016 by Vandana Nair
Very useful....Thank you so much....

---