Fresh Mango Pudding Recipe
This fresh mango pudding recipe prepares delicious rich and creamy dessert by mixing gelatin, pureed mango, evaporated milk and sugar.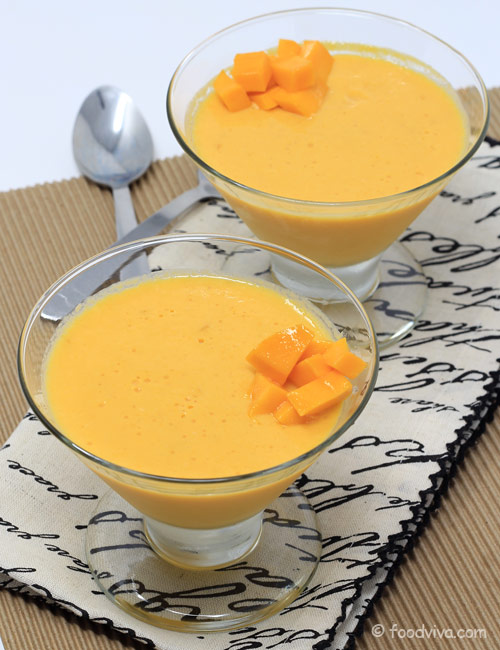 Preparation Time:
10 minutes
Ingredients:
2 medium size Ripe Mangoes, peeled and diced
3 teaspoons Gelatin
1/3 cup Sugar
1 cup Milk
1/2 cup Water
Directions:
Blend diced mango in a blender or food processor until smooth puree. Leave puree in jar.
Heat water in saucepan until it starts to boil and then take it away from heat.
Sprinkle gelatin over water surface and stir constantly using wired whisk so that there are no lump formations.
Add sugar and stir until it dissolves completely.
Add prepared sugar-gelatin mixture and milk in blender jar having mango puree. Blend until all ingredients are mixed well and smooth.
Pour it in serving bowls and place it in refrigerator for at least 2 hours (max up to 24 hours) before serving.
Garnish with your favorite fresh fruits or dry fruits and serve.
Tips and Variations:
Replace plain milk with coconut milk to make a Chinese style creamy mango pudding.
Use 1/2 cup milk and 1/2 cup whipping cream instead of 1 cup milk to make it creamier.
You can strain the prepared mango puree and discard solid fiber parts of fruit.
Serving Ideas:
This mango pulp pudding recipe captures the taste and flavors of mango very well, serve it as a summer dessert or as a snack in evenings.