Banana Pancakes Recipe
Out of all fruit infused pancakes, banana pancakes are most popular and widely appreciated one. The mashed banana mixed with routine pancake mix adds a nice flavor and taste to it. This recipe prepares it from scratch and requires the use of cooktop or griddle.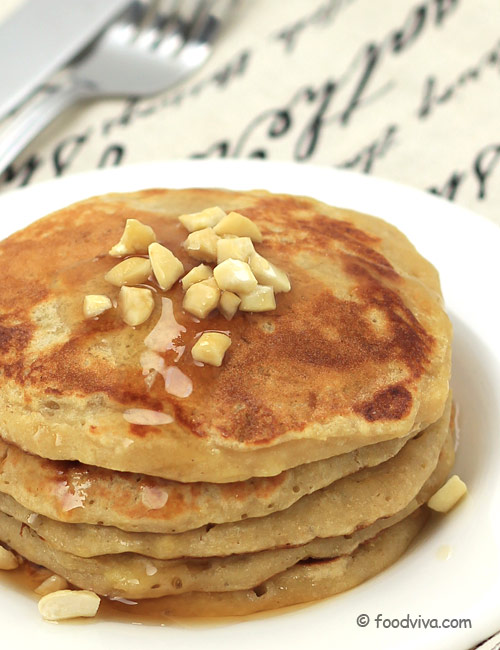 Preparation Time:
5 minutes
Ingredients:
1 cup Whole Wheat Flour / All Purpose Flour
1½ teaspoon Baking Powder
1½ tablespoons Sugar
1/4 teaspoon Salt
1/2 cup mashed Ripe Banana (approx. 1 large)
1 cup Milk
1/4 cup Curd
1/4 teaspoon Vanilla Extract
1/4 teaspoon Ground Cinnamon (optional)
1 tablespoon + for greasing, Vegetable Oil
Maple Syrup (for garnishing)
Sliced Banana (for garnishing)
Directions:
Sift together wheat flour, baking powder, sugar and salt in a bowl and mix well.
Whisk milk, curd, vanilla extract and 1 tablespoon oil in another bowl. Add mashed banana and whisk well to prepare a mixture of wet ingredients.
Slowly combine flour mixture (prepared in step-1) with banana mixture (prepared in step-2) and stir gently until there are no lumps of flour. Prepared batter should be slight lumpy. Do not over-beat it because over-beating will not make fluffy pancake.
Heat a non-stick flat frying pan over medium high heat and grease it using oil. When pan is medium hot, pour 1/4 cup batter onto it for each pancake and reduce heat to low.
Cook for around 2 minutes until bubbles appear on top surface and underside is golden brown.
Flip it and cook other side until golden brown. Second side will take less time to cook than first side.
Transfer banana pancakes to a serving plate and sprinkle ground cinnamon over it. Serve it hot with maple syrup and sliced banana.
Tips and Variations:
To make a soft and fluffy pancake, do not keep batter sit idle for long time after mixing all ingredients. Also do not over-beat the mixture in step-3.
Mash banana just before adding it to the mixture.
Add chopped walnuts in batter for a nutty change.
Taste:
Soft and fluffy with lots of taste of banana.
Serving Ideas:
Serve it as a healthy breakfast.
Other Step by Step Recipes
2 Comments
---
Hi, thanks for giving me idea.

Response: Welcome, kinjal.
---
Hi, do u have any another option in place of egg?
Please, reply.

Response: Hi kinjal, I have changed the recipe to make egg less banana pancakes. I added the curd in place of egg in the above recipe.
---
---