Vanilla Milkshake, world's favorite milkshake, is a smooth and creamy concoction of vanilla ice cream, milk, vanilla extract topped up with whipped cream and chocolate vermicelli for irresistible looks. Learn how to make best vanilla milk shake by following this milkshake recipe and discover why it is world's favorite.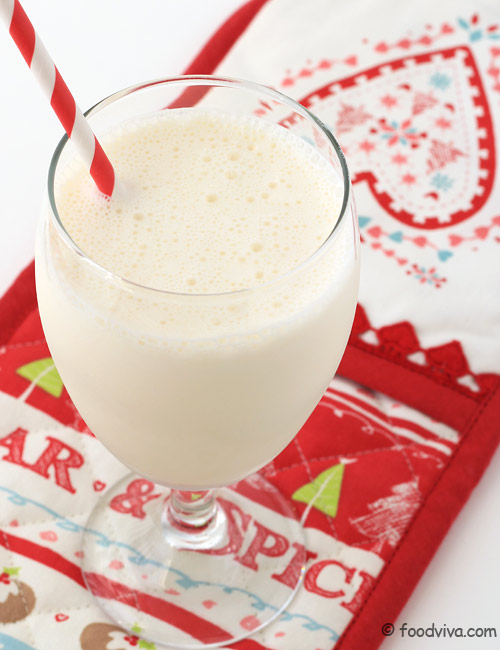 Preparation Time:
7 minutes
Ingredients:
1 cup Vanilla Ice Cream
3/4 cup Cold Milk
1/8 teaspoon Vanilla Extract (or 3-4 drops Vanilla Essence), optional
1 teaspoon Sugar, optional
Directions:
Add milk, vanilla extract and sugar in a blender. (If vanilla extract is not available then don't worry, milkshake prepared without using vanilla extract also gives a good taste.)

Add vanilla ice cream.

Blend until smooth and creamy. Pour milkshake into a serving glass and serve.
Tips and Variations:
Use 1/2 cup milk and 1 cup ice cream to prepare a thick milkshake.
For variation, garnish it with whipped cream and sprinkle chocolate vermicelli over it.
Serving Ideas:
Homemade vanilla shake prepared with milk and ice cream tastes simply heaven on its own. It is a perfect accompaniment for snacks and good breakfast drink too.
---
9 Comments
---
Mar 26, 2018 by amar
thank you so much for the lovely recipe and the tips for vanilla milkshake.

---
Aug 03, 2017 by kobe
I loved it could not be better but the only thing that should be changed is the sugar it should be powdered sugar or white sugar 6-star rating.

---
Jul 26, 2017 by Owen
This is amazing! I added a toffee bar and it made it taste even better!

---
May 30, 2017 by Yashasvi purohit
It was no doubt a fabulous beverage but I suggest you to add more ice cream and whipped cream to make it richer.

---
Jan 20, 2016 by Pam Mann
Me again. I forgot - I use all half and half to make the shake, sometimes with a little heavy whipping cream tossed in. If I'm going to have something like this, I like it rich.

---
Jan 20, 2016 by Pam Mann
I wouldn't use powdered sugar because of what's in it to keep it powdery. Instead, I would use baker's (superfine) sugar, which has the crystals cut extremely small in order to dissolve faster. It also allows more air to be incorporated into the drink, which will make it lighter without causing it to become watery. I'm a retired pastry chef, and that's what we used for our shakes in the restaurant. I also line the sides of the glass with chantilly cream (whipped cream made with vanilla extract and baker's sugar) before pouring the shake into it. When you're having a shake, who's counting calories?

Response: Thank you Pam Mann for sharing the tips about how to make milkshake thick.
---
Nov 27, 2015 by Peta
I wold use honey instead of sugar and if you want a drink that will keep you going all day add a raw egg. I know, you're going ooooh, but you won't know it's there. Everyone has eggnog at Christmas. The eggs are raw in that too. Drink as soon as made or keep in the fridge no longer than 24 hours.

---
Jul 30, 2015 by Sahara
I loved it. But powdered sugar would be better than sugar. Other than that I loved it and all my family did to.

---
Jul 01, 2013 by samuel thone
very good! two things i would change are 1 teaspoon of powdered sugar and a splash of half and half but it was very good and creamy

---