It is one of the best beverages prepared from ripe mango and yogurt. It is an instant and healthy drink favorite among all generations of people across the world and its an ideal dessert or healthy fruit drink for breakfast. You can make mango lassi by using different varieties of mangoes as each one has its own special aroma and flavor and mixing them with yogurt can bring out many surprises.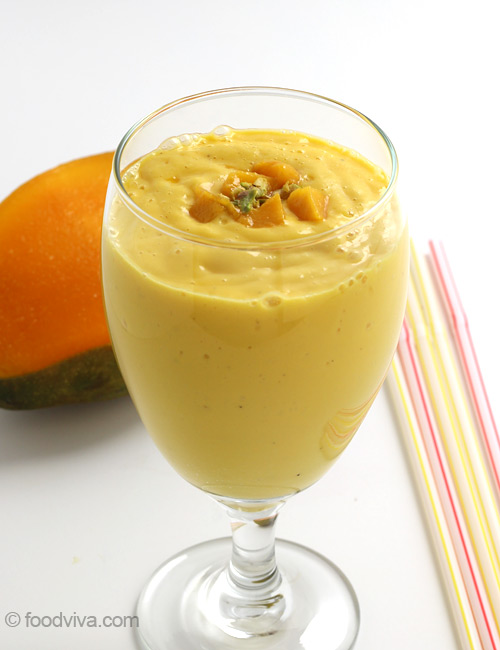 Preparation Time:
10 minutes
Ingredients:
1 cup chopped Mango (approx. 1 medium size Ripe Mango)
1 cup Curd/ Plain Yogurt (Dahi)
1/4 cup Water or Milk
A pinch of Cardamom Powder
1½ tablespoon (or to taste) Sugar
1 tablespoon chopped Mixed Dry-fruits, for garnishing (optional)
Directions:
Choose ripe mango. Peel the mango, cut it into halves, remove the stone and cut into small pieces. Take the plain yogurt which is not sour.

Add chopped mango, yogurt and 1/4 cup water in a blender jar.

Blend until smooth and creamy and no chunks of fruit. Add sugar and cardamom powder and check the thickness of lassi. If required, add more water.

Blend it for a minute. Pour it into serving glasses and garnish with chopped dry-fruits.
Tips and Variations:
Use less sour and thick yogurt to make a sweet lassi.
Try roasted almonds and roasted cashew nuts in place of normal dry-fruits for a crispy taste.
Serving Ideas:
Serve sweet mango lassi with a scoop of vanilla ice cream and small pieces of chopped mango.