This tangy green mango chutney is prepared by crushing and blending raw mangoes with coriander leaves and basic spices. The chutney prepared with this recipe has perfectly balanced tangy and spicy taste as chillies, garlic and ginger gives it a spicy touch while coriander leaves and cumin seeds bring their own nuances. The sugar, even though in small amount, really balances out the tangier spiciness and adds third sweet dimension to its taste.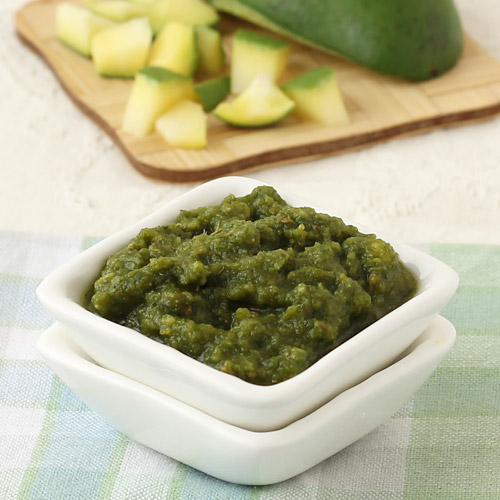 Preparation Time:
10 minutes
Ingredients:
1/2 medium size Raw Green Mango
1/2 Green Chilli, seeded and chopped
1/2 inch Ginger, chopped
1/2 teaspoon Cumin Seeds
1 cup chopped Coriander Leaves
2 teaspoons Sugar
1/3 teaspoon or to taste Salt
1 tablespoon Water
Directions:
Wash raw mango in running water. Peel and cut it into small chunks and discard its stone.

Add mango pieces, green chilli, ginger, cumin seeds, sugar and salt in a grinder jar.

Grind them until medium coarse paste.

Add coriander leaves and 1 tablespoon water; grind to a smooth paste. Serve it as an accompaniment or condiment with snacks and Indian meals.
Tips and Variations:
If you want to make diluted chutney, then add 1 tablespoon more water along with coriander leaves.
Adjust the quantity of sugar, salt and green chillies according to tanginess of green raw mangoes you are using. You can altogether avoid sugar if you want to have just spicy-tangy chutney
Mix green raw mango chutney with curd to make a tangy dip for samosa and dahi vada.
Place it in airtight container and store in refrigerator for instant anytime use.
Taste:
Perfectly balanced sour, sweet and spicy
Serving Ideas:
Green mango chutney prepared with raw mangoes and spices is a perfect accompaniment with any meal. Serve it as a dip with khaman dhokla, pakora, ragda pattice etc. For a change, use its as dip for nachos.
Other Step by Step Recipes
---
7 Comments
---
May 20, 2017 by nish
Wow..I made raw mango chutney and it was good, something different. Should we fry cumin seed in pan before grind?

Response: No need to fry cumin seeds before grinding.
---
May 18, 2017 by SubhadraBhunia
So nice. I like to try every recipe.

---
Apr 03, 2017 by David Chaple
Wife gone at her parents.. tried this chutney with daal tadka and plain rice..
Just awesome

---
Feb 24, 2017 by Manish
Very helpful.
Tried making it today and it came out to be a wonderful raw mango chutney.

---
May 13, 2015 by Sangeeta
Wow. it's delicious and very yummy taste. Easy to make and healthy too.

---
Sep 02, 2014 by Meenu
Good try! Different from the regular ones..

---
Jun 12, 2014 by krishma
Its good have good taste

---