Mint flavored pulao is an easy to make instant rice dish to serve with onion raita in lunch or dinner. Flavorful green paste of fresh mint leaves, coriander leaves, coconut, ginger and garlic is sautéed with onion and then mixed with cooked rice to prepare pudina rice. It is a best option to give it in kid's lunch box or serve as a light food in dinner. Prepare steamed rice in advance to make it instantly for lunch or dinner by following this step by step photo recipe.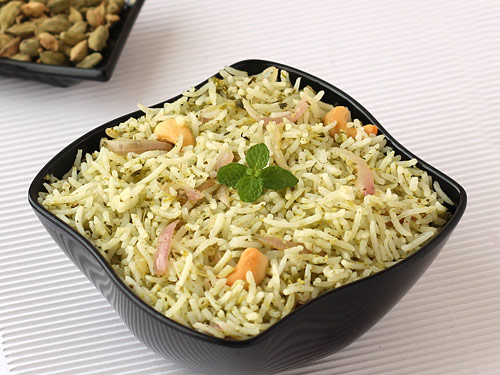 Preparation Time:
15 minutes
Ingredients:
1/2 cup Basmati Rice (long grained rice)
1/2 cup Mint Leaves
1/2 cup Coriander Leaves, chopped
1/2 teaspoon Lemon Juice
1/4 teaspoon Ginger, finely chopped
2-3 Cloves of Garlic
2 tablespoons Fresh Grated Coconut
1 Green Cardamom, optional
2 Cloves (long)
1 Cinnamon Stick, broken into two pieces
1/2 piece of Bay Leaf
1 Green Chilli, finely chopped
1 medium Onion, sliced
1 cup Water
Salt to taste
1 tablespoon Oil or Ghee
Fresh Mint Leaves and Roasted Cashew Nuts, for garnishing
Directions:
Wash rice 2-3 times in water. Soak them in 1-cup water for 15 minutes. Add rice along with soaked water in a pan and bring it to boil over medium flame.

Cover the pan with a lid, reduce flame to low and cook for 10 minutes. Turn off flame and let it stand for 5-7 minutes. Remove the lid, transfer rice in a plate and let it cool for 4-5 minutes.

Meanwhile, add mint leaves, coriander leaves, lemon juice, ginger, garlic and grated fresh coconut in a small chutney jar of mixer grinder.

Crush them to a smooth mint paste. Do not prepare this paste in advance otherwise it turns darker in color.

Heat the oil in a non-stick pan or kadai over medium flame. Add green cardamom, bay leaf, cloves, cinnamon and sauté until cloves start to crackle for approx. 40 seconds. Add finely chopped green chilli and sliced onion; sauté until onion turns light brown.

Add mint paste (prepared in step-4).

Sauté it for 2-3 minutes.

Add cooked rice and salt.

Mix gently until each rice grain is evenly coated with masala. Cook for 2-3 minutes and turn off flame.

Transfer mint rice to serving bowl and garnish with fresh mint leaves and roasted cashew nuts.
Tips and Variations:
You can also use leftover rice in this recipe.
You can also cook rice in a 3-liter capacity aluminum or steel pressure cooker over medium flame for 2-whistles instead of cooking in a pan.
Amount of water required to cook the rice may vary according to rice type and age of rice. You can get the information required to cook the rice on backside of a rice package.
Taste:
Mild spicy taste with mint flavor
Serving Ideas:
Serve this rice with onion raita and papad in lunch or as a light and healthy dinner.
Other Step by Step Recipes
---
22 Comments
---
Feb 19, 2018 by priyanka Kathuria
Very nice recipe. Can we eat this alone or we need any sabzi with it also?

Response: You can eat it with yogurt or chutney.
---
Sep 13, 2017 by Sowjanya
I have tried so many recipes. All are came nicely. Thank u

---
Jun 30, 2017 by Hema Guru
Came out very nice. Very tasty.

---
Jun 12, 2017 by Shuchi Singh
Very good recipes. Have tried many and all were very tasty and perfect. Thanks a lot.

---
Jan 09, 2017 by merlin
Very good recipe.. tried it, came out very well.

---
Nov 14, 2016 by premisng sawant
its really nice recipe , thank you very much for lot of tasty recipe from your website

---
May 27, 2016 by Nidhi
Awesome website. Thanks for this innovative pics of procedure of each and every recipe...

---
Mar 17, 2016 by Sreeja
Delicious. My two year old son liked it very much. Me too. Simply great recipe.

---
Mar 09, 2016 by Shalini
You make every cooking like a cakewalk. A true food mentor.

Response: Thank you Shalini.
---
Aug 26, 2015 by Mrs ushakiran
Nice Rice variety of pulao thanks for the receipies

---
Jul 07, 2015 by Humera
Thanks for recipes. Today I tried your recipes at eftar and both of like it.

---
Jun 03, 2015 by Raunaq
Excellent recipe..turned out very well. My husband loved it. Thanks for the recipe.

---
Apr 07, 2015 by Boona
Is the grated coconut is must to be added?

Response: No, it is not necessary to add grated coconut.
---
Mar 24, 2015 by HARINI H
I tried paneer butter masala and mixed vegetable paratha. It was delicious. All my family members loved it. Thank you.

---
Mar 17, 2015 by Deepu
Looks like very simple recipe...I haven't tried it. I will start soon Thanks for that.

---
Feb 19, 2015 by ANTHONY
Thanks, as I am a hotel management student, your recipes help me 2 complete my journals. Thank you once again.

---
Jan 08, 2015 by mou
Thanks for the recipee..it was delicious ...

---
Sep 02, 2014 by Nasreen R
Thank u so much for your recipes all your recipes looks great and I was trying out everyday. Pls let me know shall we use green cardamom instead of black cardamom.

Response: Yes, you can use black cardamom instead of green cardamom.
---
Jul 23, 2014 by Vidhya
Thanks for the recipe. I made it today and it came out well.

---
Jun 16, 2014 by chris
even i tried today at home.. it's very nice.. but i cooked in a pressure cooker like a briyani instead of mixing the onion and pudhina content with cooked rice..

Response: Thanks chris for trying the recipe. If you are in hurry then you can definitely cook the mint pulao in pressure cooker, it doesn't affect the taste but final color of pulao will change. To preserve the light green color of mint, pudhina-onion mixture is mixed with cooked rice in last step in this recipe.
---
May 21, 2014 by shantanu das
Very nice recipe of Pulao with mint...I would definitely like to try this recipe at home.

---
Apr 07, 2014 by kalpana
Daily I try one of your recipes in my house and my family members love eating it thank u.

Response: Thanks Kalpana.
---