Bottle gourd, known as lauki (ghiya) in Hindi and Dudhi in Gujarati, is generally not a popular vegetable in every household but it makes one of the best Indian curries – Lauki Kofta Curry in which deep-fried koftas (round shaped deep fried spicy dumplings) made of grated bottle gourd, gram flour, rice flour and ginger-garlic paste are cooked in spicy gravy of tomato and cashew nuts. This step by step photo recipe explains the entire process of how to make lauki kofta and how to make the gravy for it in very detailed manner in addition to various tips and serving ideas that makes cooking easier.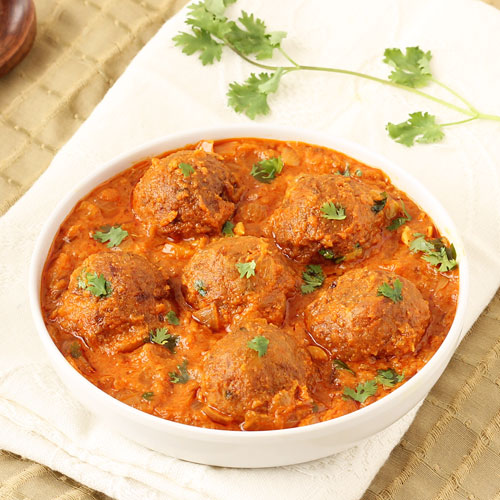 Preparation Time:
10 minutes
Ingredients for Kofta:
1½ cups grated Lauki (bottle gourd/ghiya/doodhi)
5 tablespoons Gram Flour
2 tablespoon Rice Flour
1/4 teaspoon Turmeric Powder
1 Green Chilli, finely chopped
1/2 tablespoon Ginger-Garlic Paste
2 tablespoons finely chopped Onion
Oil for deep frying
Salt to taste
For Gravy
2 medium Tomatoes
2 tablespoons Cashew Nuts, soaked in water for 20 minutes
1/2 teaspoon Cumin Seeds
1/2 tablespoon Ginger-Garlic Paste
2 medium Onions, finely chopped
1 teaspoon Coriander Powder
1/2 teaspoon Red Chilli Powder
1/2 teaspoon Garam Masala Powder
1/4 teaspoon Turmeric Powder
1/4 cup thick Curd (yogurt) (not sour)
3/4 cup Water
2 tablespoons Oil
Salt to taste
Method for Kofta:
Peel and grate lauki. Squeeze out the water completely and keep that water for making gravy.

Take squeezed grated lauki in a large bowl. Add gram flour, rice flour, turmeric powder, ginger-garlic paste, finely chopped green chilli, finely chopped onion and salt.

Mix all ingredients well. Mixture should have a thick consistency to make round shaped balls. If it is watery then add 1-2 teaspoons gram flour and mix. Do not keep this mixture idle for long time since lauki releases water over time and it will make mixture soggy and you will not be able to make kofta balls.

Grease your palms with oil and divide mixture into 10 to 12 portions. Take each portion and turn it into round shaped balls.

Heat oil in a frying pan over medium flame for deep frying. When oil is medium hot, add 3-4 balls at a time. Stir occasionally and deep-fry until they turn light golden brown and crisp. Take them out using slotted spoon, drain excess oil and place them over kitchen tissue in a plate.
Method for Gravy: 
Blanch the tomatoes and crush them with cashew nuts to make tomato-cashew puree.

Heat 2-tablespoons oil in saucepan over medium flame. Add cumin seeds and cook until they sizzle, 7-10 seconds. Add ginger-garlic paste and stir-fry for 30-40 seconds. Add chopped onion and stir-fry until it turns light pink in color.

Add tomato-cashew puree and mix well. Stir-fry for 3-4 minutes.

Add red chilli powder, coriander powder, garam masala powder, turmeric powder and salt (add for gravy). Mix well and stir-fry for a minute.

Add thick curd and mix.

Stir-fry for a minute.

Add lauki water (kept in step-2) and 1/2-cup water and cook over medium flame for 3-4 minutes. Stir in between occasionally.

Add fried kofta balls to the gravy.

Cook for 5-6 minutes and turn off flame. Transfer it to a serving bowl and garnish with coriander leaves.
Tips and Variations:
Make sure that you deep fry kofta balls on medium flame. If you deep-fry koftas over high flame then they will turn dark brown immediately but remain uncooked inside.
You can also shallow fry koftas in non-stick aebleskiver pan (appam pan) to reduce usage of oil.
This recipe prepares chunky gravy due to chopped onions. However, if you prefer to have smooth gravy grind the mixture in step-6.
Taste:
 Spicy and savory taste with soft dumplings.
Serving Ideas:
 Serve it with any of your favorite phulka, tandoori roti or butter naan. It is best enjoyed with
vegetable pulao
,
fried jeera rice
, ghee rice, peas pulao and so on.
Other Step by Step Recipes
---
34 Comments
---
Mar 24, 2018 by Pamela
Well explained and easy to cook!

Response: Thank you Pamela. We hope you liek our other recipes as well.
---
Nov 16, 2017 by Sadiya aftab
Well explained recipe, looks tasty.

---
Sep 29, 2017 by Anil Nemchand
Very well explained recipe and easy to cook.

---
Aug 27, 2017 by tausif saleem
Kofta Turned Out so Delicious, But The Gravy Was Okay Not So Tasty, it tasted more Like Tamarind ?

Response: Hello Tausif, you can reduce the tanginess of gravy by not adding curd.
---
Jul 21, 2017 by Doll
I tried this recipe. Kofta turns good but the gravy was not good. Please tell me how to make perfect gravy for 6 person.thanks.

Response: May I know any particular reason why you didn't like the gravy? Follow the instructions given in the recipe to make the perfect gravy.
---
Jul 20, 2017 by Vanshika Bajaj
It was really very helpful... People like you always help me out when I need to cook something jiska proper recipe idk... The dish came out to be really tasty.. Keep sharing like this ?
God bless you.

---
Jul 10, 2017 by Neha
Amazing recipe just loved it!!!

---
Jun 22, 2017 by Aisha
Turned out yummy..thank you for the recipe..delish

---
May 26, 2017 by JYOTI KUMAI
Thank u so much. Love ur recepies.

---
Mar 29, 2017 by Charan kaur
Hello Mam or Sir, I tried to make koftas so many time before but they were not good your recipe is perfect my family liked it, we enjoyed. Thank you.

---
Mar 12, 2017 by Neeta
The second recipe that I've tried form your site and I'll be back for more!! It did not disappoint. I'm usually not one for strictly following recipes - ingredients or measurements but I surprised myself for wanting to stick to your recipe. Thats a first :). I have a couple of suggestions for variations. I added a little kasuri methi at the end for added depth of flavor and used the air fryer to make the koftas. first about 15 mins at 300F and then finished at 360 for additional 10 mins for added color to the koftas. A conventional oven would work just as well - but temps and timing would likely need to be changed.

Highly recommend this recipe. It disappeared in no time.

Response: Thank you Neeta for providing feedback and suggestions for variations. We are very sure that our readers will benefit with your suggestion.
---
Mar 02, 2017 by Vineetha Nair
Now a days I am cooking my son's favourite foods following your receipes. All foods are very tasty and healthy.
Thanks a lot.

---
Jan 05, 2017 by Monika
I tried this recipe... but after the completion... these balls turned hard and they have small gilts.... how can these gilts avoided?

Response: To prevent this, make sure that the raw kofta mixture has enough moisture and deep fry the balls on medium-low flame.
---
Dec 24, 2016 by Richa Umahiya
As the beginner its really very helpful, every recipe I tried from here made me proud to serve at my dining.. the taste reminds me of my mother's made food.. It's an awesome support for girls to learn perfect cooking.. keep it up come up with more exciting recipes.

Response: Thank you Richa for sharing the feedback. I am so glad that the recipes from this site helped you. People like you keep us motivated to share new recipes.
---
Nov 30, 2016 by Jai R
Turned out great! It was fun making it with my daughter:)

---
Nov 16, 2016 by Sunita Singh
Very easy steps told by u that everyone can make such a delicious kofta. I went through this recipe today n prepared in dinner time. It is very delicious n all family members appreciated it. Thanks a lot.

---
Oct 13, 2016 by Priti Nanavati
Very helpful. Easily understandable which helped me cook the perfect dish. My family was also very happy with the finger licking koftas.
Thanks a lot for the tutorial.

---
Aug 14, 2016 by Dr.Varun Chandra
I love cooking so I often see your recipes and cook...and they all taste superbly. Thank you.

---
Jul 13, 2016 by Sakshi Jaiswal
Loved the taste. Got lots of compliments. Thanks for sharing such easy and nice recipe.

---
Jun 12, 2016 by Ripal Parikh
It's awesome. I have tried many recipe and its so easy to make hotel style recipe at home. Most importantly, you have given it step by step with pic so easy to understand.. Thanks a lot for such wonderful recipes..

---
May 21, 2016 by Rajwanti mehta
Yummy kofta kari. I already eaten, which was made by my mom.

---
Mar 30, 2016 by Arpita sarkar
Very nice recipe. I tried this, just an awesome and very easy. Everybody enjoyed it at home. Thank you.

Response: Thank you Arpita for trying the recipe. I'm happy to hear it turned out well.
---
Mar 17, 2016 by Chhaya
Very easy and perfect receipe.

---
Mar 12, 2016 by Kavita kalwar
Lauki kofta curry recipie is really a awesome recipe I tried it first time and everybody in the family loved it, thanks for it !

---
Mar 12, 2016 by Menaka
Hi, I have been trying ur recipes and found it very easy to make with your step by step given method, I have tried the kofta curries, methi malai mutter, kadai mushroom, mutter paneer, palak paneer and few more. My family really enjoyed and relished it. thank you :) Can you also try and give some easy dessert and pudding recipes.

Response: Hi Menka, thank you for trying so many recipes and glad to hear that your family relished them. View more dessert recipes by following this link - sweet/dessert recipes
---
Feb 21, 2016 by Rupali
Very good recipe I tried it and everybody at home enjoyed it. I made some variation to koftas though since am allergic to besan I used cornflour instead of besan.

Response: Thank you Rupali for trying the recipe and posting the feedback. Glad to hear that the curry turned out good.
---
Nov 04, 2015 by B.varalakshmi
Thanks for the step by step explanation.

I followed exactly and made.

Came out yummy yummy !!

---
Oct 02, 2015 by Neha
After squeezing the lauki when I added salt, besan etc. it again become very soggy, what should I do?

Response: If mixture turns soggy, add more besan or dry breadcrumbs and mix well. When you make it next time, squeeze lauki well and do not keep the mixture idle for long time.
---
Sep 22, 2015 by Cynthia
Can I use almonds instead of cashews?

Response: Yes, you can use almonds.
---
Jun 21, 2015 by Amruta
Very nice recipe. While making tomato paste, I added some mint leaves. It gave more yummy taste.

Response: Hi Amruta, thanks for trying the recipe. I will try this recipe by adding some mint leaves.
---
Apr 29, 2015 by Megha Mittal
I prepared the curry. It was yummy. Thank you for such a tasty and delicious recipe. Loved it!!!

---
Feb 11, 2015 by Michael
Hi, is the rice flour absolutely essential? If yes, with what can I substitute it (I am gluten-free). Almond flour, coconut flour?

Response: Hi Michael, rice flour is used to get the crispy outer layer. You can use the same amount of (or little less or more, as required) crushed corn flakes or bread crumbs or crushed oats or you can skip it.
---
Dec 16, 2014 by Vino
Hi, can I use cabbage instead of bottle gourd to make cabbage kofta curry? If yes, do I need to cook cabbage in hot water or use raw? Can we add fresh cream at the end?

Response: Yes, you can use shredded cabbage (raw) instead of bottle gourd to make curry. There is no need to cook cabbage in hot water. If you like the creamy taste, you can add the fresh cream at the end.
---
Nov 19, 2014 by Parimal Buch
Precisely and so accurately well served, finger licking recipe !!!

---