The tongue tickling spicy masala of grated paneer wrapped in chapati or paratha is a treat to taste buds at anytime anywhere. These wraps have stuffing of grated paneer, which is sautéed in spicy masala. Making stuffed paneer rolls is easy and involves three steps, 1) make spicy filling, 2) make chapati for wrap and 3) combine filling and chapati into roll.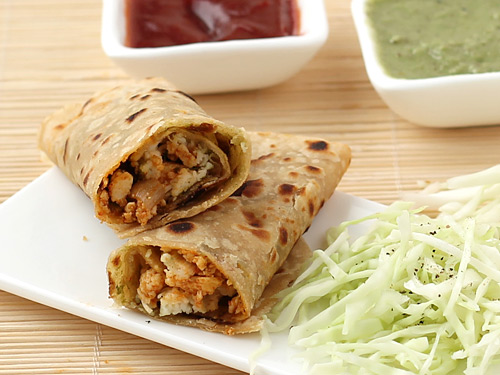 Preparation Time:
10 minutes
Serves:
2 servings (4 rolls)
Ingredients For Chapati:
3/4 cup + 1/4 cup Whole Wheat Flour or Maida (all purpose flour)
2 teaspoons Oil
Milk
Salt
Ingredients For Roll Filling:
1 cup crumbled or grated Paneer
2 tablespoons finely chopped Coriander Leaves
1 medium Onion, finely chopped
1 Green Chilli, finely chopped
1/2 teaspoon Ginger-Garlic Paste
1/2 teaspoon Cumin Seeds
1/4 teaspoon Garam Masala Powder
1/2 teaspoon Red Chilli Powder
1 teaspoon Coriander Powder
2 teaspoons Tomato ketchup
Salt
1 teaspoon Oil
Ingredients For Roll:
2 Cheese Cubes, grated (optional)
1 Cup chopped Lettuce or Shredded Cabbage
4 teaspoons Green Chutney
Oil for shallow frying
Method for Making Chapati Wrap:
Take 3/4 cup wheat flour, 2 teaspoons oil and salt in a bowl. Add milk as needed and knead smooth dough similar to chapati or paratha dough.

Cover the dough and rest it for 10-15 minutes. After 15 minutes, knead the dough again and divide it into 4 equal portions. Give ecah portion a shape of ball. Take 1/4 cup dry wheat flour in a plate for dusting. Coat each ball with dry wheat flour and roll it out on roti making board into a thin circular chapati or paratha having approx 5-6 inch diameter.

Heat the tava over medium flame. When it is hot, place rolled chapati on it and cook until light brown spots appear on both sides.

Trasfer it to a plate and cover with a lid to avoid drying (or put it in a roti container). Do the same process for remaining dough balls. Make sure that chapati wrap is not over cooked, as it will be re-heated again at the time of making rolls.
Method for Making Crumbled Paneer Filling:
Heat 1-teaspoon oil in a small pan over low flame. Add cumin seeds; when they start to crackle, add finely chopped onion and sauté until it turns light brown. Add ginger-garlic paste and sauté for 30 seconds.

Add red chilli powder, coriander powder, garam masala powder, tomato ketch up, coriander leaves and green chilli; mix well.

Turn off the flame. Add crumbled paneer and salt to taste, mix well. Filling for roll is ready; divide it into 4 equal portions.
Method for Making Paneer Rolls:
At the time of serving, heat tava on medium flame and place previously cooked chaapti over it. Spread 1/2 teaspoon oil on both sides and cook for 20-30 seconds on each side.

Take re heated chapati in a plate and spread 1-teaspoon (or to taste) green chutney evenly over it. Put one portion of filling in the center and spread it lengthwise. Sprinkle 1-2 teaspoons grated cheese and 1/4 cup chopped lettuce over it. Wrap chapati tightly around stuffing to make a long cylindrical roll.

Serve them with tomato and chilli chutney and tomato basil salad.
Tips and Variations:
You can prepare stuffing and chapati in advance. However, assemble them into rolls only when you are ready for serving. It tastes best when served hot.
Use readymade tortillas or rumali roti instead of preparing fresh chapati to make spicy paneer wraps quickly.
Spread 1-teaspoon mint chutney instead of green chutney on topside of wrap before placing crumbled paneer stuffing on it. Also, sprinkle some chat masala for extra zing.
To make it healthier, add chopped veggies like tomato, onion and lettuce.
If you are a cheese lover or making paneer rolls for kids, then sprinkle shredded cheese over stuffing for extra cheesy taste.
Taste:
Spicy, soft and hearty
Serving Ideas:
It is a delicious dish that tastes exceptionally well with green chutney. Serve it as a healthy snack for kids or pack a few when you are in hurry and have it on the go.
Other Step by Step Recipes
---
12 Comments
---
Feb 27, 2018 by Sangeeta's Kitchen
This is a great recipe. I tried it out too and you will surprised with the results...Check it out here:
https://www.youtube.com/channel/UC3I00Eohkg1uq1qed_MYsHg?view_as=subscriber

---
Feb 10, 2018 by Suganya Rajmohan
Thanks for sharing this . I prepared as per ur step and it has come out very well. My kids loved this paneer roll . Keep posting like this easy and tasty receipes

---
Mar 15, 2017 by Akta chauhah
Is lettuce or cabbage absolute necessity? Can they be omitted and still taste just as good?

Response: Hello Akta, you can skip the lettuce or cabbage.
---
Aug 09, 2016 by Shweta
Prepared it for my daughter's school tiffin. She and her frnds enjoyed the rolls very much. Kids demanded for it again. Awesome recipe. Thanx.

Response: Thank you Shweta for trying the recipe and writing the feedback. Glad to hear that your daughter and her friends enjoyed it.
---
May 13, 2016 by Rupal
Hum aapki bahut si dishes bna chuke hai sabhi bahut hi testy bni. Pls ab hume kuch or paneer ke snacks recipes bataiye.

Response: Hello Rupal, follow this Paneer Recipes section for paneer snacks, curries and starters.
---
Mar 16, 2016 by Vidhi Sanghavi
I prepared Methi Paneer. It was awesome. My husband loved it..Simple and mouth watering with rich and creamy looks. Thanks for this recipe.

---
Oct 07, 2015 by Subathra Devanand
Came out good. It was very easy too.

---
Mar 19, 2015 by Kodeeswari Arumugam
It's so simple and easy preparation. So nice, Thank you.

---
Mar 11, 2015 by Deepa Chaudhary
It is awesome.
I prepared gulab jamun with your recipe and it came out well.

Response: Thanks Deepa.
---
Sep 25, 2014 by Ruchira
The recipes looks really yummm...

Can you please list down some recipes of certain varieties of soups and salad to go with such items ... it would be great.

---
Jun 03, 2014 by Rinu Deep
its so tasty n easy to make.....i like it so much

---
Apr 16, 2014 by B.KAVITHA
Its so easy to cook fast and my children like to eat very much thank u so much.

---