Beetroot, a wonderful vegetable, helps maintain good cardiovascular health. It has been scientifically proven that beetroot juice helps in lowering high blood pressure and hence helps preventing cardiovascular problems. Apart from this most notable benefit, there are many other benefits of it as well, which puts it in the category of one of the healthiest juice recipes. It is a simple mix of red beetroot, apple and celery.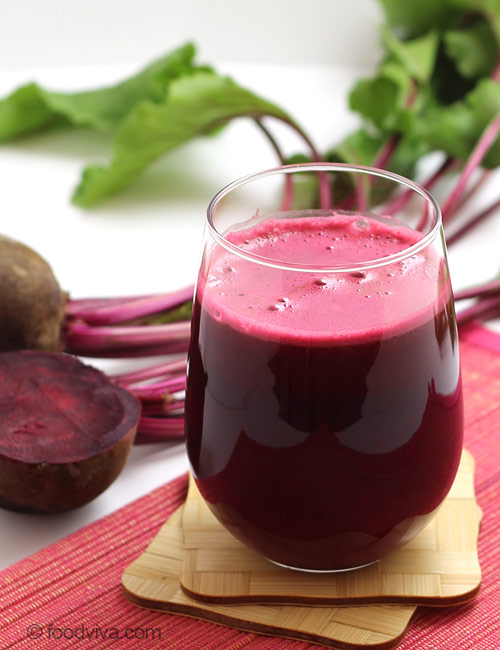 Preparation Time:
10 minutes
Ingredients:
1 small red Beetroot
1 large Apple (or 2 small apples)
2 Celery stalks
1-2 Carrots
1/2 Lemon or Lime
1/2 inch small piece of Ginger, peeled
Directions:
Wash all vegetables and fruits in running water and pat dry them.

Peel and cut beetroot into long slices. Cut apple into long pieces and remove the core. Peel and cut carrot into long pieces. Cut celery into long pieces.

Put glass or container under the nozzle of a juicer and turn it on.

Process all ingredients (beetroot, apple, carrot, celery, ginger) except lemon alternatively through juicer.

Squeeze the half lemon into prepared juice and stir well. Pour it into chilled serving glass and serve. Drink it immediately.
Tips and Variations:
Choose a small and firm beetroot. Also, we used sweet apple but you can use any type of apple of your choice.
Pure beetroot juice is very strong; always mix it with some other fruit or vegetable juice to potentially avoid any side effects.
If you are using organic veggies and fruits, don't peel them.
Taste:
Sweet and refreshing
Serving Ideas:
Serve it in the breakfast to get a refreshing and healthy change from routine apple and orange juices. It helps lower high blood pressure and it's a recommended drink for high BP patients. Drink it regularly to prevent any cardiovascular problems from occurring.
---
31 Comments
---
Mar 13, 2018 by Purvi Shah
Superb, very helpful tip

---
Mar 13, 2018 by Purvi Shah
Very nutritional recipe

---
Mar 05, 2018 by Mary Jo Terrill, MSW, RN
I am a nurse working in Rwanda with women who are HIV positive.

Do you know if the women in a village here can make beet juice without a blender or processor? If the beets are cooked does it reduce the benefit a lot? They really want to do this.

Response: Hi Mary, Thank you for looking after the womens. Beet juise can be made without blender or processor by shredding the beets and squeezing it. However, it will require lot of effort. If you steam cook the beets, it will not reduce its benefits.
---
Feb 05, 2018 by Sylvia Honegan
I'm trying to lower my BP

---
Feb 03, 2018 by Rayudu
Any juice for diabetics on insulin. Will be thankful for the advice.

Response: We recommend to try green vegetable juices.
---
Jan 27, 2018 by Matthias Oigbokie
Do we need to cook beetroot before the extraction of the juice

Response: No, you do not need to cook beet for extraction of its juice.
---
Jan 12, 2018 by Clara
good receipes thank you

---
Dec 11, 2017 by Suopuo Lawrence
Good, I just read through your questions and answers and l'm very happy. My question is that, can l add a bit of Honey to the juice?

Response: Yes, you can add a bit of honey.
---
Nov 29, 2017 by Bobbie Tippit
Can I blend since I don't have a juicer?

Response: Yes, you can blend it.
---
Sep 03, 2017 by RAMARAO
Can I consume pure mixed juice of beet, carrots, keera and apple without mixing water ?

Response: Yes, you can.
---
Aug 21, 2017 by Kiran Rajput
Great information for the people. Please keep sharing.

---
Jul 20, 2017 by Rossy
I made a blend of Beet, Cucumber, Tomato, Watermelon and Ginger. It's wonderful!

---
Jun 22, 2017 by Tabwassah
Best natural remedy for cleaning one system. But l blend and drink with the chaff without throwing anything from beetroot and cucumber.

---
Jun 07, 2017 by sachim sharma
Can we boil the beet root before making the juice?

Response: Hello Sachin, there is no need to boil the beetroot before making the juice.
---
Apr 30, 2017 by Mrs Fasinasi Edna
That is wonderful lesson. I have learn a lot I will go and try it.

---
Apr 27, 2017 by Samuel
Please in the making of this juice, can onion be used instead of beetroot? Would it give the same health benefits?

Response: No, you cannot use onion instead of beetroot.
---
Feb 26, 2017 by Violet
I am very impressed with this beetroot juice.

Kind regards
Voilet

---
Feb 23, 2017 by Rajat lhawas
I have been drinking fresh Beet route juice without any other fruit , straight for over 6 months now . I drink Honey and lime in warm water after that and then followed by Green tea. I have not improved in my BP control and neither any weight loss. What is the gap/Interval i need to give between these different intakes ? As of now , Beet root juice and Warm like water with honey is subsequent without any gap.

Response: Rajat, we can not advise on specific diets as it is outside of our skills and expertise.
---
Feb 08, 2017 by Steve
Grt tips. Many thanks, have made this a couple of times.......still seems bland..but hey hoo.

---
Oct 03, 2016 by jun jun
Honey can be added to beet juice?

Response: If you like, you can add the honey.
---
Sep 20, 2016 by Saranya
Hi, whether we need to add sugar?

Response: No, you don't need to add sugar.
---
Sep 05, 2016 by Maggie Johnson
Can it be made in a blender and then strained?

Response: Yes Maggie, it can be made in blender. Follow this recipe of carrot beetroot juice for step by step photo process to make juice using a blender.
---
Sep 01, 2016 by Denise Evans
How long will the beetroot drink keep in the fridge as I made a small amount but seem to have quite a lot - also it is very thick can I water down with water? Many thanks for any advice.

Response: Yes Denise, you can add water in the juice to dilute it. It's always best to consume fresh juice immediately after juicing, however if it's not possible, you can keep in the refrigerator for a day.
---
May 13, 2016 by Stella
Hi, i just wanted to check if this uses raw beetroot. Thanks

Response: Yes Stella, raw beetroots are used.
---
May 06, 2016 by Kim
My husband has high blood pressure. We are going to put the beet juice to the test. I will let you know the results. Thanks for the great info.

---
Apr 18, 2016 by Ramona
I used yellow beets since I could not find red. Does that make any difference in the effectiveness of this drink?

Response: Hi Ramona, you can use yellow beet instead of red beet in this recipe. However, the taste will change a little bit.
---
Apr 07, 2016 by Jadean Page
Can this be made in a nutri-bullet and how long does it keep. I mean, can I make enough for a week at a time?

Response: Yes, you can make it in a nutri-bullet. It is best to consume juice fresh to get maximum nutrients however if it's not possible to consume it fresh, you can keep it in the refrigerator for a day.
---
Apr 06, 2016 by Pinki
I want to know about cocktail and mocktail, what is the difference?

Response: Cocktails are alcoholic drinks made by mixing soft drinks or fruit juices with alcohols while Mocktails are non-alcoholic drinks made by mixing different fruit juices or soft drinks.
---
Mar 22, 2016 by Puja
Very well explained ver informative thank you for sharing. Is it ok to discard fibre?

Response: Hi Puja, you can either discard the fiber or use to make atta bhakhri or thicken the gravy of curry or just saute in oil and sprinkle some salt and masala.
---
Mar 07, 2016 by Carol g Simeon
Am using the Vitamix.

---
Nov 23, 2015 by Meenakshi
May I know which juicer you are using?

Response: We are using Omega masticating juicer.
---