Golgappa Puri, a round shaped small crispy puri that is small enough to easily fit in your mouth, is a basic ingredient in many chaat recipes like pani puri, dahi puri etc. This puri is hollow that allows you to make a hole on top and fill it with varieties of stuffing like boiled potato, sprouted moong beans, boiled chickpeas, ragda etc., top with sweet and spicy chutneys to make tongue tickling chaats. Many like to enjoy it alone by just adding boiled mashed potato, coriander, few drops of lemon and a sprinkle of chaat masala powder. Making golgappa puri at home is is easy but time consuming affair if you want to prepare it in large quantity and so generally, I prefer to buy them from grocery store. However, store bought ones are generally large or very hard and ruins the excitement just after few mouthfuls. However, with this step by step photo recipe of golgappa puri, making right sized melt in the mouth puris for panipuri at home is super easy.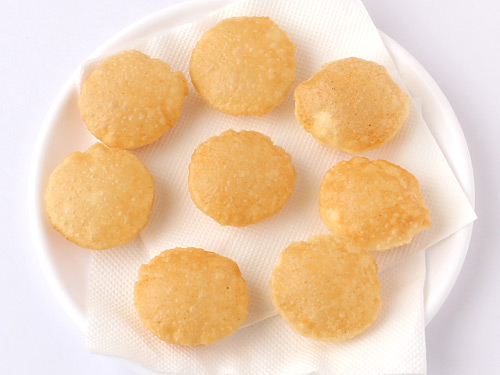 Preparation Time:
30 minutes
Ingredients:
1 cup Fine Semolina (rava/sooji)
2 tablespoons Maida (all purpose flour)
1/4 teaspoon Baking Soda
Salt to taste
Oil, for deep frying
A small round shaped Lid to cut puris
Directions:
Take semolina, maida, baking soda and salt in a wide mouthed bowl and mix well.

Add water in small incremental quantities and bind stiff dough.

Cover it with a damp cloth and keep aside for 20-25 minutes.

Remove the cloth and knead again until smooth texture.

Divide dough into 4 equal portions. Take each portion and give it a round shape like ball. Press it between your palms and place on rolling board.

Roll it out using a rolling pin into round shaped roti with thickness like phulka roti or chapathi (approx 1-2 mm). Do not roll it very thin or very thick. If it is very thin then puri will not puff up while deep frying and if it is thick then puri will not turn crispy after deep frying.

Make small round puris by cutting it using a round shaped small lid (approx. 2-2.5 inch diameter) as shown in photo.

Remove extra dough and mix it with remaining dough. Make puris from remaining dough.

Heat oil in a deep frying pan over medium flame for deep frying. When oil is medium hot, take 5-6 puris and slide them gently in oil (do not drop them together – do it one after another). Press each puri a little with spatula (to puff them up). Deep fry them until crispy and light golden brown. Remove and place them on paper napkin to absorb extra oil. Store them in an airtight container after they cool down and consume within 2-3 weeks.
Tips and Variations:
To make them crispy, bind the hard dough.
If you don't want to add baking soda, use soda water instead of plain water to bind the dough.
Either you can roll a large circle and cut the puris with a round shaped lid or divide the dough into approx. 35-40 small portions and roll each puri individually.
Make sure that rolled dough is not very thick or very thin.
After deep frying if there is any moisture in the puri then place them in a preheated oven (200 degrees F) for 15-20 minutes or keep in direct sunlight for 2-3 hours or until all moisture evaporates.
Taste:
 Mild salty and crispy
Other Step by Step Recipes
---
16 Comments
---
Feb 17, 2018 by Angel butt
AMAZING Awesome Superb

---
Jan 26, 2018 by Venkatesh
Can u explain clearly the steps of preparation....

Response: Hi Venkatesh, this Golgappa Puri recipe explains the steps in detail with photos. Are you looking for steps for assembling Pani Puri? If yes, then see this recipe - http://foodviva.com/snacks-recipes/pani-puri/
---
Jan 19, 2018 by mrs nouman
Thank you so much for sharing this recipe, it is definitely my all time fav snack. i tried making this following same as your own steps and it was very crispy and all the puri's puffed up really well. i m so glad with the result. My all family enjoyed the pani puri i made at home. Thank you.

---
Sep 15, 2017 by Muhammad Ali
Thank you. The recipe was very useful.

---
Feb 19, 2017 by nancy
i tried it but it didn't puffed.

Response: There could be many reasons for it. Please follow the clarifications/suggestions given above for similar problems faced by other readers.
---
Jan 01, 2017 by Priyy
Hello,

I tried the puris but they turned out to be a hit or a miss. Some puffed and some didn't despite the fact that I checked whether there was even rolling.

The dough was hard after resting. Yet, after frying, the puris didn't become crispy but became a bit elastic.

Awaiting your response

Regards

Response: Perfect temperature of oil is necessary for crispy and puffed puri. When you drop the puris into hot oil, oil should be medium hot. After dropping the puris into oil, press them lightly with spatula to puff up and then fry them until crispy and light golden.
---
Dec 21, 2016 by Maheswata jena
Can I use baking powder instead of baking soda?

Response: No, you cannot use baking powder instead of baking soda in this recipe.
---
Nov 02, 2016 by Shreya Goyal
Can we add simple atta instead of maida?

Response: Yes, you can add simple atta instead of maida.
---
Oct 23, 2016 by Jayashree c k
Very yummy and tasty snacks continue sharing.

---
May 20, 2016 by Neha rani
Can you give me recipie of its pani and mixture?

Response: Hello Neha, follow this link of Pani Puri to make pani and masala.
---
May 07, 2016 by Sahil Tandon
This is my all time favorite! Golgappa puri is very simple and easy to cook. Sometimes we like to eat something spicy and according to me this is perfect to eat. The water of golgappa puri is made from many herbs and it is helpful in digestion.

---
Feb 11, 2016 by Naeem
I like it very much but I want to know amount of water.

Response: The amount of water required to bind the dough depends on the quality and type of rava. If you are not sure about how much water is needed, 1. add 1/4 cup water at first, 2. mix well and, 3. then add water 1-tablespoon at a time as needed to bind stiff dough.
---
Feb 11, 2016 by Prabu
The recipes are really simple and seems practical. Thanks for sharing.
Good work.

---
Aug 15, 2015 by Chandani Joshi
I don't understand why Puri got soft after it cooled. It puffed up good and crispy but when it cooled, it turned soft?

Response: If the weather is humid (rainy weather), store the puris in air-tight container as soon as they cool after deep frying. Sometimes, the excess moisture in weather makes puri soft. Don't make thicker puris, they take more time to turn crispy while deep frying and if don't fried properly, they may turn soft.
Keep the soft deep fried puris into preheated oven (preheated at 380 F for 10 minutes) for 10-12 minutes (do not turn on oven) or until turn crispy.
---
Jun 28, 2015 by Mehjabeen
I don't know where I got wrong; my puris did not puff up at all. What should I do? May be it's because of I kept the dough aside for more than 30 mins.

Response: Hi Mehjabeen, follow the below given steps to make perfectly puffed puri.
1.Roll the dough portion evenly in step-6 (by applying even presser). If you roll it unevenly (at some places thick and some places thin), puris will not puff up.
2.Do not roll it out very thin. If you roll it out very thin, puris will not puff up.
3.After dropping the puri in oil, press it gently with backside of spatula, it helps to puff up the puri.
4.Add puris in oil when it is medium hot. If it is not hot enough, puris will absorb more oil and not puff up. To check the oil is medium hot or not, drop a small portion of dough in hot oil and if it comes on the surface immediately without changing the color then oil is ready. If it changes the color to dark brown, oil is too hot. If it doesn't come on the surface immediately oil is not hot enough.
---
Apr 04, 2015 by Shruti Dubey
It is really easy, awesome and tongue-licking. It describes the real simplicity yet beauty of the Indian cuisine.

Response: Thanks Shruti.
---