This is simple and mouth watering stir-fried bhindi in spicy gravy made from tomato, curd, cashew nuts, onion and typical Indian curry ingredients. The liquid gravy like texture of this bhindi preparation makes it suitable to be served with naan, tandoori roti or steamed rice. Learn how to make best bhindi masala gravy in this easy recipe.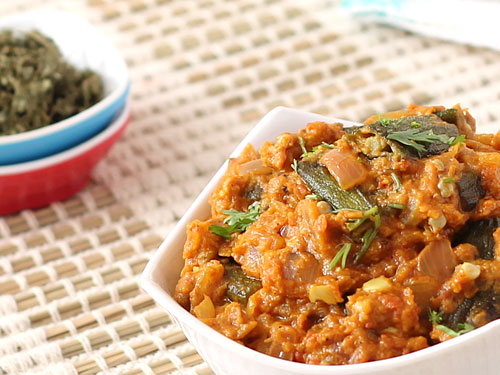 Preparation Time:
10 minutes
Ingredients:
250 gms (1/2 lb) Bhindi (Ladies Finger/ Okra)
3 medium Tomatoes, chopped
5-6 Cashew Nuts
1 Green Chilli, seeded and chopped
1/2 teaspoon Ginger, chopped
2 cloves of Garlic
4 tablespoons Curd (Yogurt) (not sour)
1 large Onion, finely chopped
2 teaspoons Cumin-Coriander Powder
1/4 teaspoon Turmeric Powder
1/2 teaspoon Red Chilli Powder
1/2 teaspoon Garam Masala Powder
1/4 teaspoon Fennel Seeds
1½ tablespoons Coriander Leaves, finely chopped
1½ tablespoons + 2 tablespoons Oil
Salt
Directions:
Crush cashew nuts in the small chutney jar of a mixer grinder to make medium coarse powder. Coarsely crush green chilli, ginger and garlic in the same jar and make a paste. Crush tomatoes in the same jar and make a smooth tomato puree.

Remove head and tail of each bhindi and cut it into 1.5-inch long pieces. Heat 1½ tablespoons oil in a pan over medium flame. Add bhindi and sprinkle some salt over it.

Shallow fry bhindi until it turns dark green and shrinks considerably from its original size (approx 6-8 minutes). Turn off the flame and transfer shallow fried bhindi to a plate.

Heat remaining 2 tablespoons oil in the same pan. Add fennel seeds, when they begin to crackle, add finely chopped onion and sauté until it turns light brown. Add green chilli–ginger-garlic paste (prepared in step-1) and sauté for a minute.

Add tomato puree (prepared in step-1) and cook until oil starts to separate from it.

Add turmeric powder, red chilli powder, garam masala powder and salt; mix well.

Add curd, cumin coriander powder and crushed cashew nuts and mix well.

Add shallow fried bhindi and mix well.

Cook it over medium flame for 2-3 minutes.

Turn off the flame and transfer prepared curry to a serving bowl. Garnish bhindi masala gravy with coriander leaves and serve hot.
Tips and Variations:
Make sure, curd is not sour otherwise taste of curry will turn mild sour.
Adjust the amount of green chilli and garlic to get your desired taste and make it more palatable.
Add 1-teaspoon sugar to balance out tangy flavor of curry.
Serving Ideas:
Serve it with naan or tandoori roti or chapati, rice and cucumber salad.
Other Step by Step Recipes
---
42 Comments
---
Jan 13, 2018 by Deepthi
Instead of cashews can we use cream?

Response: Cashew gives it a thicker texture that can not be achieved with cream. If you don't have cashews, you can use either watermelon seeds or peanuts.
---
Oct 08, 2017 by Cookie
Hi - in the first step when you say crush tomatoes - I have three questions -
1) do we remove the peel and seeds of the tomatoes before making the puree?
2) do we make a smooth puree of the tomatoes in the mixer?
3) do we strain the puree ?

Thanks.

Response: Crush the tomatoes with peel and seeds in a mixer grinder to make smooth puree.
---
Aug 11, 2017 by shilpa
Woow... Really it comes outstanding, u done a very good job... Anybody can cook easily with help of FOODVIVA.COM, I suggested too many friends... everybody appreciates you... Good luck...

Response: Thank you Shilpa.
---
Mar 17, 2017 by Manjusha
We tried this recipe.and I would say one word yummy!!!!!!!!!

---
Sep 28, 2016 by Sarika yadav
I like this dish so much and my hubby too, but I want to ask that can we skip kaju in this recipe?

Response: Hello Sarika, cashew nuts are added to make the gravy thick. You can use the peanuts or white melon seeds instead of cashew nuts (kaju).
---
Sep 20, 2016 by Sayanti Bardhan
Thank you so much. Recipes are awesome and in such an elaborative way it has been instructed, I just loved it.

---
May 31, 2016 by Shikha
Awesome recipe.. My family loved it.. We never had this type of bhindi recipe before.. Loved it a lot..

---
Apr 14, 2016 by Miriam Dsouza
Very tasty dish...everyone at home relished it.

---
Apr 12, 2016 by Kapil Raut
Thankyou very much. It was too tasty and easy to understand with pictures.

---
Mar 30, 2016 by Jayaprada
I prepared it. It was very tasty..:-)

---
Jan 20, 2016 by Priyanka
Cumin and coriander powder each one spoon or each two spoons?

Response: Hi Priyanka, add 1-teaspoon cumin powder and 1-teaspoon coriander powder.
---
Oct 20, 2015 by Janaki
Excellent Recipe! Tried and tasted and now it's everyone's favorite in our family. I made this for a potluck and it is a big hit there too. Thanks for posting this recipe.

---
Sep 22, 2015 by Bharathi
Yummy for my tummy!!!!!!

Thank you very much for the wonderful recipe!!!!!

---
Aug 26, 2015 by Vinukrishnan
Great dish and easy to prepare... Loved it

---
Aug 11, 2015 by Ishita jariwala
Very nice.i m following ur every recipe...

---
Aug 06, 2015 by Mugdha kudle
I made it and everyone just loved it.

---
Jul 24, 2015 by Errol Almeida
Great tasting, bindi will be on my favorite list.

---
Jun 15, 2015 by Subhashree patro
Loved it a lot. My hubby's favourite dish.

---
May 30, 2015 by kanu panwar
Very tasty dish....everybody loves it.

---
Apr 27, 2015 by Ria
Amazing dish! A must try... Easy and tasty.

---
Apr 22, 2015 by Shweta
Just the way I thought to make my dish. Really awesome one.

---
Mar 24, 2015 by Vidhi
It was mouth watering and finger licking recipe. I made for the first time and it really turned out superb.

---
Dec 28, 2014 by Ajitha Yasmin
This was an excellent recipe and served well with roti. Nutritious and delicious.

---
Dec 16, 2014 by vidya nair
Cool, I loved it. It turned to be my favorites.

---
Nov 13, 2014 by Sandhya nair
Turned out great. Loving it.

---
Oct 27, 2014 by shruravi
Wow! It's very good recipe, my one and half year old baby loved it. I too liked this recipe, thanks.

---
Sep 15, 2014 by swathi
it is helpful and its understandable .......and it was very lovely for me to learn from this site .......

---
Sep 10, 2014 by satish bhosale
Awesome....
My first cooking experience which now turned into my hobby...

---
Aug 13, 2014 by Divya
Good One. Loved it. The photo by photo explanation is really helpful. Well explained.

---
Jul 21, 2014 by Keshini patel
It is a nice recipe.. My family enjoyed it a lot..

---
Jul 04, 2014 by shipra
V.delicious Recipe..loved it..

---
Jun 24, 2014 by bhagyashree Patil
I tried cooking bhendi for first time in my life and it turn out to be very yummy and delicious. It was an mouth watering dish. One word Just Awesome! :* :*

---
Jun 06, 2014 by sumitra
its such a lip smacking recepie...i m tension free when it comes to a dinner get together...in short its a super duper hit recepie...thanks a tonn for sharing????

---
Jun 02, 2014 by Nithin NY
Explained very well!
It helps a lot to beginner like me. :)

---
May 06, 2014 by Deepa
Very very Delicious reciep. Thanks a ton :-)

---
Apr 13, 2014 by shweta Singh
Hi
I just made this recipe and was not having curd , so added two tsp milk cream
and it turned out well.

---
Mar 11, 2014 by Xena
My friend prepared it and brought over to my place for dinner. It was so delicious that no one ate my karai chicken.

Response: Thank you.
---
Mar 10, 2014 by sharon
i just tried this and its an awesome recipe!

---
Oct 09, 2013 by Aarti
Hi, At which step is curd added? I don\'t see the mention on curd in the recipe...

Response: Curd is added in step-7.
---
Jul 15, 2013 by Sai
Thanks a lot... Very good recipe....

---
Jun 18, 2013 by Shweta
I prepafred this receipe & was real yummy to eat many times.

---
Sep 18, 2012 by Farida Engineer
Very easy and nutritious to make. To make a smooth gravy, one needs to grind onion, tomatoes and cashew nuts together and then fry it in ghee or oil. It tastes better too.

---