Its a 20 minutes to goodness! Methi Pulao, a green fenugreek flavored rice is not only healthy but quick and easy to make too. It is one of the best ways to add nutritious greens in daily meals and in the lunchboxes and making meals more delicious and flavorsome. This methi pulav recipe's minimalistic approach to use of number of basic ingredients that can be easily found in any kitchen and easy to follow steps depicted by photos make it an ideal bachelor's recipe. You can cook it either in a pan or in a pressure cooker (see tips section below) according to your choice and comfort of using cooking equipments.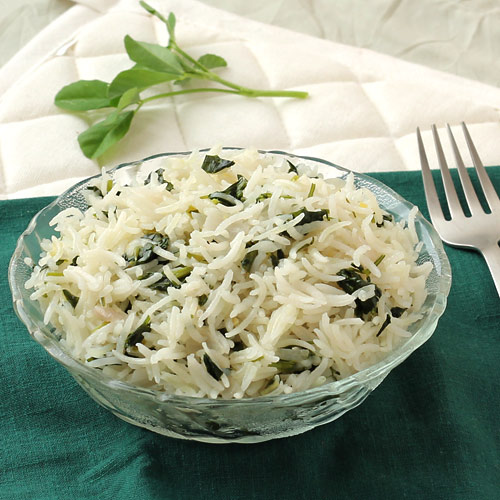 Preparation Time:
20 minutes
Ingredients:
1/2 cup Basmati Rice (long grained rice)
1 cup chopped Fresh Fenugreek Leaves (methi)
1-inch piece of Cinnamon
2-3 Cloves
1 medium size Onion, finely chopped
1 Green Chilli, finely chopped
1 teaspoon Ginger-Garlic Paste
1¼ cups Water
Salt to taste
1 tablespoon Oil
1/2 tablespoon Ghee
Directions:
Wash and soak basmati rice in water for 20 minutes and drain the water.

Heat oil and ghee together in a pan (pressure pan or normal pan). Add cinnamon and cloves and allow them to crackle. Add onion and sauté until it turns light brown. Add green chilli, ginger-garlic paste and sauté for 30 seconds.

Add chopped fresh fenugreek leaves.

Stir and cook for 2-minutes.

Add drained rice and sauté until rice starts to stick to the bottom for 1-2 minutes.

Add 1¼ cups water and salt and bring it to boil over medium flame.

When it starts to boil, cover it with the lid and cook it for 8-10 minutes over low flame. Do not open the lid in between otherwise rice may remain uncooked.

Turn off flame and let it settle for 7-8 minutes. After that, remove the lid and fluff the rice with a fork.

Transfer methi rice to serving plate and serve it hot with yogurt raita.
Tips and Variations:
Clean and wash green fenugreek leaves (methi) properly before using.
If you prepare this healthy food for kids, add green peas and yellow sweet corn in step-3 to make it healthier and give it a tempting look.
You can also cook it in a 3-5 liter capacity aluminum/steel pressure cooker for 3-whistles over medium flame. Keep the lid on until pressure comes down naturally. Open the lid carefully after letting remaining steam escape and fluff the rice with a fork. (Do not open the pressure cooker lid immediately after cooking otherwise rice may not cook properly.)
Serving Ideas:
This delicious dish is best enjoyed with plain curd (yogurt) or raita and papad. Serve methi pulao with
dal tadka
or your favorite
punjabi curry
. It can also be eaten with onion or
cucumber raita
for dinner.
Other Step by Step Recipes
---
2 Comments
---
May 30, 2015 by Renu
Hi,

I tried this recipe today and it turned out very tasty !
Thank you !

- Renu

---
Dec 04, 2014 by Suhasini
Tried this recipe today and it turned out well. However, I faced a problem. I followed exact procedure as you have specified but little amount of water remained in pan which made my pulav bit watery. I cooked for five more minutes but didn't do much of a difference. Pulav, which you have showed in above picture, looks awesome. I need same texture so can you please tell me what I need to do?

Thanks in advance.

Response: Hi Suhasini, thanks for trying the recipe. The reason behind the watery rice after cooking is I think the amount of water you have added is more for the rice you have used. I suggest that try next time by adding less amount of water.

Follow the given basic rules to cook the perfect rice, whether you are cooking plain steamed rice or pulao or biriyani. Rules are same for all of them.
1. Always use basmati rice (long grain rice) to make pulao.
2. Wash the rice in water for 3-4 times to prevent it from turning sticky.
3. Generally, 2 cups water (double amount than rice) is required to cook 1-cup rice. However, the quantity of water may vary according to brand and type of the rice. You can easily find the info about water required to cook rice behind the package of rice.
2. First, cook the rice with double amount of water (or as given on the package) and then check the cooked rice. If it is watery after cooking, try next time by adding less water. If the rice grain is not cooked, add more water.
3. Once you find out the perfect quantity of water to cook the rice, you can cook the perfect rice.
---