Dal Palak, a delicious combination of protein rich assorted lentils (dals), fiber rich spinach (palak) and magical ghee tempered spices, is a healthy Indian curry cum dal that can turn any meal into healthy meal. Its nice green color is as tempting as it can get and the combination of chopped and crushed spinach gives it a taste and texture like no other.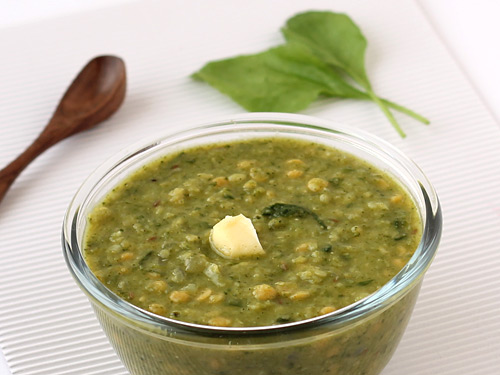 Preparation Time:
15 minutes
Ingredients:
1/4 cup Chana Dal (bengal gram)
1/4 cup Toor Dal (pigeon pea)
1/4 cup Yellow Moong Dal
2 cups chopped Fresh Spinach (palak)
1/2 teaspoon Cumin Seeds
A pinch of Asafoetida (hing)
1 large Onion, finely chopped
1½ teaspoons Ginger-Garlic Paste (or crushed)
2 Green Chillies, finely chopped
1/2 teaspoon Coriander Powder
1 teaspoon Lemon Juice
1/2 tablespoon Oil
1/2 tablespoon Ghee (clarified butter)
1 cube Butter, for garnishing
Salt
Directions:
Wash all the dals for 2-3 times in water and soak them together for 15-20 minutes in water. You can use the only one type of dal or a mixture of 2-3 types of dal according to the availability. Drain excess water from dals and pressure-cook them with 1½-cups water and salt for 3-whistles in a 3-5 liter capacity pressure cooker over medium flame.

Turn off flame and let pressure subside to natural level, it will take around 7-8 minutes. Open the lid and mash the dal gently with the backside of a spoon.

Clean the spinach and cut it. Wash the chopped palak. Add 1½ cups palak in the small jar of a mixer grinder and grind into smooth puree. If it's not getting pureed properly after multiple pulses, add 2-tablespoons water and try again.

Heat oil and ghee together in a pan over medium flame (ghee is used for a nice aromatic flavor). Add cumin seeds and asafoetida. When seed turn light brown, add chopped onion and sauté until it turns light brown. Add ginger-garlic paste, chopped green chilli and sauté for 30-40 seconds.

Add pureed palak (prepared in step-3), remaining 1/2 cup chopped palak and salt to taste.

Stir and cook for 4-5 minutes.

Add lemon juice, coriander powder, cooked dal and 1/2 cup water.

Mix well and cook for 6-7 minutes or until the dal turns little thick. Taste for the salt and add more if required at this stage.

Turn off the flame. Transfer prepared spinach dal to a serving bowl and garnish with a cube of butter. Serve it with your choice of

rice or pulao

.
Tips and Variations:
If you are in hurry then skip soaking of dal (in step-1) and pressure-cook it for 1-more whistle (4 whistles total).
In this recipe, spinach puree is used for a nice green color. You can also add only chopped spinach or only spinach puree according to your choice.
To get the desired consistency, add more water (step-7) or cook longer (step-8).
If you are preparing this healthy dal for kids then do not add green chillies.
Serving Ideas:
Serve dal palak with
jeera rice
or any stuffed paratha as a healthy and protein rich food for lunch or dinner.
Other Step by Step Recipes
---
8 Comments
---
Jul 11, 2017 by Bhavika
It's really yummy!!!

---
Jun 18, 2017 by Premila
Very nice and easy recipes..

---
Jun 18, 2017 by Sonia Duarte
Excellent recipe made today. People should adaptt the recipe to their taste and health reasons and not be critical of use of ghee and butter.

---
Jun 11, 2016 by Satya Balakrishna Bhat
Hi there

The recipe sounds interesting but the use of oil, ghee and dhal are not at all healthy. They are very fattening and high in cholesterol. This is why even Vegetarians have high cholesterol, diabetics, high BP and obesity.

Also if the green colour of spinach goes off its nutrition properties have been destroyed. I'd recommend the puree and spinach put last to maintain the fresh healthy colour and nutrition of spinach. Same time use less than a teaspoon of oil to cook this and avoid all animal products like ghee and butter.

I shall modify this recipe as per my suggestions and avoid the use of oil completely. I have been cooking oil free for a month and not used any animal products in my cooking for 8 years.

---
Jun 07, 2016 by Bhavana Bawankar
This recipe is actually very tasty. I really loved the recipe. Thanks.

---
Dec 16, 2015 by Neeta
This is very healthy recipe for everyone, thanks.

---
Feb 03, 2014 by Pooja Raoji Parab
nice recipes, please send this to my email id as given above. i would like to make it at home.

Response: Thanks pooja. You can find the print option and email option below the main photo of the recipe to email and print the recipe respectively.
---
Nov 15, 2013 by deepti
I love this healthy way to eat spinach with dal. I prepared it for my kid and he loved it so much. Thank you.

---