This almonds and cashew rich soft and savory sooji halwa prepared without milk is a welcome treat for taste buds at anytime and can give tough competition to best of the best sweets on the table. However, its mellow and aromatic sweet taste is not the only thing that makes it best, the ease of preparation can help you entertain your guests at short notice. It is also popular as rava sheera and served as prasadm in puja. Follow the below given step by step photo recipe to make it at home.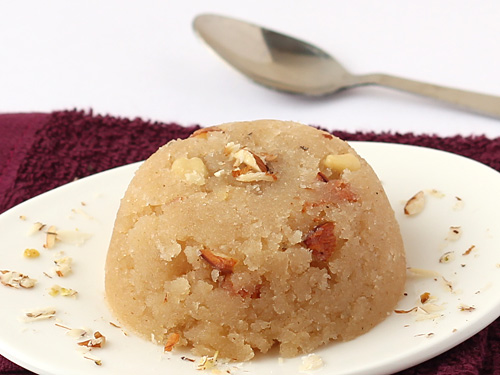 Preparation Time:
5 minutes
Ingredients:
1/2 cup Sooji (semolina/rava)
1/3 cup Ghee (clarified butter)
1¼ cups Water
1/2 cup Sugar
5 Almonds (badam), sliced
5 Cashew nuts (kaju), chopped
1/4 teaspoon Cardamom Powder
Directions:
Pour 1¼ cups water in a small saucepan and bring it to boil over medium flame, it will take around 3-4 minutes. Remove it from the flame and keep aside until you reach step-4 below.

Take sooji in a heavy based pan, add ghee and heat it over medium flame.

Stir and mix using spatula.

Roast it until golden-brown. It will take anywhere between 8 to 10 minutes.

Reduce flame to low; slowly add boiled water and mix by stirring constantly (add water only in small incremental quantities because it will splutter as soon as you add it).

Stir and cook to avoid any lump formation.

Increase flame to medium and cook until all water gets absorbed. Add sugar and cardamom powder.

Stir until sugar dissolves and it has a semi-solid consistency. Add and mix almonds and cashew nuts after reserving some of them for garnishing.

The suji halwa is now ready for serving.
Tips and Variations:
Replace water with milk to enhance its taste and make it softer. The recipe remains exactly the same.
Dissolve 4-5 saffron strands in 2 tablespoons milk for 5 minutes and add it in the mixture in step-5 to make traditional kesar and badam sooji ka halwa.
Taste:
Mild sweet and soft.
Serving Ideas:
Serve warm rava halwa in breakfast along with
puris (made from wheat flour)
. Alternatively allow it to set for a few hours, cut it into pieces and serve it as a dessert.
Other Step by Step Recipes
---
22 Comments
---
Jan 24, 2018 by Rosh
Hi i love halwa but i am diabetic so can i use sugarfree sweetners instead of sugar and how much.
Pls tell me how many saches of splenda will i need.

Response: You can use Splenda to make it sugar free. However, please note that taste and texture will not be same with Splenda s it doesn't provide any stickiness like sugar. You can use two Saches of Splenda and add more if required after tasting it.
---
Nov 21, 2017 by reshma
Lovely recipe.. I hate cooking but this recipe is so simple and easy and turns out so well Thank you!!

---
Oct 22, 2017 by Altaf
I love it my mom hand made taste will super....... thanks........

---
Oct 17, 2017 by Zuhair
Very very nice, nutritious and easy recipes, Thanks. God bless you.

---
Oct 03, 2017 by N.srinivasàn
Sooji rava always was very nice and it easy to prepare after seeing this I was very much interested.

---
Sep 17, 2017 by Simran
Awesome and easy to make.

---
Sep 16, 2017 by Anupama Joshi
Very nice and good.Please give more festive recipes. I will try it.

---
Jul 28, 2017 by anitha
Looks appealing. Shall try.
Please do send some more festive recipes.

---
Jun 28, 2017 by manya
Lovely halwa, I will make sure anyone try these halwa.

---
Mar 25, 2017 by Nilima Saha
Thank you. It turned out really delicious. I used 2% milk instead of water and also the saffron while boiling the milk. Just purely yummy. Thank you so very much.

---
Oct 19, 2016 by Anuj kajla
Nice recipe. I have made a yummy halwa.

---
Oct 09, 2016 by Akanksha Goyal
Thank you. I made it for the first time and it is perfect.

---
Sep 08, 2016 by Hemu
I had tried it many times, it's super again, made it as naivaidya for my Ganapati. It was hit with everybody, thanks a lot for all of your recipes, you are simply great.

Response: Happy to hear that you made it as naivaidya for Ganapati Bapa.
---
Jul 08, 2016 by Hemu
It's wow. I tried it and it was hit with my family and friends. Just one query can I double the recipe? Thank u for ur all recipes.

Response: Yes Hemu, you can double the recipe.
---
Apr 08, 2016 by Prabu R
Great recipes. I admire and appreciate Foodvia.com.

Response: Thank you.
---
Dec 12, 2015 by Laxmidevi lalith
Supereb. I made it first time right after so many tries after following the recipe, thanks.

---
Oct 01, 2015 by Vishal Mishra
I made it easily for my breakfast. Thanks a lot.

---
Sep 09, 2015 by Arijeet
Thank you everyone at foodviva.com. Now whenever our maid makes sudden disappearances, I do not have to go to college hungry.

---
Jul 06, 2015 by Jas ashu sharma
So easy.... Thanks for the recipe...

---
Jul 05, 2015 by Kavita
Every morning i have to give some healthy food in my sons tiffin. I found this website very helpful. I always refer the recipes here. As expected the tasty Sooji ka halwa !!!

Response: Thanks Kavita.
---
Jun 19, 2015 by Sushma Raizada
So easy and good. First time I made it and it was so easy.

---
Sep 08, 2013 by Qam
Tried this, it was awesome! Thanks for your recipes!.

---