If you have ever visited garba venue during festival of Navaratri or any consumer fair in Gujarat, you would have noticed a stall selling white dough like stuff in a cup with ice cream spoon. It is known as "Khichu" in Gujarati and actually a dough from which traditional papads are prepared. However, this dough alone is so delicious with groundnut oil that people eat it as a snack.
Khichu can be prepared from various types of flours like rice flour, wheat flour, bajri flour, nachani flour, jowar flour etc. However this recipe uses the rice flour which is slowly added to the mix of green chilli, cumin seeds and sesame seeds in boiling water until thick like soft dough and then cooked with a steam.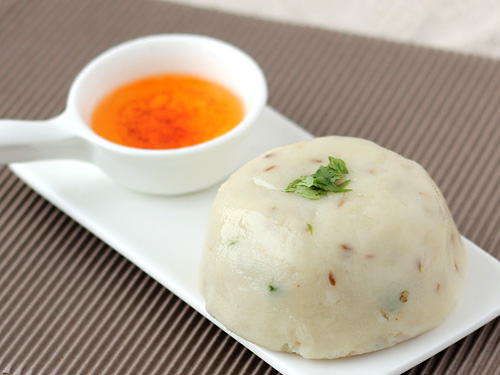 Preparation Time:
3 minutes
Ingredients:
1 cup Rice Flour
2½ cups Water
1 teaspoon Cumin Seeds
1 teaspoon Sesame Seeds
2 Green Chillies, crushed
1/8 teaspoon Baking Soda (soda bi-carbonate)
Salt to taste
1½ tablespoons Peanut Oil (for greasing and serving)
2 tablespoons Fresh Coriander Leaves
Directions:
Take 2½ cups water in a deep pan. Add cumin seeds, sesame seeds, green chillies, baking soda and salt and boil it over medium flame for a minute.

Now gradually add rice flour (1-2 tablespoons at a time) while stirring continuously using wooden spatula.

As the flour is getting mixed with water, it will start to thicken. Make sure that there are no lumps of flour. Slowly add and mix entire rice flour and it will start getting soft dough like consistency.

Cook for a minute and turn off flame. Transfer it to a plate.

Pour 1-glass water in steamer and bring it to boil over medium flame. (If you do not have steamer then take a deep vessel and boil water in it.)

Place prepared dough in a steamer container, place it inside the steamer, cover with a lid and steam-cook for about 8 minutes. Turn off flame, open the lid and let it cool for 2-3 minutes. (If you are not using steamer then take prepared dough in colander and place it over deep vessel having boiling water in it. Cover it with a plate and steam cook for about 8 minutes. Turn off the flame, remove plate and allow it to cool for 2-3 minutes)

Grease 4-individual cups with peanut oil. Divide prepared rice flour khichu into 4-portions and transfer it to individual serving cups. Garnish with chopped coriander leaves and serve hot with raw peanut oil (add little red chilli powder in it for spicy taste).
Tips and Variations:
Serve it hot for a better taste.
You can serve it with any cooking oil but peanut oil has a specific flavor and it enhances the taste.
For variation, you can use wheat flour or equal amounts of both rice flour and wheat flour together.
Taste:
Mild spicy, salty taste with soft and smooth texture
Serving Ideas:
Savor it in the breakfast or with peanut oil as a snack.
Other Step by Step Recipes
---
14 Comments
---
Jul 16, 2017 by Kokila Patel
Nice easy recipes. Thanks.

---
Feb 16, 2017 by Patralekha Parmar
Very helpful recipe to make & I never made this test before. Really its very testy.Thank u.

---
Feb 04, 2017 by ruchita
Thanks Mam for good recipe..it was tough for me but you make it possible..only I have confusion about type of rice good for khichiya Papad..shall I use kanki or jirasar or any other..pleases guide me??

Response: Hello Ruchita, you can use kanki rice or jirasar for the papad khichu or any short grained rice.
---
Nov 23, 2016 by Mamta Patel
I like your recipe very much ...you make the process so easy whatever the recipe..thank you very much

---
Nov 05, 2016 by sanu
My first try ...so easy just waiting to cool so I can taste it

---
Jul 05, 2015 by Arti
This is beautifully detailed and explained - you can't go wrong trying this recipe out for the first time. We all need more recipes from you...fabulous job.

Response: Thanks Arti.
---
Jun 16, 2015 by Nimisha H Kahar
This is the first time I tried to make khichi/ papdri no lott. It was nice to follow easy instructions to make this recipe successful and most importantly my kids liked it!!
Thank you,
Nimisha H Kahar

Response: Thanks Nimisha for trying the recipe. I'm happy to hear that your kids liked it.
---
Mar 28, 2015 by Geeta D Shah
Nice way to explain the recipe. You cannot go wrong even if you trying it out for the first time.

---
Dec 10, 2014 by Mohammed
Very nice. Yummy l like step by step directions.

---
May 08, 2014 by pritpal kaur
Thanks for the recipe which u showed with step by step,can I use Karo instead of soda-by-carb

---
Apr 14, 2014 by binkypatel
Boil the water for 5 minutes instead of 1 min. on high flame with till seeds and cumin seeds, add baking soda and add all the rice flour. take down from the gas, mix it to form a very soft dough without lumps.
Microwave this dough in a closed container for 4 mins. Khichu can be made without a fuss fo transferring and adding swowly.

Response: Thanks a lot Binky for sharing your method of making Khichu in Microwave Oven. This is really helpful for our readers.
---
Mar 19, 2014 by Nima
yummy recipe.

I liked the way it is explained...

---
Feb 09, 2014 by Sanjay
Easy and delicious recipe... Tried a few and this is the best. Try adding a few finely cut spring onions to the mix... Even better!

---
Jun 11, 2013 by Hetal
thanks a lot 4 this step by step recipes it helped me a lot.

---