Gulab jamun doesn't need any introduction! In its authentic preparation, mawa is the key ingredient but its not generally readily available and you need to
prepare it at home
. So to make things easier, this step by step photo recipe explains how to make Gujab Jamun with milk powder. The main difference between gulab jamuns made from milk powder and
gulab jamuns made from mawa
is the texture;
milk powder gulab jamuns have little porous texture from inside while mawa gulab jamuns have smoother texture.
If you are staying at a place where mawa is not easily available or you don't want to make it at home, we recommend you to try this gulab jamun with milk powder recipe as milk powder is easily available at every grocery store. Making gulab jamun with milk powder requires the person to be comfortable with cooking and little experience since it requires perfect dough consistency and deep frying process for perfect texture. With the guidance of stepwise photos, detailed explanation of each step and tips given below, you will be able to make melt in the mouth gulab jamuns at home in just 30 minutes.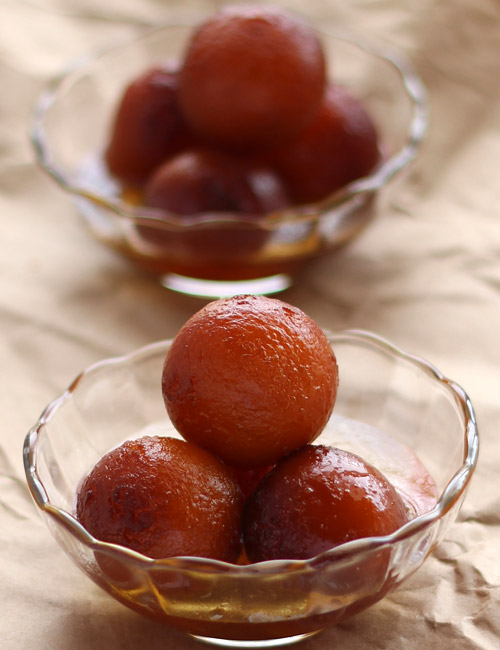 Preparation Time:
 20 minutes
Ingredients:
1 cup Sugar
3 Green Cardamom pods
1½ cups Water
1-2 drops of Lemon Juice, optional
1/2 cup Milk Powder
1 tablespoon Maida (all purpose flour)
1/8 teaspoon (a small pinch) Baking Soda
1 tablespoon Ghee
2-3 tablespoons Milk
Oil or Ghee, for deep frying
Directions:
Take 1-cup sugar, 3 green cardamom pods, 1½ cups water and 1-2 drops of lemon juice in a deep pot or pan. Lemon juice is added to prevent syrup from solidifying when it cools.

Heat it over medium flame and cook until it reaches 1/2 string consistency or turns little sticky while stirring occasionally in between. It will take around 8-10 minutes over medium flame to reach the required consistency. When sugar syrup is ready, turn off the flame.

Take 1/2 cup milk powder, 1 tablespoon maida and 1/8 teaspoon baking soda in a wide mouthed bowl.

Mix it well with a spoon and then add 1-tablespoon ghee.

Mix well. Use your hand to mix it so that ghee mixes evenly with milk powder.

Sprinkle 2 tablespoons milk evenly over mixture and gently mix it.

If required, add few more teaspoons of milk and mix lightly. Mixture should be soft. It may be sticky but do not worry about it. Do not over mix or knead the mixture, just lightly mix it. If you over mix it, gluten forms and jamun will turn dense and will not absorb sugar syrup properly.

Grease your palms with oil and divide mixture into marble sized small portions (around 9-10). Take each portion and make a round shaped crack free ball from it. If crack appears, it means mixture is dry. Add a teaspoon of milk (or few drops of milk) to the mixture, mix well and make the ball. Do not make larger balls as its size will increase to almost double after deep frying and soaking in sugar syrup.

Heat the ghee or oil for deep frying in a deep kadai or a small pan over medium flame. When oil is medium hot, pinch a small portion of mixture and drop it into hot oil, if it comes upward immediately without changing its color the oil is medium hot and ready for deep frying. (If it comes upward immediately and turns brown then oil is too hot and needs to be cooled a bit, if it doesn't come upward then oil is not hot enough and needs to be heated little bit more.) Slowly drop 3-4 balls (according to the size of a kadai) from sides of a kadai and reduce the flame to low.

Stir gently with a slotted spoon and deep fry over low flame. Within 2-3 minutes their color will start to turn light golden.

Deep fry until they turn golden brown, it will take around 6-7 minutes. Transfer them over to kitchen napkin to absorb excess oil using slotted spoon. Maintain the temperature of oil even by increasing or decreasing the flame to medium or low. Increase the flame to medium and deep fry remaining balls as mentioned in step-9, 10 and 11.

Heat the sugar syrup for 3-4 minutes and add deep fried jamuns in it. Keep the jamuns in syrup for at least 2 hours before serving to allow it to absorb the syrup properly. You will notice their increase in size as syrup gets absorbed. Jamuns are ready for serving at this time.
Tips and Variations:
To reduce the cooking time, before starting to make balls from the mixture in step-8, start heating ghee or oil for deep frying in a deep kadai or a small pan over medium flame so that when the balls are ready, it will hot enough for deep frying in step-9.
If you overcook the sugar syrup by mistake, it will turn hard when it cools. If that happens, add little water, stir well and cook again for few minutes to get the right consistency of syrup.
Do not over mix or knead the mixture into dough in step-7 to prevent jamuns from turning hard.
Do not change the quantity of baking soda to prevent them from turning chewy.
Deep fry the jamun over medium-low flame for proper frying.
To check whether oil is hot enough or not for deep frying, follow this – when oil is medium hot, pinch a small portion of mixture and drop it into hot oil, if it comes upward immediately without changing its color the oil is medium hot. If it comes upward immediately and turns brown then oil is too hot. If it doesn't come upward and dips to the bottom of pan then oil is not hot enough.
Add saffron strands or rose petal in sugar syrup for variation in flavor.
Taste:
 Sweet with mild fragrance of cardamom
Serving Ideas:
 Serve warm gulab jamun with vanilla ice cream as a dessert in party or serve it as a sweet with meal.
Other Step by Step Recipes
---
45 Comments
---
Mar 23, 2018 by Fatima
Hi!
Tried you recipe today .. they tasted really good but just one problem I had with the dough it was like crumble when I was needing hence the balls made weren't as smooth as the recpie. Can you suggest what when wrong ?

Response: You can add more milk as suggested in Step-7 to make dough smooth.
---
Feb 28, 2018 by Tracey Shipp
Hi the balls turned out well.but my syrup was not stringy. I followed your ingredients as listed. what am i doing wrong please? Should i add less water or miss out the lemon juice?
Thank you.

Response: If syrup is too thin, this may happen. This could be due to Type of sugar you are using. Reduce the amount of water to make syrup.
---
Jan 09, 2018 by Parmjeet
Hi, I have put to much water in the milk powder and it's all soft and can't make balls, plzzzzz can you Help.

Response: You need to add more milk powder and maida to make dough hard.
---
Nov 13, 2017 by Nabeera
HI
It's so nice recipe and my jamun balls were so smooth and nice and they had no cracks.

---
Aug 30, 2017 by Judith
Can I add cottage and mawa instead of milk powder and maida?

Response: No, you can't replace the main ingredients. If you want to make the jamun with mawa, follow this recipe of - Mawa Gulab Jamun
---
Jul 21, 2017 by Ana
Can I use olive oil instead of ghee??

Response: No, you cannot use olive oil instead of ghee.
---
May 30, 2017 by aardra
It came out superbly. I made it in bulk for a food exhibition in my college last year. Thank you so much for the beautiful recipe. This is the first time i'm posting a comment after preparing a dish coz it was just too good.

---
May 29, 2017 by saara
Hi...how many ounces is 1 cup?

Response: 1 cup equals around 9.6 fluid ounces.
---
Mar 14, 2017 by Anthony nilio
About to try to make these. Just wondering do I let them soak in the syrup and keep on an extremely low heat?

Response: Yes Anthony, you can keep them on extremely low heat for few minutes to re-heat them. Don't keep them for a very long period on low heat.
---
Mar 06, 2017 by Nisha
I have tried so many times with ready made pack. My Jamun comes out nice soft. But I have only problem all the time is when I put it in hot sugar syrup it's always got broke. I don't understand why? I tried to keep sugar syrup warm, tried with hot sugar syrup, tried with over1/2 string temperature. Tried so many ways but same problem always.
Can u please tell me what mistake I made making?? Thanks!

Response: Hello Nisha, don't add fried jamuns directly in hot syrup. Always cool the fried jamuns for 4-5 minutes and then add them into the warm (NOT HOT) syrup to prevent them from breaking.
---
Feb 16, 2017 by Rajani
Can I fry jamuns a week before or 2 to 3 days ahead and then add in syrup for bulk making?

Response: Hello Rajani, don't fry the jamuns 2-3 days ahead as they will not absorb the syrup properly. You can make the jamuns (in syrup) 2-3 days ahead and keep them in refrigerator.
---
Feb 10, 2017 by Sameena
Thanks. I tried this today and jaamuns came out really well. Had no cracks on the ball. :-)

---
Jan 29, 2017 by Madhuri Milind Bhaware
This recipe is very nice. Thanks !

---
Dec 22, 2016 by Rehana
I tried tis recipe. The dough was smooth and soft but the balls were not very smooth. It kind of had cracks all over. I kneaded again and it still was the same.

Response: Hello Rehana, cover the balls with wet cloth to prevent them from turning dry and cracks. Add more milk in milk powder to make smooth and soft dough and them make balls from it.
---
Nov 25, 2016 by Madhushree Raghu
Realy its very nice recipe thank you...

---
Nov 21, 2016 by Shajedda
Hi

For the syrup can I use 1 cup sugar to 3 cups water if I want them to be less sweet?

Thanks,
Shajedda

Response: Use 1 cup sugar and 2½ cups water to make less sweet sugar syrup. If you add too much water to the syrup, the jamuns may taste watery. As the syrup is watery, cool the jamuns before adding to the syrup to keep their shape round.
---
Nov 17, 2016 by Laura
The taste was good but when I put them into oil, the jamuns little bit spread away. And
The dough was alright... Please tell why...

Response: Hello Laura, it happens if the oil is not hot enough when you added the jamuns in oil.
To prevent this, follow the given steps. - Heat the oil until medium hot, add the raw jamuns in it and then reduce flame to low and fry the jamuns. You can increase or decrease the flame as required to maintain the even temperature of oil. To maintain the oil temperature even, use a heavy based frying pan.
---
Nov 12, 2016 by Anamika b.
Hello dear kindly share a method how to check 1 or 1/2 string for making syrup.

Response: Hello Anamika, you can check the consistency of sugar syrup by following this recipe link, check the step-7 & 8(rava laddu).
---
Nov 09, 2016 by Shajedda
Hi,
I would like to thank you very much for this recipe. For a month now I've tried more than a dozen times and it just was not perfect enough for me until I tried ur recipe and followed all ur instructions carefully. My gulab jamuns are perfect now thanks to u.
Just one thing I would like to point out is that I made use of a food thermometer and noted that the perfect temperature to heat oil is until 125 degrees celsius. Just after that temp reached lower fire and fry the balls on a lower fire for 7 mins.

Many thanks again.

Response: Welcome Shajedda. Glad to hear that this recipe worked for you and you got the perfect jamuns. Thank you for sharing the information about using the food thermometer to check the oil temperature.
---
Oct 15, 2016 by Piumi
I tried this but the balls get dissolved as soon as I put them to oil. What could be the problem? Please help.

Response: I think there is some problem in the dough. It happens if the quantity of maida (all purpose flour) is changed or the temperature of oil is not medium hot while adding the jamuns in oil for deep frying.
---
Oct 10, 2016 by Hinna
Can I use evaporated milk instead of normal milk? Does that make any difference? Will be making this for Diwali! Thank you.

Response: No, you cannot use evaporated milk instead of normal milk in this recipe.
---
Oct 08, 2016 by Sajitha
Can we make this recipe with amulspray milk powder... will it work well?

Response: Hello Sajitha, I have never tried to make the jamuns with amulspray milk powder (milk powder for infants) so I am not able to give you the answer. You can use the normal milk powder of amul brand or any other brand to make this jamun.
---
Oct 08, 2016 by Santhi
I tried this recipe and It came out well!

---
Sep 30, 2016 by Reshma
Can i make the balls a day in advance and keep in the fridge until needed? Thanks.

Response: No, you can not make the balls in advance.
---
Sep 30, 2016 by Mounisha
Can we use butter for deep fry?

Response: No, you cannot use butter for deep frying. You can use oil or ghee or both to deep fry jamuns.
---
Sep 17, 2016 by Evan
I made this recipe, but the dough was more like batter, so I found myself adding significantly more milk powder to get it to a drier dough consistency. Do you have any idea why this might be?

Additionally, how long does it typically take for the oil to heat up? It seems the oil is always too hot for me.

Response: Hello Evan, when you try this next time, don't add too much milk in a single go (add little by little as needed) to make the perfect dough.
The time required to heat the oil is not fixed as it depends on multiple factors like the quantity of oil, the thickness of vessel and gas flame. You can check the oil is over hot or perfect hot by following the directions given in step-9.
---
Sep 01, 2016 by Iqra
Ye fry krte huwe toot gay the what is the mistake plz tell.

Response: If the jamun mixture has not enough moisture (too dry), the balls will break while frying. When you try this next time, make sure that the mixture is like soft dough.
---
Aug 20, 2016 by Sadaf
Can I use corn flour instead of Maida?

Response: No, you cannot use corn flour instead of maida.
---
Jul 09, 2016 by GtPlayaz
Made this today and it was absolutely delicious. Thanks for the recipe.

---
Jun 01, 2016 by Hamid malik
Recipe is good. I will try it. Thanks for sharing this one. It's my favorite sweet, god bless you !

---
May 11, 2016 by Rejitha
Can we use everyday milk powder to make jamuns?

Response: Yes, you can use everyday milk powder.
---
May 09, 2016 by Kaniz Fatima
Thank you for the wonderful recipe. It turned out really soft and yum :)

---
Apr 19, 2016 by Rajeshni
Just a question. If I want to use lesser sugar say 1/2 cup, how much water should we use for syrup..thanks!

Response: Hello Rajeshni, use 3/4 cup water for 1/2 cup sugar to make sugar syrup.
---
Apr 18, 2016 by San
Thanks for detailed explanation.

---
Apr 11, 2016 by Hitali shah
Hi,Your recipe is good. Can you tell me the measurement of whole recipe of 35 gulab jamun?

Response: Hi Hitali Shah, to make the 35 jamuns, multiply all ingredients by 3.5.
---
Mar 21, 2016 by Juhi
This is a good friend as it makes my cooking easy and wonderful.

---
Feb 26, 2016 by Arpita Desai
This is one of the best way to make fine recipes, to surprise elders ... which gets big smiles on their face & sweet blessings for us.... Love u guys, keep doing efforts of great & wide collections...!! Thanks for being so important part of my life, u r like my family one..!! Thanks ever for being with me.

Response: Thank you Arpita Desai for posting the wonderful feedback...
---
Feb 22, 2016 by Amber
My gulab jamuns came out too soft. The dough mixture was sticky. How can I make it not too soft and not too hard but just right?

Response: The gulab jamuns turns too soft if the dough is too soft. When you try this next time, add less milk while making the dough. If the dough is little sticky, don't worry but if the dough is too sticky, sprinkle some milk powder and gently mix it.
---
Feb 10, 2016 by Mohini
Thank you for such a wonderful recipe...turned out great.

---
Feb 04, 2016 by Samreen
Hello, thanks for the recipe. I have been trying gulab jamuns for a while but didn't get perfect result yet. My gulab jamuns always got hard, now I know why. I have a question did you put baking soda or baking powder in your recipe? I use baking powder. I will try this recipe soon :) Thanks and take care.

Response: Hi Samreen, baking soda is used in this recipe. Adding the right amount of baking soda is the key to make soft jamuns. Best of luck for the recipe.
---
Dec 30, 2015 by Shreya
I always have trouble getting these recipes right, I can make almost all Indian deserts, but whenever I make gulab jamun it just doesn't taste as great as the Gowardhan easy mix one. My kids are so used to Gowardhan gulab jamun that they don't like the one I make at home. Maybe I need to up my game to compete with it, I shall try this recipe and just pray it works.

---
Dec 09, 2015 by Maryam marghoob
After a long time of hunting, this recipe solved my gulab jaman hardness issue. Thanks alot.....

Response: Welcome Maryam.
---
Nov 23, 2015 by Aliya falak
Easy to make....came out very well..really very nice recipe.

---
Nov 20, 2015 by falak
Tried today. Very Nice.

---
Nov 12, 2015 by shaan
I prepared these today and came out really well. It's easy to try since recipe is for a small amount.

---