Ragi (Finger Millet/ nachni) is a nutritious grain which is staple food in most of the South Indian states. It is generally milled into flour and then used to make ragi balls, ragi dosa, ragi roti, and so on and it is preferred food for diabetic patients and kids. This easy and step by step photo recipe of instant ragi dosa is all about how you can make this crispy and healthy south Indian style bread or crepe from the simple mixture of ragi flour, rice flour, yogurt, water and spices in just few minutes. The tips and variations given after the directions will help you make your own custom variations.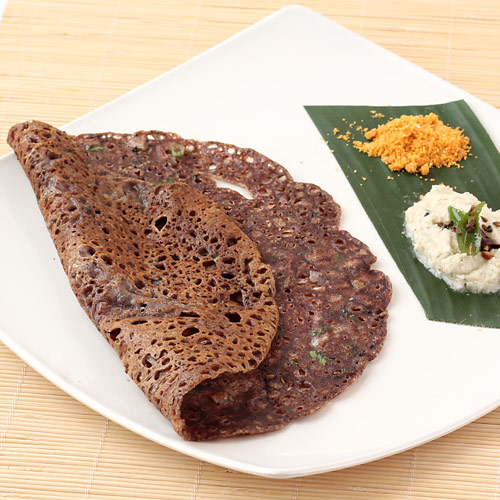 Preparation Time:
35 minutes
Ingredients:
1 cup Ragi Flour (Finger Millet)
1/4 cup Rice Flour
1/4 cup Sour Curd
1 Onion, finely chopped
1 Green Chilli, finely chopped
1 tablespoon finely chopped Coriander Leaves
Cooking Oil, for shallow frying
1½ cups Water
Salt to taste
For Tempering:
1/4 teaspoon Mustard Seeds
1/2 teaspoon Cumin Seeds
5-7 Curry Leaves
1 teaspoon Oil
Directions:
Take ragi flour, rice flour, chopped green chillies and curd in a large bowl.

Add 1½ cups water and salt. Mix well and keep batter aside for 30 minutes to settle. Batter should have pouring consistency like buttermilk. If required, add more water to get the required consistency.

Add chopped onion and coriander leaves and stir to mix well.

Heat 1-teaspoon oil in a small pan for tempering. Add mustard seeds. When they begin to crackle, add cumin seeds and curry leaves. Remove pan from flame and pour tempering over batter.

Heat dosa tawa/griddle over medium flame. Stir the batter before making each dosa. When tawa is medium hot (see tips), smear oil on the surface, take ladle full batter and pour it over tawa (from the 2-3 inches height) from center to the side in circular motion. Try to keep few empty gaps in between to allow it cook evenly. Do not spread the batter. Drizzle 1-teaspoon oil around the edges of dosa and cook until color of top surface changes to brown, it will take approx. 1-minute over medium flame.

Ease out dosa with spatula and flip it over another side, cook for 30-40 seconds over medium flame.

Turn off flame. Fold crisp and hot ragi dosa and transfer to a serving plate and serve with coconut chutney.
Tips and Variations:
To check tawa is hot or not, sprinkle few drops of water over it and if they evaporate immediately then tawa is ready.
Use of Non-Stick tava or griddle is recommended for its preparation. If you are using a regular type of tava then dosa batter will stick to its surface and it would be difficult to flip and remove dosa without breaking it.
Batter for ragi dosa should not be as thick as normal dosa; it should have watery consistency.
Add 2 tablespoons grated carrot, 2 tablespoons chopped capsicum (in step-3) and other preferred vegetables to make it even healthier – perfect for kids.
Raagi is a preferred food for diabetic patients as it helps balance their insulin levels in the body. Dosa prepared with ragi is yet another way of enjoying its goodness.
Taste:
Little Crispy and Mild Spicy
Serving Ideas:
Serve hot homemade raagi dosa with green coconut chutney or red chilli coconut chutney and sambar for breakfast or evening snack.
Other Step by Step Recipes
---
14 Comments
---
Oct 10, 2017 by JayaPraba
Hi,
Thank u for the super easy & healthy recipes…. I loved it…
I tried some of your recipes and its taste super….
And I tried without adding CURD and its taste good also….maybe tastier by adding curd…
Thank u to the author for helping working women by providing this easy recipes…

---
Jul 25, 2017 by Malleswari
Very easy and tasty... My 1 year old liked it a lot...kudos.

---
May 26, 2017 by Pavneet
Hi,

This looks great!

I was just wondering if this can be made without rice flour or if there is an alternative for it?

I'm required to follow a diet and not allowed to eat rice at all.

Hope to hear back!

Response: Hello Pavneet, rice flour is necessary as it makes the dosa crispy.
---
Feb 19, 2017 by Vrushali
Simple to make and very tasty. Thanks for sharing this recipe!

---
Jan 14, 2017 by Gopika Akhil
Thank you for sharing this easy but healthy and tasty recipe. My husband likes it.

---
Oct 10, 2016 by Shiny Pappachan
This dish tasted amazing. Although I had to put good amount of oil so that the ragi does not stick to the pan. Hence with that much oil and good taste, I'm not sure if I got the essential nutrients of ragi. They say healthy food doesn't taste that good :)

Response: Hello Shiny, use the non-stick pan to reduce the amount of oil and make it healthy.
---
Aug 27, 2016 by Ranjeeta
Wonderful recipe. Thanks.

---
Jun 29, 2016 by Prahlad Rao
I must thank the author for this recipe. What a boon for bachelors and families alike. I tried this few days back with lot of vegetables (carrot grating, tomato, onion). I followed the directions in the same order as given here and the dosas have come out well. Not being a cook, is no more a disadvantage now. I keep turning out ragi dosas frequently whenever time is limited.

---
Jan 20, 2016 by Pooja
Amazing and easy recipe.

---
Aug 06, 2015 by Rufeena
I didn't imagine ragi could be this delicious. Wonderful recipe. Very helpful for a mother of a toddler. I tried this today. Added carrot, capsicum and cabbage too. My toddler loved it. The idea of sprinkled water in pan and wiping was really helpful. Thank you. May God bless you.

Response: Thank you Rufeena for trying the recipe and I am glad to hear that your toddler loved it.
---
Jun 02, 2015 by Vandana
Nice and easy way to prepare healthy breakfast, which makes easy to cook and serve. Thanks a lot. It's tasty too. In my family, everyone liked it so much.

---
Jan 18, 2015 by Rajeev Kumar
Extremely tasty specially for diabetic and calcium deficient people.

---
Aug 26, 2014 by nand
nice recepies...and easy methods of prepration..

---
Aug 14, 2014 by deepti
Amazing..tried it at home..turned out same as in pic and everybody loved it..thank you so much for the pictures..it helped a lot...

---