Phirni, a delicious Punjabi style milk and rice based creamy dessert, has a thick creamy texture and is traditionally served in the clay containers and enjoyed on special occasions like Diwali and Karwa Chauth. This easy to follow step by step photo recipe of Amritsari badam phirni uses almond paste to give it a creamier feel that compliments the thick texture introduced by crushed rice paste. The saffron and cardamom powder enhances its rich flavor and aroma and garnish of sliced almonds and pistachio gives this chilled dessert a tempting look.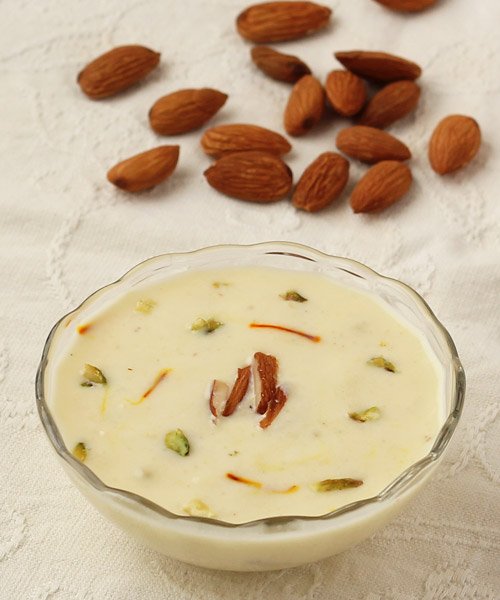 Preparation Time:
30 minutes
Ingredients:
10 Almonds (badam), blanched
4 tablespoons (1/4 cup) Basmati Rice
1/2 cup + 2½ cups Milk
1/3 cup Sugar (or to taste)
1/4 teaspoon Green Cardamom Powder
5-6 Saffron Strands (dissolved in 1 teaspoon milk)
For Garnishing
2 Almonds, sliced
3 Green Pistachios (pista), chopped
6-9 Saffron Strands (kesar)
Directions:
Rinse basmati rice in running water and soak in water for half an hour.

Drain excess water and transfer rice to the small chutney jar of mixer-grinder. Add approx. 2-3 tablespoons water and grind until thick and smooth paste. Mix prepared paste with 1/2 cup milk and keep aside.

Heat remaining 2½ cups milk in a heavy based pan and bring it to boil over medium flame.

When it starts boiling, add rice-milk mixture (prepared in step-3). Reduce flame to low and cook with continuous stirring until the mixture turns creamy and slightly thick, it will take around 5-7 minutes.

Add sugar, green cardamom powder and dissolved saffron strands; stir well and cook until sugar dissolves completely for about 2-3 minutes.

Add almonds paste (prepared in step-1), mix well and cook for a minute.

Turn off the flame and transfer hot phirni to a serving bowl. Garnish with almonds (sliced), chopped pistachios and saffron strands and let it cool at room temperature.

Cover the bowls with aluminum foil and place in the refrigerator for 1 to 2 hours to set; take them out from refrigerator just before serving, remove foil and serve.
Tips and Variations:
Constant stirring is required in step-6 and step-7 to avoid sticking mixture to the pan.
If you are in hurry then soak the rice in hot water for 15-minutes instead of soaking them for half an hour in regular water.
If basmati rice is not available, use any other good quality rice in place of it.
Change the quantity of the sugar according to your taste.
Serve it in clay bowls and garnish with rose petals for traditional festival feel.
Serving Ideas:
 Serve it as a chilled dessert after dinner or as a stand alone sweet to entertain the guests.
Other Step by Step Recipes
---
7 Comments
---
May 28, 2018 by rohini
Can I use rice flour instead of rice?

Response: Hello Rohini, you cannot use rice flour in this recipe.
---
Nov 19, 2016 by Monali
Very methodical and easy to prepare Recipe.. I had fun cooking it and it tasted really good... just wanted to know why is the blanch almonds made into a smooth paste for this recipe ?

Response: Hello Monali, this is the baddam phirni recipe and so the blanched almonds are ground to a smooth paste and then added for the flavor.
---
Jul 05, 2016 by Chef Suman
Your recipe is good, but one thing I want you to update. Phirni is not a punjabi dessert. It is originally from Kashmir. I being a chef myself have studied various regional cuisines so just wanted you to update it. Thanks again.

Response: Thank you for sharing the info. We will update the description.
---
Jul 09, 2015 by Terri Caldwell
I am looking forward to preparing this. It sounds delicious. I am confused about what is cream milk? Is it heavy cream or whipping cream? Thanks for a great recipe.

Response: Hi Terri, cream milk means normal full fat milk (not heavy cream or whipping cream).
---
Dec 13, 2014 by Shweta
Please can you let me know whether you used cow's milk or cream milk? Thank you.

Response: Hi Shweta, I generally use full fat cream milk to make this dessert. However, you can use cow's milk or cream milk according to the availability.
---
Nov 28, 2014 by Farsha
Really an awesome recipe. I tried this recipe and got an appreciation.

---
Nov 03, 2014 by reshma
Very tasty recipes. I tried many of them and got real appreciations from family and friends.

---