Soft, spongy and melt in mouth gulab jamuns drenched in delicately flavored sugar syrup is a traditional sweet in India. There are many ready-made Instant mixes available in market but no one comes even close to the taste of homemade gulab jamuns made from traditional mawa or khoya with this recipe. Yes, this recipe uses khoya to get the desired texture and flavor. This recipe also steers away from using rose flavored sugar syrup for more rich and delighting saffron flavored syrup. Make it from scratch today and shower your taste buds with its unforgettable taste.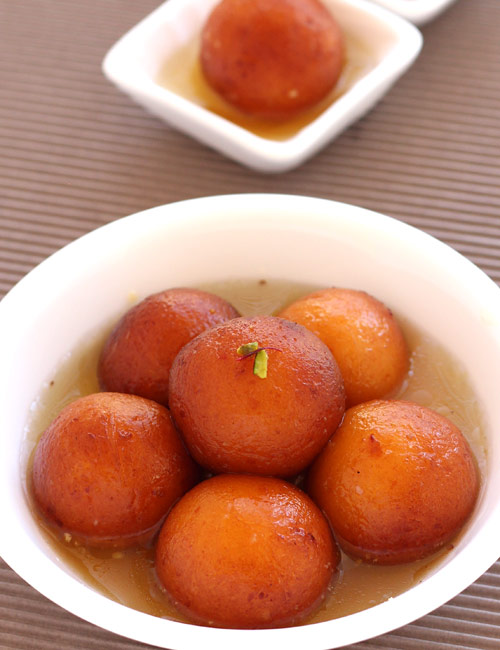 Preparation Time:
15 minutes
Serves:
5 servings (15-16 jamuns)
Ingredients:
1/2 cup Maida (All Purpose Flour)
1 cup grated Mawa (Khoya)(approx. 200-225 gms)
1/8 teaspoon Baking Soda
Ghee (or oil), for deep frying
3-4 Green Cardamoms or 1/4 teaspoon Cardamom Powder (Elaichi Powder)
8-10 Saffron Strands (kesar)
1½ cups Sugar
2½ cups Water
Directions:
There are three different base items that are required for making this delicious sweet, mawa, sugar syrup and gulab jamun itself. Following steps describe how to make each one of them.
How to prepare Mawa (Khoya)?
Boil 1 liter milk (preferably full cream buffalo milk) in a heavy based pan or non-stick pan and cook over low flame until it turns very thick and there is no liquid left anymore, for around 1½ hours. Stir in between frequently to prevent sticking. Approx. 1 cup mawa will be prepared from 1 liter milk(use of full cream milk is recommended).
Note: If you do not want to prepare mawa at home, you can buy it from any Indian stores (if you are outside India) or from dairy store (if you are in India).
How to Prepare Saffron Flavored Sugar Syrup?
Take 1½ cups sugar, 3-4 green cardamoms (or 1/4 teaspoon cardamom powder) and 8-10 saffron strands in a deep pan.

Add 2½ cups water and bring mixture to boil over high flame. When it comes to rolling boil, reduce flame to medium and cook until sugar syrup is little sticky, it will take around 10-12 minutes. Stir occasionally in between. Turn off the flame. Sugar syrup is ready. After deep frying jamuns in later step, heat the sugar syrup for 4-5 minutes.
How to Prepare Jamuns?
Prepare 1 cup mawa by following the recipe given above or use readymade mawa. Crumble it using hand or grate it using a grater. Add 1/8 teaspoon baking soda and 1/2 cup sifted maida.

Mix them gently using a spoon.

As you can see, the flour is easily mixed with mawa because of moisture in mawa.

Knead all of them together until smooth dough is prepared. If required add a few teaspoons of milk to knead a smooth and soft dough (add one teaspoon milk at a time until smooth consistency of dough is achieved, do not add large amount in single go).

Divide dough into 16-18 equal parts, grease hands with ghee and make smooth surfaced balls from it. Make sure that there is no crack on the surface of balls because it will make jamuns to crack open while deep frying. If you are not able to form crack-less balls, then you need to make dough bit softer. To do this, add milk in dough, knead it again and roll the balls again. Do not make very large balls because they will increase in size after deep frying and soaking in syrup.

Heat ghee or oil (or 1/2 ghee and 1/2 oil) in a pan over medium flame. When ghee is medium hot, add a pinch of dough in hot ghee and if it comes upward immediately without changing it's color, ghee is ready. If it turns brown immediately, ghee is too hot. If it doesn't come upward, ghee is cold. Add prepared dough balls (4-6 at a time or depending on the size of a pan) and deep-fry them over low to medium flame. As you can see they will turn light golden and increase in size after a minute. If the jamuns turn dark brown immediately then the temperature of ghee is too hot, pour some cold ghee in to ghee to reduce the temperature.

After 3-4 minutes, they will turn light golden brown.

Deep fry them until they turn golden brown, it will take around 6-7 minutes. Cooking them evenly is the key to soft and textured gulab jamuns, increase or decrease flame intensity to keep the temperature of ghee even while frying them.

Drain and transfer them over kitchen napkin and let them cool for 5-minutes. As you can see, the balls are increased in size after deep frying. Do not add them directly into warm sugar syrup.

Add fried balls into warm sugar syrup (not hot syrup). If you add them into hot syrup, they will shrink in size.

Soak them for at least 1-2 hours before serving. As you can see in the picture, the jammuns are increased to almost double in size. Gulab jamuns are ready for serving. Serve them warm or chilled.
Tips and Variations:
If you fry jamuns on high flame, they will immediately turn brown from outside and remain uncooked from inside, so fry them on low to medium flame.
Do not make large size balls from dough because the size will increase after deep frying and soaking into the sugar syrup.
Don't add hot deep fried jamun directly into warm sugar syrup, let them cool for few minutes before adding and make sure the syrup is warm (not hot) while adding fried jamuns otherwise they will shrink in size.
It gets its name because of the use of rose water scented sugar syrup since ancient times. If you like the rose flavor, you can add small amount of rose water to get a rose flavor in the syrup (instead of using saffron). Alternatively, add few dried rose petals in syrup after it is prepared.
You can also use diluted maple syrup instead of saffron flavored sugar syrup for Canadian style gulab jamun.
For variation, garnish it with pistachio powder or shredded coconut.
Serving Ideas:
Serve it hot with vanilla ice-cream as a dessert or chilled as a sweet with meal. Celebrate Indian festivals like Diwali and Dussera in a traditional and healthy way with this sweet.
Other Step by Step Recipes
---
31 Comments
---
Mar 19, 2018 by Esani Caterer
Yummy...This looks really delicious and easy to make iLoved this recipe ..thank you for sharing

---
Dec 09, 2017 by ANITA
I tried and it came ok but again I will try.

---
Nov 08, 2017 by Divya karthikeyan
Thank you for giving this website. It really used for my preparation.

---
Aug 21, 2017 by Ayrasaanam
It's great! I think everyone should try.

---
Jul 23, 2017 by Mads
Hi i just made gulab jamun .. but mine was not so good.
Some time it does not increase in size or if it increase then when I add in the sugar syrup most of them melt ! What went wrong?

Response: If the jamun doesn't increase in size, it means the jamun dough mixture is hard (it should be soft). If the jamuns melt in the syrup it means they are not cooked enough over low flame (or cooked over high flame) or the syrup is too watery. I hope this helps you.
---
Jun 24, 2017 by kamaluddin
Mujhe yah receipe bahut acchi lagi aur maine is rule ka fallow kiya aur meri gulab jamun banke tayar hai aap log aakar kha sakte hai, thank you.

---
Jun 10, 2017 by Henna
Everyone loved it and gulab jamun turned very delicious and soft. Thank you.

---
Feb 10, 2017 by Swati
Thanks for this wonderful receipe
I prepared gulab jamun came out very nice.

---
Jan 30, 2017 by Nuz
My jamuns didn't soak syrup even after 24 hrs. What could be the reason?

Response: If the jamuns are not fried properly or the dough mixture of jamun is not sot, the jamuns turn hard and will not absorb the syrup well.
Make the soft dough mixture and fry them on low-medium heat to make the perfect jamun.
---
Jan 09, 2017 by Monika Jaiswal
The recipe is really good, worked well for me as well very soft and tasty…It's just like market one but when I put in fridge wth syrup and tasted on second day gulab jamun was hard from inside. Please suggest.
Thanks.

Response: For soft and spongy jamuns, remove them from the refrigerator at least 30 minutes before serving or reheat refrigerated jamuns in microwave for 30 seconds before serving.
---
Nov 04, 2016 by SALONI JAIN
Gulab Jamun turned out great in taste.. but they are bit flat.. can I accidentally added a little bit more soda than u mentioned .. can it be the reason?

Response: Hello Saloni, to prevent the jamuns from turning flat, follow the below given tips.
1. Fry the jamuns a little longer than you want the color of jamuns (as the jamun will turn little lighter in color after absorbing the sugar syrup). If the jamuns are not deep fried enough, they will not retain the round shape.
2. Don't put the fried jamun immediately into warm (NOT HOT) sugar syrup after frying. Cool them for 5-7 minutes and then add in the syrup.
---
Oct 29, 2016 by Neelesh
My gulab jamuns are breaking while frying.. my oil was just warm and I'm using heavy based frying pan. I think maida quantity was wrong or khoya was very soft..
Plz help me.

Response: Hello Neelesh, it happens 1.) When the dough is extra soft because of extra soft khoya and so it's hard to shape the raw jamuns. (If required, add little more maida to make the soft dough like chapati dough.)
2.) When you add the jamuns in oil, oil should be medium hot at that time. If oil is not sufficient hot, the jamuns will break in oil. First, heat the oil to medium, add the jamuns and then decrease the flame to low for 2-3 min and then again increase the flame to medium for 2-3 minutes to maintain the even temperature. (To check the temperature of oil, follow the instructions given in step-6.)
---
Oct 28, 2016 by Simar
Hello, I have made this exactly as you was instructed...they made well...kindly explain the reason why they can't able to soak fully deep inside sugar syrup.

Response: Hello Simar, I didn't get your question. Are you asking about why they float in the syrup? Jamuns are porous and weigh lighter than water, so they float on the surface.
---
Oct 16, 2016 by Nirmala Bijaraniya
I want to make this gulabj amun and then have to travel for 16 hours. What can I do so that they remain same in taste as well as in shape..don't break..I want to carry them with me for my sister.

Response: Hello Nirmala, gulab jamun stays good for 3-4 days at room temperature. Store them in a container (with the syrup) to prevent them from breaking.
---
Oct 06, 2016 by Sakshi singhal
Hi
I have tried this recipient yesterday and gulab jamun tasted well, but balls did not retain their shape after frying and gulab jamun was soggy.
I kept it in sugar syrup for 5 to 6 hrs.

What to do in order to make balls retain their shape and do not become too soggy.

Response: Hello Sakshi, the main reason behind the soggy and unshaped jamuns is the excess moisture in mawa. When you try this next time, if the mawa has excess moisture, press it between paper napkins before making the dough to remove excess moisture.
---
Oct 03, 2016 by Sowmya
Hey there. The recipe snaps look delicious. But mine, pulled in a lot of oil in the jamuns. How do I correct it next time? I did it using exact measurements as given.

Response: Hello Sowmya, if the temperature of ghee/oil is not hot enough while deep frying, the jamuns will absorb more oil. Use a heavy based frying pan to deep fry them to keep the temperature even while deep frying.
---
Sep 24, 2016 by Myat
It was fantastic! I want to make it for my colleagues as well. Do I need to put 3 times the ingredients if want about 40-50 jamuns?

Response: Yes, you need to multiply all ingredients by 3.
---
May 19, 2016 by Pallavi
Very nice recipe and I tried this. It was so yummy....my family loved this. Just tell me mam for 500gm mawa what amount of baking soda I can use?

Response: Hello Pallavi, 1 cup = 200-225 gms mawa. In this recipe, 1/8 teaspoon baking soda is used for 1 cup mawa. So, for 500 gms mawa (2½ cups mawa) use 1/4 teaspoon + 1/8 teaspoon baking soda.
---
May 19, 2016 by Pragyan
Can I make khoya using condensed milk?

Response: I have never tried to make khoya using condensed milk so I have no idea about it.
---
Mar 26, 2016 by Amera
I tried it once with khoya from supermarket and the shape of the balls changed when frying I guess they were too soft. What can I do for them to retain shape and not break?

Response: Hi Amera, add little bit more maida if the mixture looks too soft.
---
Mar 22, 2016 by Ruchi
Can u tell me how much maida will be needed for 500 gm mawa?

Response: Hi Ruchi, 1 cup mawa equals 200-225 gms, so for 500 gms mawa, add (1 cup + 2-3 tablespoons) maida.
---
Mar 05, 2016 by Ghanshyam Ray
Very excellent receipe methods.

---
Feb 17, 2016 by Deepti
Everytime I made Gulab Jamuns following this recipe, they have turned out just wow! Received many compliments :)

Response: Thank you Deepti for trying the recipe and so happy to hear that this recipe turned out well.
---
Feb 04, 2016 by Mohini
Hi, I would like to try out the recipe. Could you please tell me measure in gms please...like mawa 1cup and maida 1/2cup. Thanks!

Response: Hi Mohini, 1-cup mawa = approx. 225 gms, 1/2 cup maida = approx. 60 gms and 1½ cups sugar = approx. 300 gms.

You can follow this link to get the cup to grams conversion for all dry and wet ingredients.
---
Feb 01, 2016 by Vandana
Hi...
I had tried twice @ home but both the time it was very loose. What can I do for that?

Response: Hi vandana, I didn't get your question.
---
Nov 27, 2015 by Serum
Can I use condensed milk instead of khoya?

Response: No, you cannot use condensed milk instead of khoya.
---
Nov 25, 2015 by Megha verma
Thanks a lot for such a nice recipe...

---
Nov 20, 2015 by Seema
Looking very delicious. I made twice but my gulab jamun made very hard. Please give some tips. I have got problem in making bolls. Thanks.

Response: Hi Seema, I am sorry to hear that jamuns turned hard. Follow the below given tips to make soft jamuns.
1. Don't forget to add baking soda while making the mixture (in step-1).
2. Don't change the amound of maida nad mawa in the recipe.
3. The dough (in step-4) should be soft. If required, add few teaspoons of milk to make it smooth and soft.
4. Deep fry jamuns over low-medium flame to cook them thoroughly.
---
Nov 08, 2015 by Shoeb Shaikh
Hi, can I use chhena instead of khoya?

Response: No, you cannot use chhena in this recipe.
---
Sep 10, 2015 by Juveria
This recipe is really good. It came out so well. My hubby really complimented saying it tastes jus like the restaurant.

Response: I am glad to hear that you liked the recipe.
---
Jan 15, 2015 by ram
Very nice and too good. I tried at home.

---